Court Hotel Kyoto-Shijo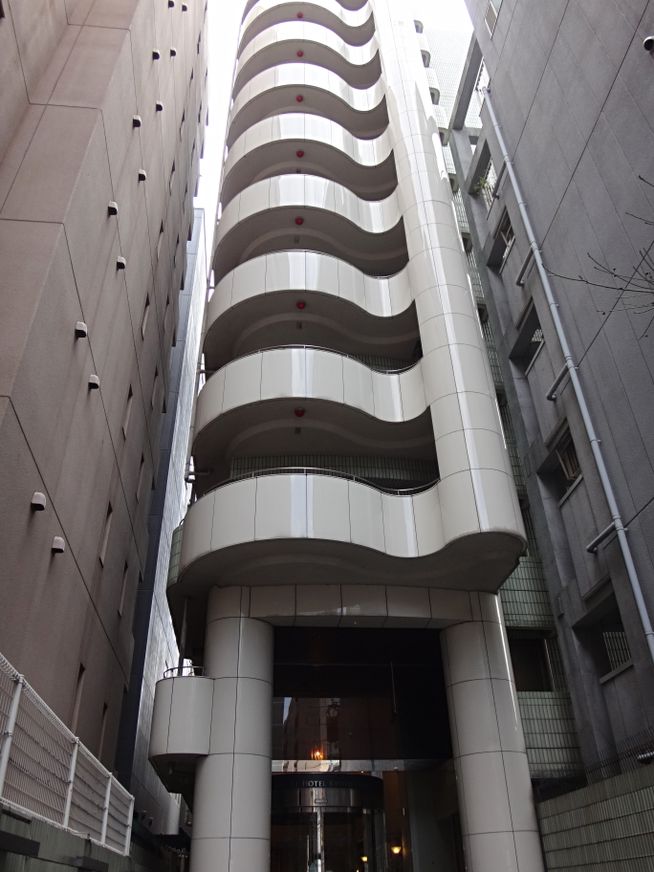 Reasonable price but you must stay on its upper and renovated room.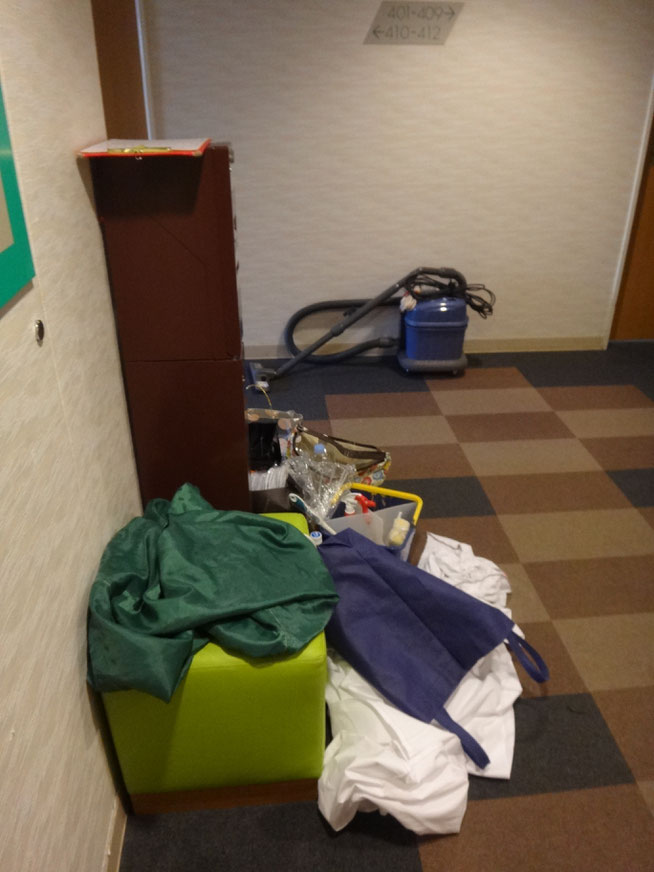 This is what you see when you get off the elevator. We know it is not always so and the cleaning staff works very hard. The first impression is important.
This is what we noticed when we got in the room. Some sticker to put on the peep hole. It is not easy to notice when having to clean the room in limited time so no perfection expected. It is useful but...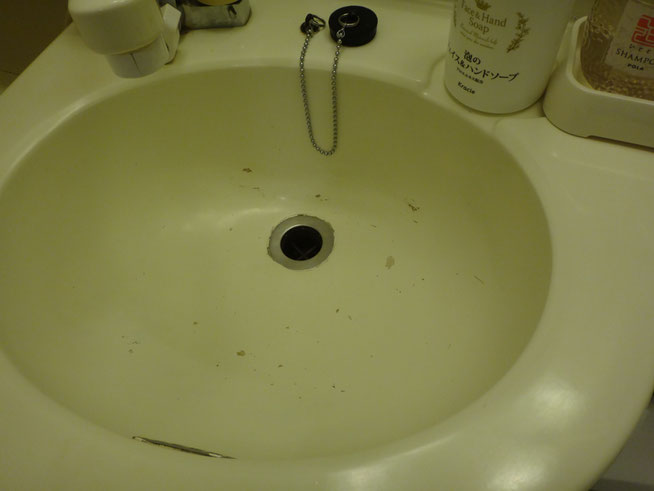 Shower room sink did not make you feel great. There are many stains. The sewage hole is full of mold.  The bad smell in the shower room. ( from the first room )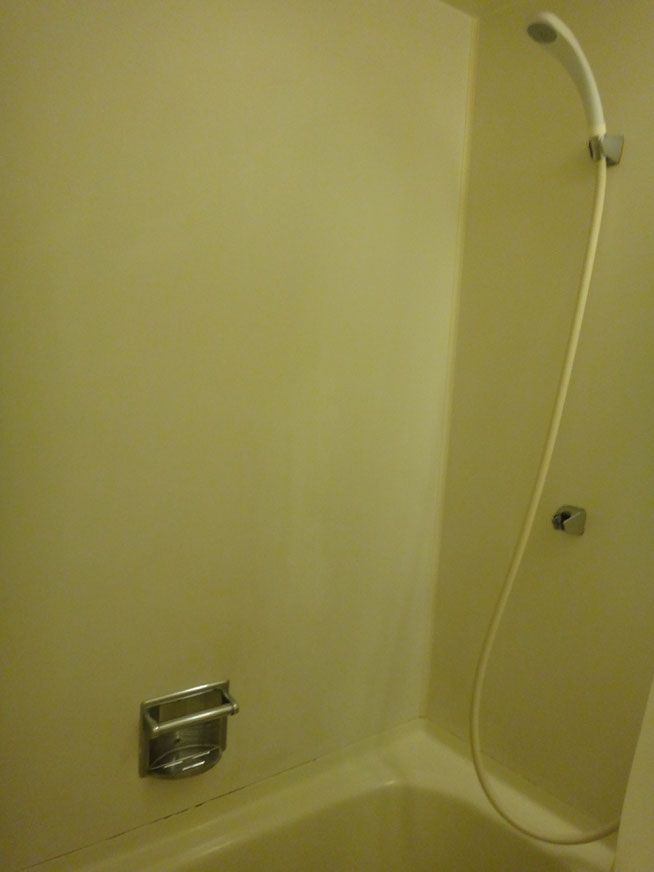 Bath tab is normal. But again dirty. (from the first room)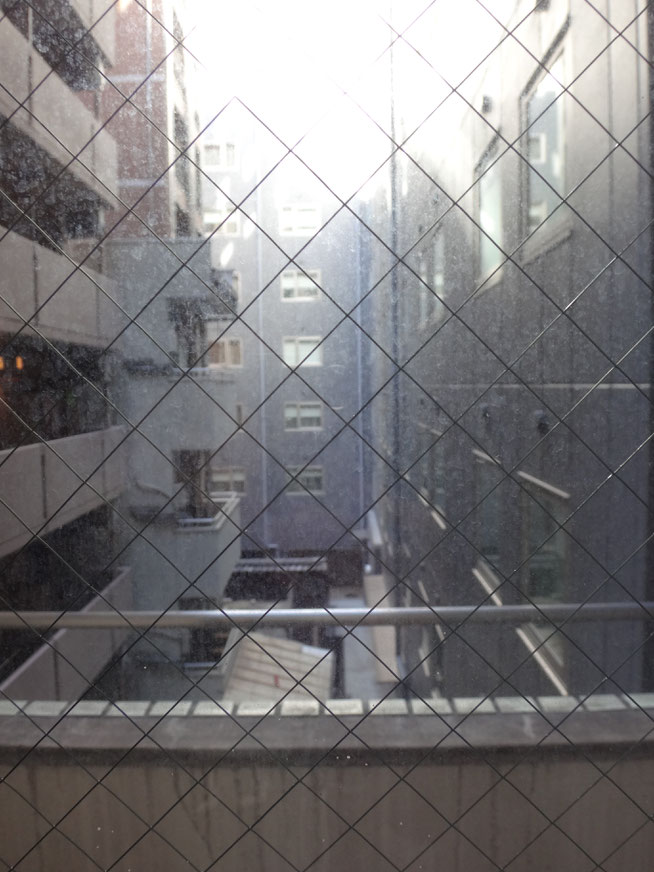 The view from the room. The glass is not properly cleaned. (from the first room)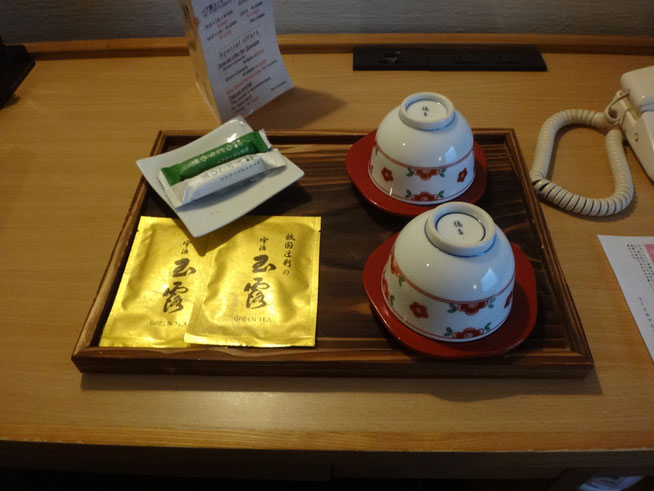 Something good about the first room of this hotel? Well, the golden bags are complementary Gyokuro (high quality green tea). We have not seen this at any hotel even 5 star hotel.
The preparation for Gyokuro needs some technique, otherwise, you can not enjoy the full taste of this tea. It seems over-spec for this hotel.
We stayed in two types of rooms. One is the lower floor with a double bed. The above pictures were from that room.  You see the futuristic table lamp on the table. 
Our second room was a twin bed room from the upper floor (10th). The room was renovated. If you stay at this hotel, you must stay at upper floor. The above photos are of the upper floor.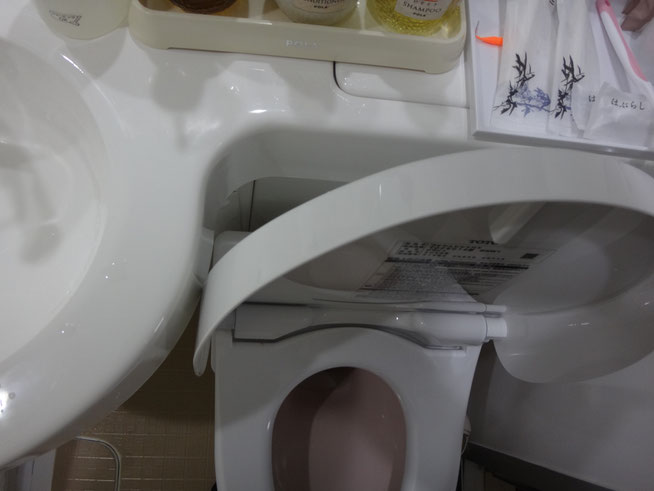 There is always something not working well. The toilet lid can not open completely. You see the left side of the lid is touching the basin. As a man, when you want to use it while standing, you need to hold the lid somehow to keep it open. 
Overview
Name: Court Hotel Kyoto-Shijo
Address: 698 Myodenjicho, Shimogyo-ku Kyoto-shi, Kyoto, 600-8472 (close Unizo Shijo Karasuma)
Contact: +81 75 361 0505
Bad
1. Room is small (single room) upper floor with twin beds are bigger)
2. Dirty (some are too dirty) and old room
3. Very thin blanket (you can get an extra blanket from the front desk)
4. No safe
5. Old bulky key (hard to carry around)
6. Room does not get warm up
7. Too soft bed ( annoying when it is a queen size bed with two people sleeping. You get up every time your partner moves. Just do not reserve a double bed.)
8. Toilet lid does open properly
9. Awkward room furniture i.e. the table lamp was futuristic which looked like a long black pole, very hard to use.. and the big business chair which did not match the hotel style at all. 
Good
1. Expensive complimentary tea (Gyokuro) 
2. Variety of amenity good
3. Less 5 min walk from the exit of Karasuma/Shijo station (It is around 7-10 mins to the platform)
4. Supermarket ( Fresco), convenient stores are around. 2 min walk distance.
5. Air cleaner had a button to turn off the lights of buttons even if on. Convenient when you sleep.
6. Room charge is relatively cheap
Total EXPERIENCE (out of 5 stars)
Location: 4 (you feel like it ages walking for 5-6 mins to get Shijo Karasuma (the end of the central street of Kyoto city))
Service: 3 
Food: n.a.
Cleanliness: 2 (dirty and old)
Water pressure: 3
Building: 2  (old )
Cost: 4 (7000-8000 JPY per room depending on season)
Tip
Stay at the upper and renovated floor. When you reserve, you make sure to inform the hotel that you want to have the upper and renovated room!
Interested?
Note:
Based on our actual experience, we share our review of a hotel. It is only our point of view as of our date of stay. Issues can be room related, time related. We understand that there are things the hotel cannot control. No harm intended. Our aim is to improve the hotel service standard being honest about our experience. Silence is more harmful.
If you want your hotel to be tested, please contact us.