What to do In Sendai, Miyagi and The local Tour guide!
Ever been to Sendai city, Miyagi?
We would like to introduce why you must be there with the local help Chie who also offers The Cat island tour ( Tashirojima island )!
Where is Sendai?
What you must see in Sendai, Miyagi
The city has mountain views ocean views, historical and mysterious  sites  and city lights.
Akiu area surrounded by mountains has a powerful and sacred fall, valleys and hot springs.
Zuihoden Mausoleum is located in a very quiet forest and shining with its elaborate architecture.
Visit Osaki Hachiman Shrine known as an energy spot bringing victory.
Rinnoj temple is a zen temple Date Samurai family loved. So photogenic.
See Sendai Daikannon,100 meter Deity of  mercy standing  in a quiet residential area. Quite unique.
Near Sendai, there is one of the three most beautiful views in Japan, Matushima, where Albert Einstein was so impressed (the other two being Amano Hashidate in Kyoto and Itsukushima, Horoshima).
There are 260 small islands dotted in the bay. You may see the beauty through cruising and from the sea temple which was founded by a cool Samurai Masamune nicknamed one-eye dragon.
What to eat and Where to eat in Sendai, Miyagi?
You can have fresh seafood, fresh vegetables, unique tasty local foods like GYUTAN, beef tongue, or ZUNDA, mashed green beans, sushi, Seri Nabe Japanese parsley hot dish and creative Ramen noodles.
Onegai kaeru team loved the beef tongue. The tongue has quite different texture from the beef we normally eat.
Here are the recommendation as below from the tour guide, Chie.
Gyutan restaurant
There are many beef tongue restaurants in Sendai. If you have no time, you can try the 3rd floor of JR Sendai station. It has "Gyutan Dori or beef tongue street". Since it is the famous delicacy from Sendai, many people line up. Be ready to wait (alternatively, you can try to avoid the peak times of lunch and dinner time ). 
Tasuke
Tasuke is coined as the restaurant which started serving beef tongue for the first time. Many locals love this place.
Rikyu
Probably most famous and also is the biggest chain restaurant. The taste is great.
Coffee
Mamebou
Mamebou is the cute cafe by the river. You can taste nice coffee in nice porcelain cups.
Wufushin
Great ramen! 40 mins from Sendai station.
How to get around in Sendai
If you want to pick great sites inside Sendai with reasonable price, use the loople bus.
The two day pass costs 2670JPY.
Sendai is a cozy city. Taxi is also useful. One site to another, it will cost about 1000JPY.
There are two subway lines in the city. If the subway can take you to your destination, then, you should definitely take it but it is quite a comfortable ride.
what you need to be careful visiting Sendai
It's much colder than Tokyo.  If you move to Sendai from Tokyo, wear one more clothes.
Local tour guide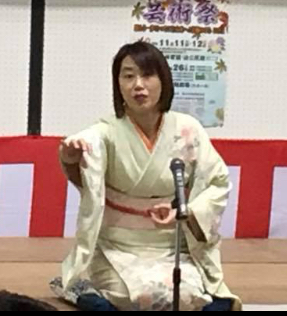 Let us introduce the local tour guide for Sendai, Miyagi. She is not only the expert of Sendai but also the tour guide for " the cat island Tashirojima island "! One of the most popular tours.
Message from the guide
" I'm Chie.
I'm a licensed tour guide and RAKUGO performer. Rakugo is a Japanese traditional story telling.
I introduce Japanese culture through stories in English on the stage.
As a guide, I'll help you to explore the new places and develop your ideas with a lot of fun. ".
You can contact her from the below form.
Need the tour guide in Miyagi area?
More articles for you to enjoy: 
It is called Kimono Rocket, a website dedicated to Japan culture all around the world!
If you want to buy cosplay items online, we have the list of shops here!
Important information list on Japan trip! Find out now!
Have you heard of "Rabbit islands" and want to know how to get there, please click here!
Looking for a beautiful Japanese inn with private bath during your trip to Japan? Here is the list!
Hungry in Japan? Find the unbelievably big and cheap food from our "where can we get full" list!
Onegai Kaeru wants you to enjoy Japan trip.
If you are looking for more traveler"s info and can not find one, please let us know. We will try to help you with Japan Traveler Help Service (we work on hourly charge to arrange, book, find info you need). Feel free to contact us!
Want to know more places for the great photos in Japan? For example, Toshima island with so many flowers. Please check this out!
Do you know an island with over 2000 years old tree in Japan? Please check this out!
Onegai Kaeru, a group of passionate travelers, bring happiness to the world with its shopping support service and original super cute items!
Disclaimer: Even though we try to make the info as updated and accurate but the accuracy of the information herein is not guaranteed by us. If you have any uncertainty, please contact the information source.