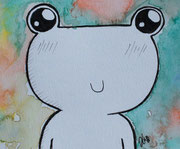 Hi there! Thanks for stopping by! Why not sit down and pick some cookies?
We would like to celebrate the launch of our forwarding service Kaeru Parcels togehter with you.
Our green frog team has been thinking about providing this kind of service for years, but up to now we always thought: "Naaaa!" and pushed the idea back into the dark corner of the brain.
Since the idea persistently jumped back into the spotlight, we finally took it for granted and built this small cozy website.
Our hope is to fulfill your wishes when it comes to rare, interesting or yummy Japanese goods - and ship you those overseas.
We are grateful for your trust and want to explore some fun products in Japan with you here on our Media page as well!!
Whenever we discover some interesting goods or products we will share them with you here. You are of course invited to join in and write comments or ask questions.
Our frogs are waiting for your request. Let us hear from you soon!