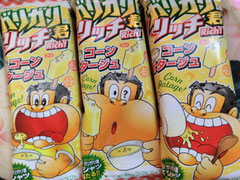 Afew days ago the company 'Akagi' released a new and very unique flavor for its wildly popular ice cream on a stick 'ガリガリ君' (Garigari-kun). You may think that this isn't interesting news? Let me proof you wrong:
The flavor of the ice cream is called 'リッチコーンポタージュ' (corn cream soup) and the craziest part is, that it has been sold out already, so that the company needed to put an apology on their website.
I thought that this may taste horrible, so did not attempt to buy it - but as it is sold out now I kind of regret not having tried it.
What do you think? Will it be disgusting or maybe even a good taste? Do you know any other funny foods? If so, please share with us!
For more Japn news, please click here!