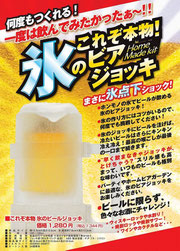 Drinking beer out of a glass made of ice had been a dream for all beer lovers. Not any more.
The inventor of Bowlingal, a machine which translates dog's language into our language, Mr. Masahiko Kajita, invented a kit to make an ice beer glass easily at home.
It can hold around 100-130ml. At room temperature, filled with drinks like beer or cocktails, it can lasts for 20 minutes. The bottom stand of this construction collects the water if the ice melts, to keep your furniture dry.
The price for this kit is 1,280 JPY.
We actually bought these for our parent and friends. They all like it!