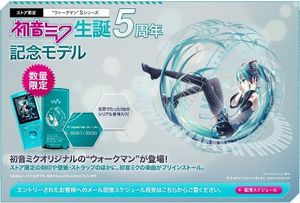 We have a good news and bad news for the passionate fans of Miku Hatsune.
Good news is that Sony released the Walkman 5th anniversary version of Hatsune Miku. It sold only 3939("Miku Miku" in Japanese pronunciation ) products.
Bad news is it already sold out on the release date…
Sony now sells the PS Vita Hatsune Miku model too. This has been a huge hit!
Next time another Hatsune Miku goods come out, we try to deliver the news fast!
Have anyone already got these Hatsume Miku goods?