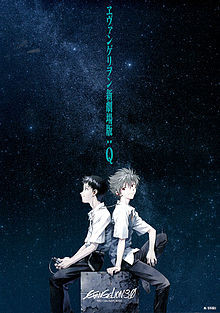 Movie theatres start the advertisement of Evangelion: 3.0 You Can (Not) Redo ( ヱヴァンゲリヲン新劇場版:Q ). 
You can see the ad 1) in 210 theatres [ you can check which theatre to go to see the ad in this list http://ticket.evangelion.co.jp/cinemalist.html (in Japanese) ] in Japan where the movie will be released and also 2) in their official site http://www.evangelion.co.jp/trailer.html . Please check it out!
Note: this time it is only an ad not the movie. The movie will start on 17th of November, 2012!
Did you watch the movie? How was it?