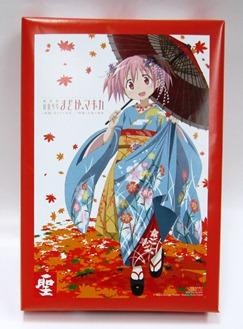 Do you like Yatsuhashi (八橋)? 

What is Yatsuhashi? Well, if you visited Kyoto once, you might have seen a triangle shaped sweet with a sense of cinnamon.  This is a traditional sweet from Kyoto. It is made of glutinous rice, sugar and cinnamon and often holds red bean paste and these days green tea, chocolate and even banana taste pastes inside.

My favourite Yatsuhashi has been one from Shogoin, Shogoin is one company which has been located in the area called Shogoin where Yatsuhashi sweet originated. I have never been expected any collaboration with animation. 

Puella Magi Madoka Magica and Shogoin co-worked on this Yatsuhashi which has a strawberry taste paste inside. This will be on market from 23rd Nov, 2012!  9 pieces 630JPY ( tax incl.) This has Madoka on the package.

Caution: this Yatsuhashi is only available in Animate Kyoto shop and Animate Avanti Kyoto shop!

This collaboration started from the Kyoto International Manga Anime Fair 2012 (21-23 Sept).
I would like to see more collaboration between Japanese pop cultures and traditions!
For more interesting news, click here!