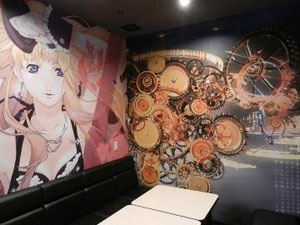 Many anime fans sing songs of their favorite animation series. In Karaoke you can choose not only an individual song but also a medley (メドレー). A medley is usually some 10 minute long compilation of the songs of a particular singer or animation program such as Gackt medley or Dragon ball medley. Sometimes you may need to be careful not choosing a medley when you go to Karaoke with some people who do not really like the animation or the singer of the medley.  When you are with bunch of animation fans, you can choose it with your friends many medleys and sing together!!

JoySound is a name of the Karaoke machine ( as famous as DAM) from XING INC., a subsidiary of Brother Industries, Ltd.a manufacturer of printing machines( another famous Karaoke machine UGA is also manufactured and sold by XING INC.). The company has also its direct Karaoke shop. 

If you are the big fan of Super Dimension Fortress Macross, one JoySound shop in Ikebukuro has something special for you. It made collaboration Karaoke rooms with Macross. First 2000 customers to use the rooms will get the clear holders of Macross. The rooms are painted with the concepts of Ranke Lee, FIRE BOMBER and Sheryl Nome.
Here is the detail of the Karaoke shop you must go if you are a Macross fan:
The address: JoySound Ikebukuro Nishiguchi Koen mae shop,Sunglow building 1-10-8, Nishi Ikebukuro, Toshima, Tokyo, Japan ( 東京都豊島区西池袋1-10-8 サングロウビル )Telephone: 03-5956-9686 3 mins walk from JR Ikebukuro west exit