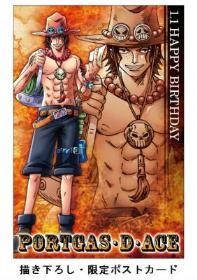 A happy new year! 2013 just came. How are you doing?
At the mid night, Kaeru team shot many fireworks to the sky and promised that we support more customers with more service lines in 2013 to be the best supporter of Japan fans around the world.

Have you visited the One Piece shops in Tokyo and Osaka?  

On the 1st of January, 2013 One Piece shop, Mugiwara Store, in Tokyo at PARCO PART1 6th Floor has something great to offer. It sells the lucky bag. This 3000 JPY Lucky bags contain special goods of One Piece (undisclosed).

In Japan you will see many lucky bags( Fukubukuro/福袋 ) from various shops traditionally from the new year day till 2nd or 3rd. 

You do not know usually what is inside. Some shops give you a set of great products at very cheap price (as you call it "Atari/a great deal or win" in Japan), some shops give you a set of crappy things like unsold products from the last year (as you call it "Hazure/failure/missed"). 

Mugiwara store in Tokyo also celebrates the birthday of Ace (his birthday 1st of January). If you buy more than 1000JPY at the store, you can get a special card.
Special Ace items are also available at the shop!