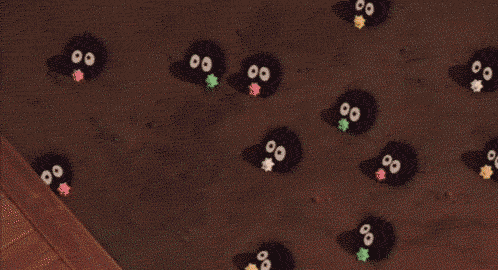 What is Kurosuke's House
Ghibli's museum in Mitaka is a must go place for Hayao Miyazaki fan but did you know there are also some other places you can go if you are a hardcore fan? 

For example, Kurosuke's house ( "クロスケの家" in Japanese ( pronounced as Kurosuke no Ie)) near Tokyo. Do you recall the cute black things called Makkurokurosuke or Susuwatari (aka Soot sprites in the US) in My Neighbor Totoro and Spirited Away.  These are believed to live in old house  and only kids can see.
Totoro fund bought an old Japanese house (over 100 years old) and named it after the cute characters from Studio Ghibli.
In this house, Totoro fund showcases its activity to protect nature where it buys and protects the natural forest and sometimes fights (not physically!) against the companies which try to destroy the nature. Moreover, you can see how the old Japanese house ( including a family tea factory) is like and get the special Totoro goods. Moreover, you can meet the life size Totoro in the main house.
Please be aware this house is not like Mitaka Ghibli museum. It is basically an old house with small displays (and big Totoro!). The opening hour (shown as below) is limited so not easy to visit but if you are in Japan on right timing, it is worth a visit.
In the house of Kurosuke, you can see how the traditional Japanese house is like in Japan.
Source: Totoro Fund/Ghibli
How To Get Kurosuke House
Opening hour: The open hour is limited: It is open on Tuesday, Wednesday and Saturday from 10:00AM till 15:00. (And if one of these days is a public holiday, it is closed.)
Fee: Free ( But there is a charity box to donate to keep the house in a good shape!)
Address: 3 Chome-1169-1 Mikajima, Tokorozawa-shi, Saitama-ken 359-1164 ( in Japanese: 〒359-1164 所沢市三ヶ島三丁目1169-1 )
Contact: Tel. +81 4-2947-6047
No parking lot available
There are several ways to get there. If from Ikebukuro "池袋" a city in Tokyo(accessable by various lines e.g. Subway Marunouchi line, JR Yamanote ), then you take Seibu Ikebukuro line "西武池袋線" towards Hanno "飯能" and get off at Kotesashi "小手指", take a bus towards Waseda univ. "早稲田大学(行き)" or Miyadera-nishi "宮寺西(行き)" and get off at Dainichido "大日堂". From Dainichido, you walk for 5 mins.
It would take around 2 hours from the centre of Tokyo. 
But if you are really into Ghibli (esp. Totoro ), this place you need to visit because this may be something many of studio Ghibli fans still do not know.
If you are interested in learning more about Totoro fund, you can click above link to go to its official website.
(Updated 19 May, 2016)