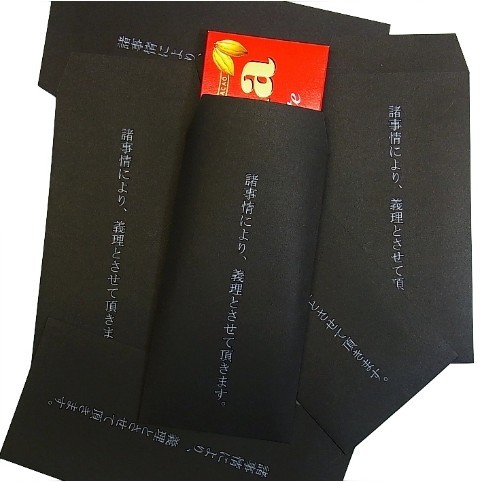 Valentine's Day 14 Feb is approaching.
In Western world men give roses to the women they love.
But for some reason, in Japan it is quite opposite.  
Women give chocolates to their boy friends, loved ones, significant others and the guys they love on the day for lovers​. 
On many occasions they also (feel obliged to..) give chocolates to their male colleagues, friends, customers, class mates and bosses. This type of gift is called "giri chocolate (= obliged chocolate gift)".
Not to give any misunderstanding to those who receive "giri chocolate", one company sells the envelope(3 sets 540JPY) with the sentence "this is GIRI (chocolate) due to various reasons". 
Shop: Village Vanguard
Price: 540JPY
In the world where we hear so much of stalker cases around the world, this product can be one solution to prevent it.
For more reading on Valentine's day culture(and "white day culture where men need to give back the gift whose value shall be 3 times more expensive than they get from women") in Japan, please refer to the article on this site. 
Onegai Kaeru, the owner of Kaeru Parcels, bring happiness to the world with its shopping service and original super cute items!