Inside Popular themed-love hotels in Japan. Why so many Love hotels in Japan.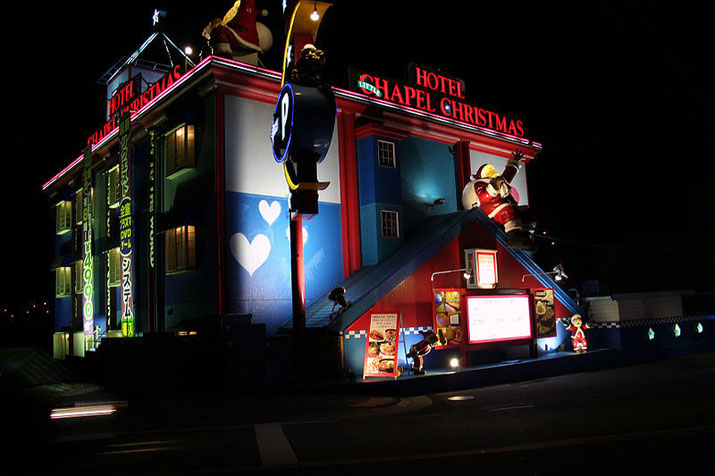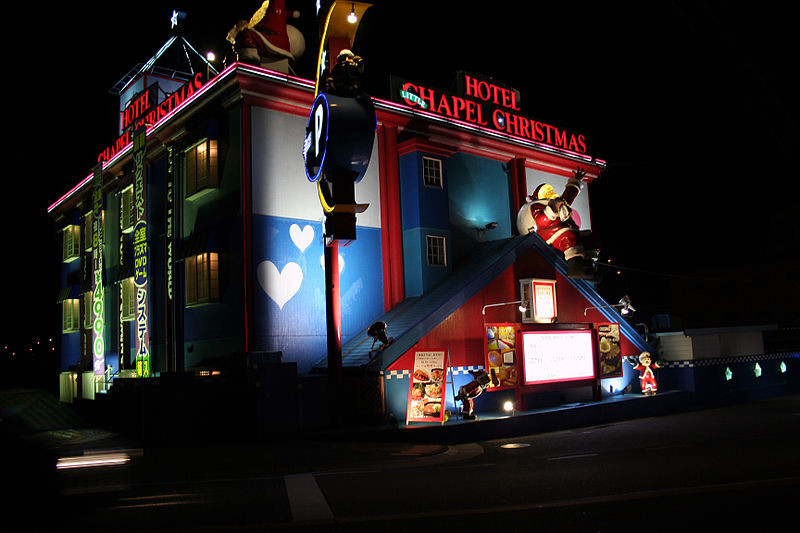 INSIDE POPULAR THEMED-LOVE HOTELS IN JAPAN. WHY SO MANY LOVE HOTELS IN JAPAN. 

There are many "love hotels" in Japan. It is an equivalent to motel in the US. People, young couple, old couple, go there for quickies or one night stand.
Due to the hotel shortage in Japan in big cities, love hotels are becoming more common places for foreign tourists in Japan too. 
In this article, we introduce our analysis on why there are many love hotels in Japan and one love hotel with great rooms with theme in Asakusa, an old city in Tokyo and Niigata, northern Japan.
Recently we notice this love hotel( to be exact, formerly a love hotel, now operating under the name of inn and hostel) called Khaosan World in Asakusa in Asakusa, Tokyo has been a popular destination for foreign tourists in Japan. Almost 90% of the visitors are from outside of Japan.
And you see how cool their rooms(the photos incl. dormitory room) are at Khaosan World Asakusa. The look is quite unique, something you may not see much at normal hotel/inn.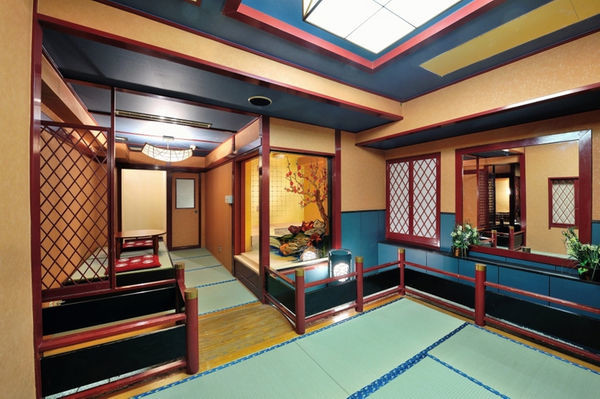 When you are in Japan, you see them a lot of love hotels esp. in the middle of nowhere, for example, in the middle of rice field, in the mountains by some lake, by the high ways.
Why? It is because the local land owner does not see any other better way of utilizing the land if out of no where. 
In the country side, the land owner has not much option to make money out of the land. 
No kid(usually living and working in the big cities) will take care of their farm land. There are too many convenience stores, restaurants, gas stations and car dealer shops. And if enough Pachinko(pin ball gamble shop) shops around, the owner can either leave the land unused only paying the tax or building love hotels. 
If you own some land in the middle of mountain, you have only option to build love hotels. 
There are always people who need to fulfill "natural desire".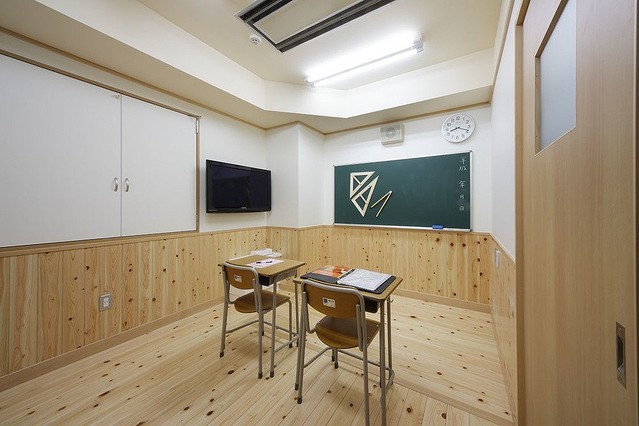 To get the most attention, the hotels are usually very bright color or unique shape like a castle or so. We sometimes feel love hotels are not really beautiful buildings and harm the beautiful scenery. The reason why you see love hotel in the beautiful nature is not only from the economic reason as above, but also the regulation in Japan does not allow love hotels to be built in certain area of the city, esp. near the schools. This way, these Japanese motels tend to be in somewhere hidden.
Onegai Kaeru team sincerely hopes the government introduces some regulation on the appearance of the love hotels all over Japan. The regulation should be something like all love hotels need to be looking like traditional Japanese castles or  buildings at least, not like the pink concrete blocks.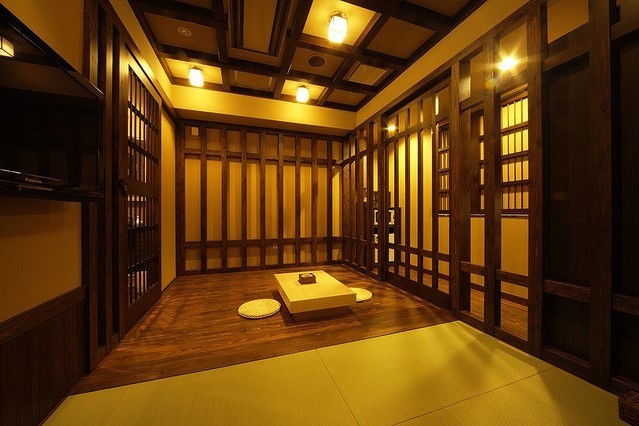 Some talk about great room with strange equipment in love hotels in Japan. The fact is that not all love hotels are that interesting. Many of them are similar to any "business hotels" with simple design room.
Here we introduce the inside of one love hotels trying really hard to be unique. This hotel called US Hotel in Niigata, looking like ugly concrete blocks though from outside.., has built very cool themed rooms as you see. This hotel says they built the rooms so realistic that some guests do not want to sleep there because it is creepy like in the hospital room!
Many cosplay fans visiting Japan. These places are not only used as love hotel by a couple but also anime fans and cosplay fans use them to shoot photos in the rooms! It is not that Japan is full of "Japanese feeling" location. There are not Samurai or Geisha walking around unless you go to particular areas like Kyoto, Kanazawa or old Japan themed parks like Nikko Edo mura ,  Ise Azuchimomoyama Bunkamura and Kyoto Uzumasa. Most of the parts of Japan are like normal modern cities.  Do not you think some of these rooms are somewhat from Kill Bill or so? In these hotels, you can take great photo shooting and even stay over night.
Love hotel business is getting very competitive so the business model is also changing more than before. It is not just only for couple but for foreign travelers and also others. 
About the hotels:
KHAOSAN WORLD ASAKUSA RYOKAN & HOSTEL in Tokyo ( Note: this hotel chain has hotels in several locations such as in Kyoto in Japan. The rooms we introduced here are all in the Ryokan in Asakusa, Tokyo.)
If you are rather a hostel type or capsule hotel type, click here to find out more: Khaosan hostel and Khaosan Capsule hotel.
Address: 3-15-1 NishiAsakusa, 
Taito-ku, Tokyo, Japan ( 東京都台東区西浅草3-15-1 )
TEL: +81 3-3843-0153
Checkin: 3PM - 10PM
Checkout:  11AM 
Hotel US in Niigata ( Note: this hotel chain has hotels also in Ebisu in Tokyo etc. The rooms we introduced here are all in the one in Niigata, NOT in Tokyo)
Address:
2592-1 Kizaki, Kita Ward, Niigata, Niigata Prefecture 950-3304
(Zip 950-3304 新潟県新潟市北区木崎2592-1, in Japanese) 
TEL: +81 25-388-5751
Room fee per night for two guests
Fee depending on the number of star of the room
1star room 4900jpy
2star room 6100jpy
3star room 7100jpy
4star room 8100jpy
5star room 10300jpy
Onegai Kaeru wants you to enjoy Japan trip.
If you are looking for more traveler"s info and can not find one, please let us know. We will try to help you with Japan Traveler Help Service (we work on hourly charge to arrange, book, find info you need). Feel free to contact us!
Looking for great inns with private bath in Japan? Read more!
Have you heard of "Cat islands" and want to know how to get there, please check here!
Want to know another great island in Japan? Please check this out!
Have you heard of "Shark islands" and want to know how to get there, please click here!
Have you heard of "Rabbit islands" and want to know how to get there, please click here!
Looking for a beautiful Japanese inn with private bath during your trip to Japan? Here is the list!
Hungry in Japan? Find the unbelievably big and cheap food from our "where can we get full" list!
Onegai Kaeru, a group of passionate travelers, bring happiness to the world with its shopping support service and original super cute items!
Source: Wikipedia, Khaosan Group website, Hotel Us's official website
Disclaimer: Even though we try to make the info as updated and accurate but the accuracy of the information herein is not guaranteed by us. If you have any uncertainty, please contact the information source.