best photo locations in Japan
Best photo locations in Japan
Do you like photo-shooting? It is one of the biggest hobbies of Kaeru team when we are on trip. 
Onegai Kaeru team compiled 10 best places/festivals you can take great photos in Japan.
These are just examples out of many. First we start with best 10 but there are so many great locations in Japan to shoot wonderful photos. So we plan to add more and more later on.
If you have your recommendation, please let us know!
Yokote Kamakura festival, Akita prefecture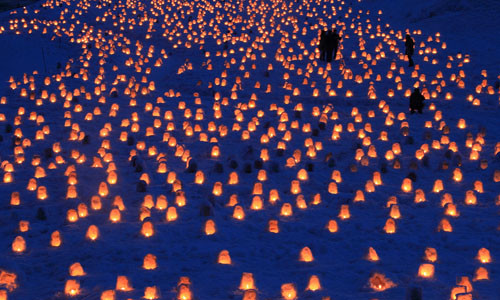 Maruyama Senmai rice field, Mie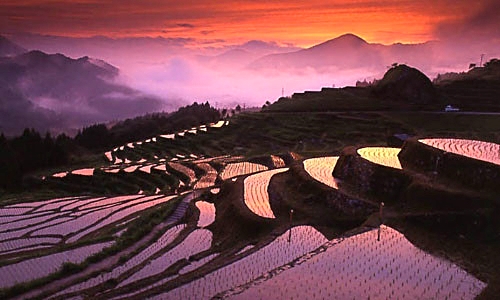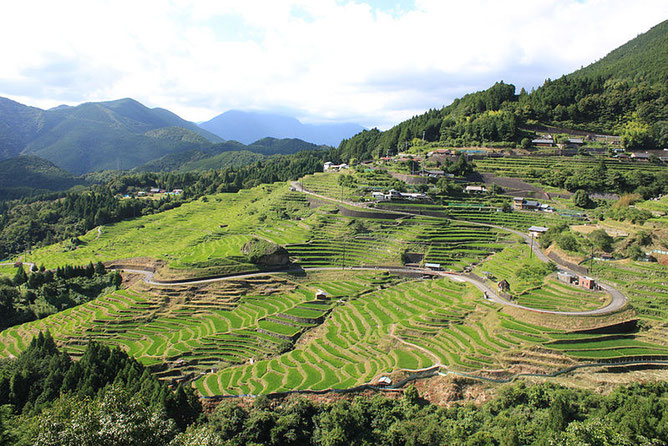 Maruyama Senmai rice field (multi layered rice paddies), Mie prefecture
This magnificent rice paddy is located on the side of Shirakura mountain in Maruyama, Kumano city, Mie. It is called Senmaida - one thousand paddies. In fact there are around 1340 paddies (as of 2017). The smallest paddy is just 0.5 m2.
Nabegataki( Nabega water fall), Kumamoto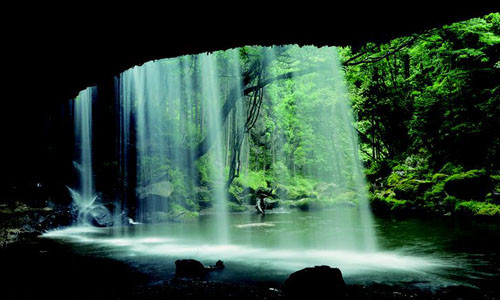 Nabegataki( Nabega water fall), Kumamoto prefecture
This was created by a volcano ca 90000 years ago.
The height is just around 10 meters and the width is 20 meters. Entrance fee is 200JPY for adult and 100JPY for kids (primary and Jr. High schools, if younger, free) There are some lighting decorations for several days in April (e.g. 2nd April - 6th April, 2016)
Opening hour is 0900AM- 17:00
Closed on 28th Dec- 3rd Jan (if big rain or so, it shall be closed) 
Shikotsuko (Shikotsu lake), Hokkaido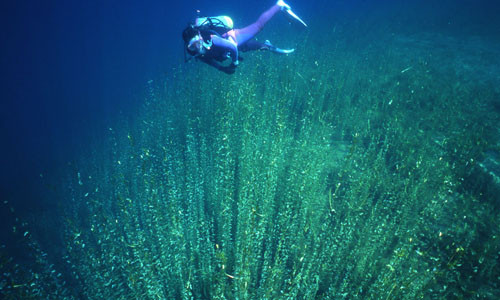 Shikotsuko (Shikotsu lake), Hokkaido 
Coined as "the most transparent water lake in Japan". If you need to dive, please do so with the tour company such as this one and this one.
Super beautiful lake in Hokkaido.
Diameter is 40km, the deepest part is 360 meters.
This was created by a volcano 44000 years ago.
It is the lake which never gets frozen in the far north of Japan (actually it frozen two times in the modern time. The latest is in 2001 and the previous one was in 1978).
Shirakawago (Shirakawa village), Gifu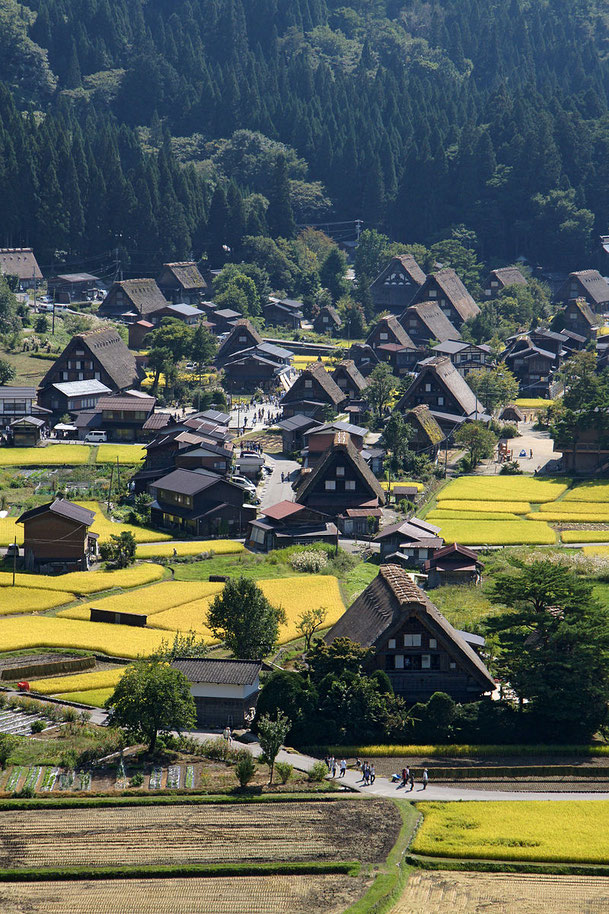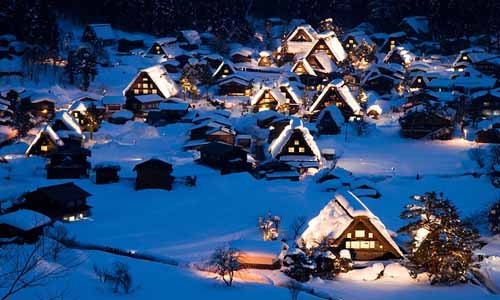 Shirakawago (Shirakawa village), Gifu prefecture
If you are browsing through the Japan travel information, you should have seen the photo of this village a couple of times. This location is as famous as Kyoto probably.
It is in Shirakawa village, Shogawa in Gifu prefecture. 
There are lighting decorations usually in every Feb.
The village has the hot spring bath facility called Shirakawago-no-Yu. 
Takedajo (Takeda castle), Hyogo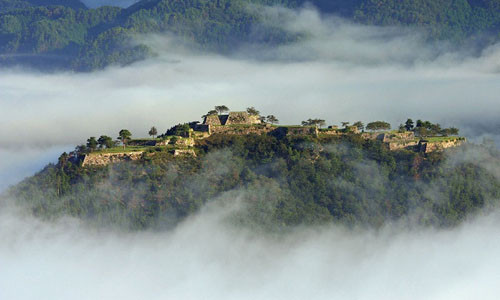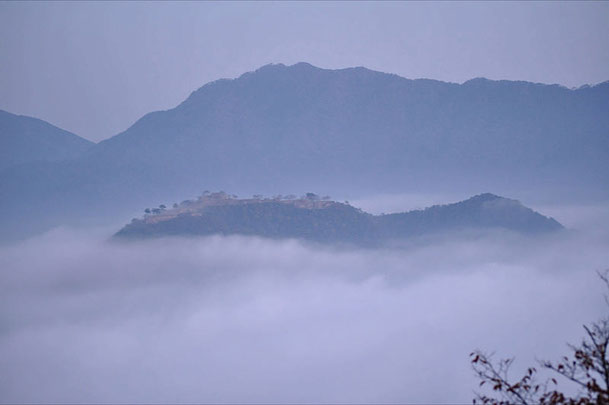 Takedajo (Takeda castle trace), Hyogo prefecture
Coined as " The castle in the sky ".
Located in Wadayama, Asago city, Hyogo prefecture next to Osaka and Kyoto 
The picture of the Takeda castle in the sea of clouds became so famous in recent years.
If you want to take the photo as above, the best timing is between the sun rise and 08:00AM esp. from Sept till Nov. Check the weather forecast to see if there is warning for heavy fog around Southern Tajima area. Fog is usually good.  
You can shoot the great photo on the castle. Also, you go to Ritsuunkyo (立雲峡) or Fujiwatoge (藤和峠) to capture the best angle of the castle. 
Tsunoshima bridge, Yamaguchi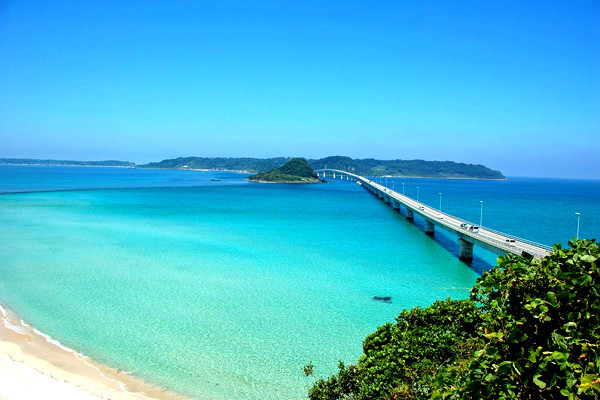 Frozen tree in Zao, Miyagi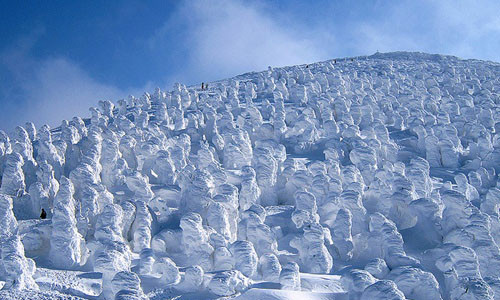 Frozen tree in Zao, Miyagi prefecture
Some people call it "snow monster".
Everything starts at Yamgata station. Fist go to No 1 line Bus at the east exit of Yamagata station. There is the bus toward Zao Onsen. You take the bus and get off at Zao Onsen Bus terminal then change to the rope way. Get off the rope way at Jizou-sancho (地蔵山頂) where you see the frozen trees.
The whole trip is around 6 hours from Tokyo.
Aogashima island, Tokyo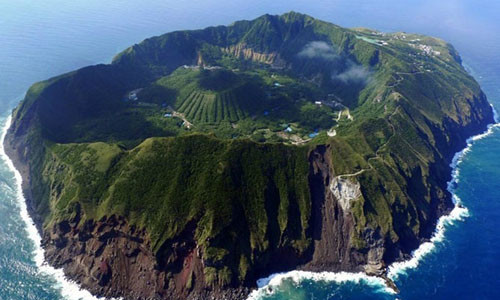 Senbondorii in Fushimiinari, Kyoto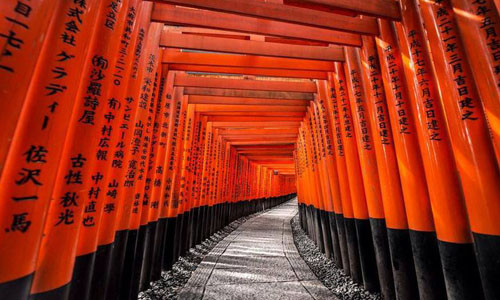 Source: Wikipedia
Senbondorii( thousands of Tori gates (the carrot caloured wooden gates) in Fushimi Inari), Kyoto prefecture
So famous for its numerous Tori gates. It is in the mountain and you can take a good walk through. Each Tori gate is donated by the believer of Shinto thus you see the name of donor on the side often company name, sometimes a person's name.
It is in Kyoto but not so close to the center. You need to take a train. This place is ranked No. 1 popular travel spot in Japan in Tripadvisor several times.
Like many shrines, you can go anytime and for free. (But you need to be careful with your last train to get back to the city)