Spaghetti Japone (スパゲッティー ジャポネ)
One of Onegai Kaeru team members went around Tokyo in search of cheap and big food when he was a hungry and poor student. He still loves large and not expensive food.  
We hope that introducing these unknown places helps their business a bit more. There are many major restaurant chains which enjoy the scale merits and keep the best location of towns. The places we introduce here are run by family or small company at best not always located at the great location. but they are trying their best to serve their customers with delicious food at reasonable price.
Japan is known for small and expensive food. If you are a foreign traveler in Japan, you may be already starving to death by now. 
Continued from the previous "Where can we get FULL in Shibuya", we will introduce some restaurant and cafe where you can eat cheap and a lot in Ginza this time. 
Please note that these places may have their rules about the food such as if you can not finish eating it, you may need to pay some penalty. Please order with caution!
Yes, Ginza is one of the most expensive areas in Japan. You can pay double or trip for the same thing in the area. But there are some reasonably priced places you can go esp. toward Yurakucho area where Japanese salary men ( business people) hang around after work to have some cheap drink.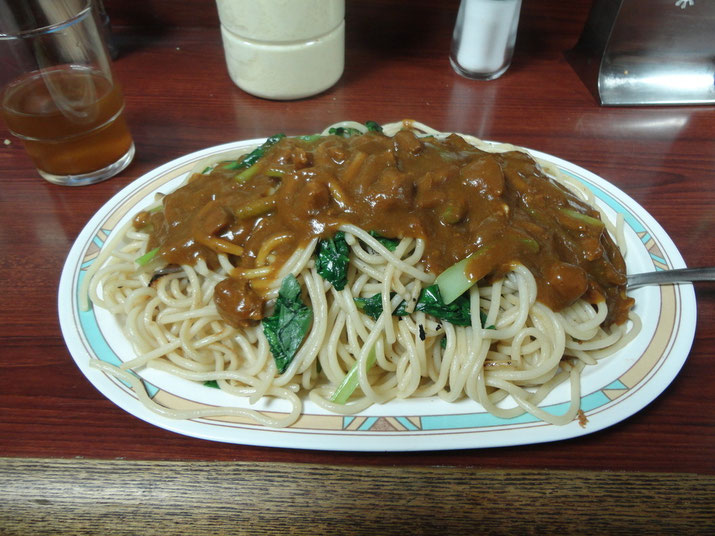 What to order
Just order anything with Rijicho size
There are many kind of pasta with several size starting from regular size. If you are hungry, you should order " Rijicho size (理事長)", the biggest. It is 1150g Pasta. The price is around 900-1000 JPY.
if you are a curry rice fan, you can also get the curry with various sizes!
Basic Info
Name: Spaghetti Japone ("スパゲッティー ジャポネ" in Japanese) 
Address: 1F of Ginza INZ 3, 2-2 Ginza Nishi, Chuo-ku, Tōkyō-to, 104-0061  ( 東京都中央区銀座西2-2先 銀座インズ3 1F) 2min walk from Ginza Icchome stn or 2 min walk from yurakucho stn
Note: the google map on the right does not show the exact location. Find the Ginza INZ 3 with big neon sign "GINZA INZ 3" on the wall of the building. The restaurant is on the 1st floor. 
Opening hour: [Mon-Fri] 10:30AM~20:00
[Sat] 10:30AM~16:00
Closed: Sunday and national holiday ( the same applies to "Golden Week, a long holiday season in April-May"
Tel: 03-3567-4749
Recommended articles for you:
Hungry in Japan? Find the unbelievably big and cheap food from our "where can we get full" list!
Interested in the "Tomogashima-treasure island of old pirates" in Japan? Find out where and how to get there.
Have you heard of "Ikeshima-Forgotten Coal Mine island" and want to know how to get there? please click here!
Have you heard of "Cat islands" and want to know how to get there, please check here!
Have you heard of "Shark islands" and want to know how to get there, please click here!
Have you heard of "Rabbit islands" and want to know how to get there, please click here!
Looking for a beautiful Japanese inn with private bath during your trip to Japan? Here is the list!
Onegai Kaeru wants you to enjoy Japan trip.
If you are looking for more traveler"s info and can not find one, please let us know. We will try to help you with Japan Traveler Help Service (we work on hourly charge to arrange, book, find info you need). Feel free to contact us!
Onegai Kaeru, a group of passionate travelers, bring happiness to the world with its shopping support service and original super cute items!
Source: Wikipedia, each restaurant's official website, Tabelog
Disclaimer: Even though we try to make the info as updated and accurate but the accuracy of the information herein is not guaranteed by us. If you have any uncertainty, please contact the information source.