SITAL Kichijoji Ten (シタル 吉祥寺店)
One of Onegai Kaeru team members went around Tokyo in search of cheap and big food when he was a hungry and poor student. He has a quite good list of places for that!
Curry is a quite popular menu when it comes to cheap and big food. We featured one restaurant in Shibuya. Some readers requested for Indian curry restaurants. We introduce one of our favourites.
This time, the place is in Kichijoji, Tokyo. You get there easily by Chuo line from Shinjuku.
The food is not that big at this place but anyway we put our usual warning ( Please note that these places may have their rules about the food such as if you can not finish eating it, you may need to pay some penalty. Please order with caution! )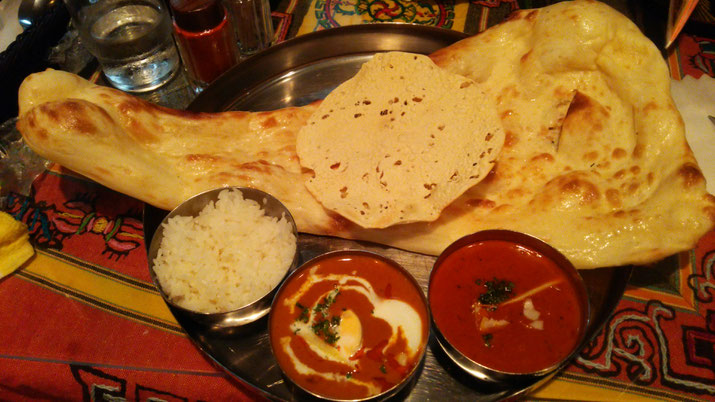 What to order
This place has a tasty big nan ( plain nan).
NEW DELHI SPECIAL
You get the plain nan, rice, salad, two curries (Shrimp and Chicken Masala curries. you can not choose!) and papad (kinda savory snack)
Price: 1,274 JPY (incl. tax)
Or anything with "Plain Nan". 
You can choose the Child, Mild, Medium, Hot, Super Hot. 
We ordered Hot and Super Hot. Not that spicy hot. It was hard to eat when the curry and rice were hot (temperature hot) which made the food quite hot. But as these foods cool down, it was not that spicy hot.
Basic Info
Name: SITAL Kichijoji Ten (Ten means "branch") ("シタル 吉祥寺店" in Japanese) 
Address: 3rd floor of Cosmo, 1 Chome-8-3 Kichijōji Honchō, Musashino-shi, Tōkyō-to 180-0004 (東京都武蔵野市吉祥寺本町1-8-3 コスモ吉祥寺 3F)
5 min walk from West Exit of Kichijoji station (JR Chuo line)
Not easy to find it. First find Cosmo (old building with several shops and restaurants) with big sign, Saizeriya ( cheap Italian restaurant chain). It is on the same floor with Saizeriya
Opening hour: 
Mon-Fri 11:30AM-15:30 and 17:00-24:00 ( We went there for dinner. Lunch deals are more reasonable.)
Sat, Sun and national holiday 11:00AM-24:00
Closed: basically always open
Tel: 0422-23-2237