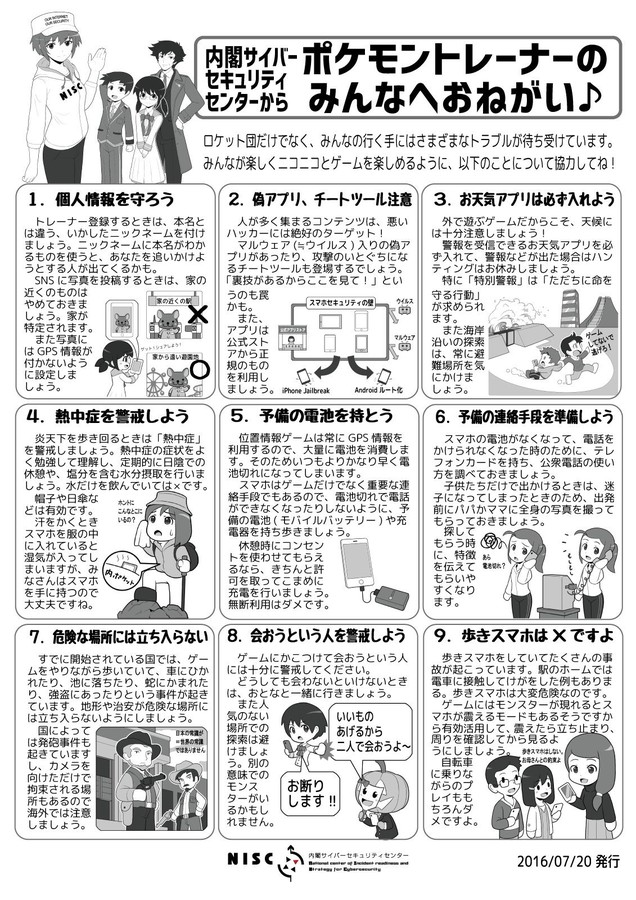 1. Protect personal information
Do not use the real name and Do not take and publish phone of something close to your address.
2. Watch out for scam apps, cheat tool
To avoid malware, only install from the official website.
3. Install a weather app
Pay attention to the weather forecast and take rest from time to time. Weather can change abruptly esp. afternoon in summer with lightening storm  etc. in Japan.
4. Be careful with Heat stroke
Playing under the strong sun, make sure to drink and take rest.
5. Bring the external battery
Smartphone uses up its battery easily with this game. Always have one or two external battery(ies) with you even it is heavy!
6. Carry telephone card or coin just in case need to use a public phone
In case the smartphone's battery dries up, carry some coins or so to use a public telephone in case of emergency
7. Do not enter somewhere dangerous
Better play around the area familiar to you and also do not approach anywhere looking unsafe such as river, cliff, ocean, forest etc. without parental guidance.
8. Be careful with people who try to meet online/offline
Sexual offenders are everywhere and watch out for these criminals. Be with parents and call police immediately as soon as see anyone suspicious. 
9. Do not use the smartphone while walking
What NISC Warning Did Not Cover?
What the warning did not cover is the internet contract issue. Pokémon GO player go outside with no WIFI. Check the internet usage limit on the contract and increase it if you need. Many of you in Japan tend to have 4-5GB usage limit with your carriers. It depends how hard you play though, you may hit the limit and the connection shall be slowed down by the carriers.
One idea is that if you are with a big carrier like Docomo, AU (KDDI) or Softbank paying 4000-8000JPY per month, consider AEON mobile or Rakuten Mobile which cut your smartphone payment drastically (to 1000-2000JPY for similar or even better deal) in Japan ( if you have a SIM free smartphone from overseas, you can get a SIM card plan ( Note: check your compatibility)). 
For example, you can get Pokémon GO Plus, a watch like device as below to put on your wrist to notify you when Pokémon is around or events taking place.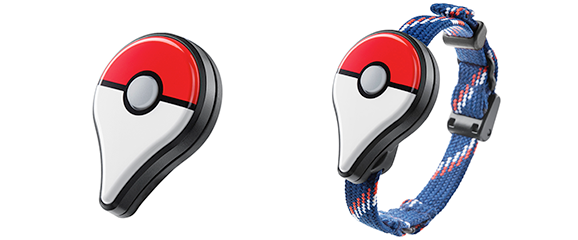 Play safe!!! (when it is released in Japan...)
More articles for you to enjoy:
Pokemon Go possible release date in Japan. Real reason why it is delayed in Japan!
Looking for a beautiful Japanese inn with private bath during your trip to Japan? Here is the list!
Hungry in Japan? Find the unbelievably big and cheap food from our "where can we get full" list!
Have you heard of "Shark islands" and want to know how to get there, please click here!
Have you heard of "Rabbit islands" and want to know how to get there, please click here!
Onegai Kaeru wants you to enjoy Japan trip.
If you are looking for more traveler"s info and can not find one, please let us know. We will try to help you with Japan Traveler Help Service (we work on hourly charge to arrange, book, find info you need). Feel free to contact us!
Want to know more places for the great photos in Japan? For example, Toshima island with so many flowers. Please check this out!
Do you know an island with over 2000 years old tree in Japan? Please check this out!
Onegai Kaeru, a group of passionate travelers, bring happiness to the world with its shopping support service and original super cute items!
Source: Wikipedia, NICS website, Pokemon Official website
Disclaimer: Even though we try to make the info as updated and accurate but the accuracy of the information herein is not guaranteed by us. If you have any uncertainty, please contact the information source.