How Not To Be Cheated by Taxi at Ho Chi Minh City (Tan Son Nhat) International Airport, Vietnam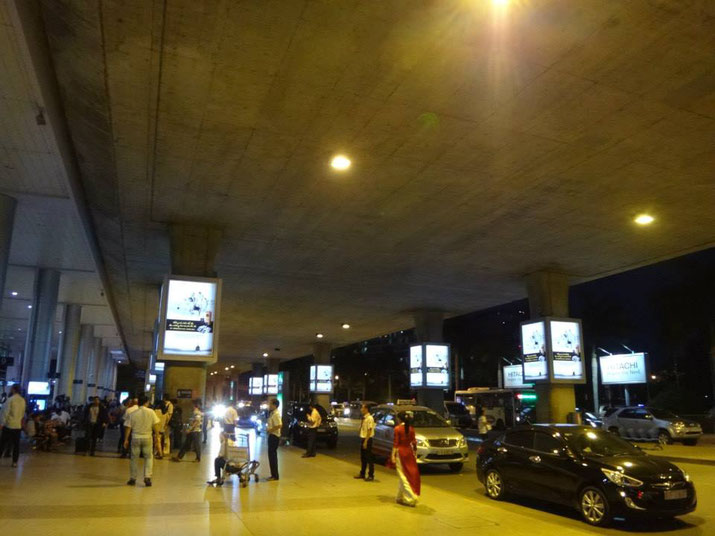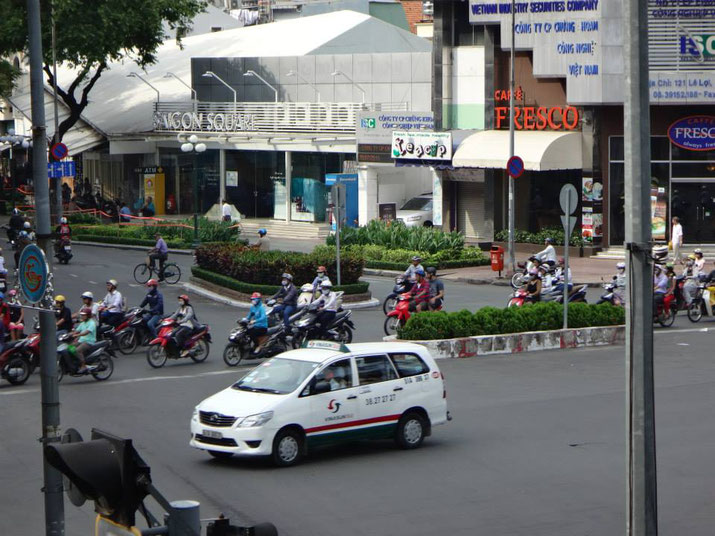 Planning to travel to Ho Chi Minh City (in short, HCMC), Vietnam or are you already at the airport using the WIFI? You have landed at a right place to begin your trip with no (or most likely not so much) stress!
As we provide the overseas support, we travel often. Usually we only provide travel tips in Japan but our main goal with this website is to make everyone's trip safe and happy one. 
Alternative to taxi, is Uber and Grab. Recently (as of Dec, 2017) we see more and more Uber and Grab. If you have the app and the local sim, you can try it. Much easier than taxi. 
We have great response for the article  " How Not To Be Cheated by Taxi at DPS Airport, Indonesia ".
In this article, we would like to show some tips for your trip to Ho Chi Minh City, Vietnam. Even you go to Hanoi or other main parts of Vietnam, some of the tips here can be useful. 
<<Not only Japan, we support your market entry to Vietnam-South East Asia! Feel free to talk to us. >>
Yes, you have Free WIFI at HCMC Airport
If you are flying to Ho Chi Minh City, Vietnam, you arrive at Tan Son Nhat International Airport. Once you arrive at the airport, you have a free WIFI. If you are inside the airport building, first finish reading this before you get out of the building to lose your free WIFI. If you see below screen, you are on the right track to get the public WIFI. (Valid as of Oct. 2016)
The 4 tips
There are many taxi and car waiting in front of the arrival area. Many people will talk to and ask you "taxi? taxi?". Do not worry. We will give you the clear instruction how to  " minimize (just minimize, our method is not fault proof!)" problems on your way from the airport to your stay. 
There are only 4 tips. But very important 4 tips.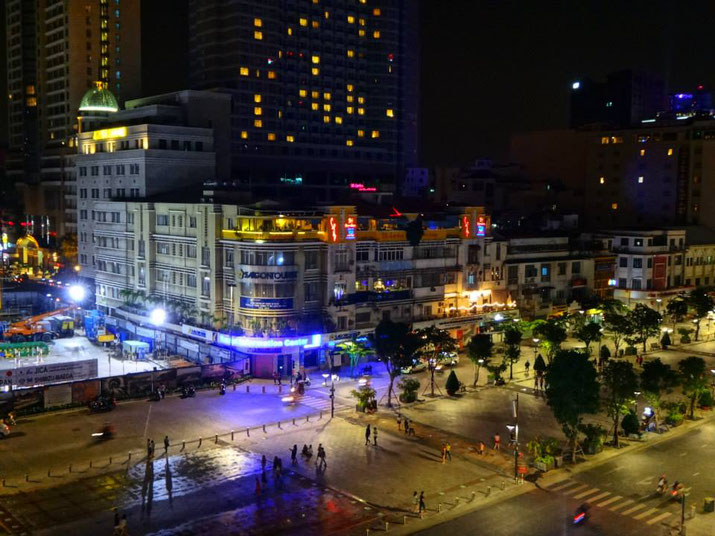 1. Use only two taxi companies: Vinasun and Mai Linh
Use only two companies Vinasun Taxi and  Mai Linh taxi . You can find Mai Linh taxi in many parts of Vietnam including Hanoi and Da Nang.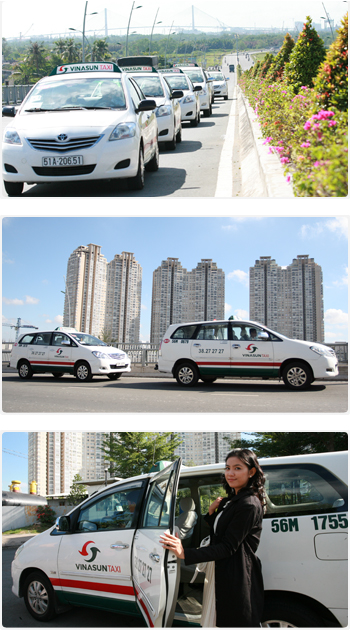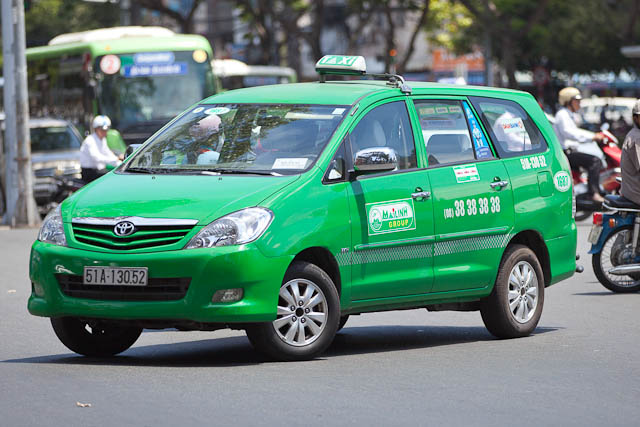 2. Once you get out of the arrival area of the airport building, you walk to the LEFT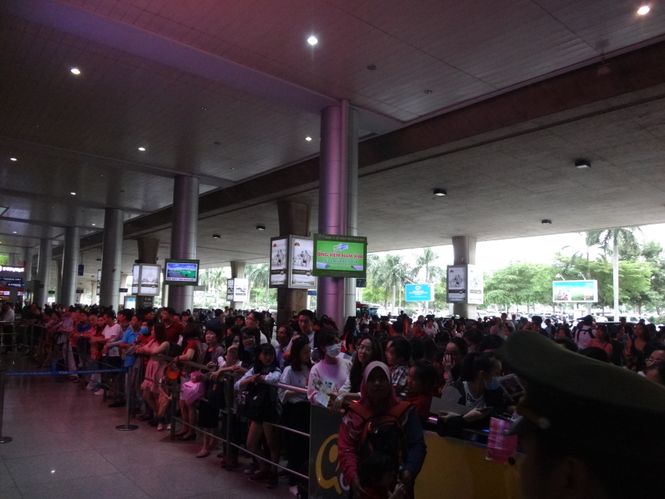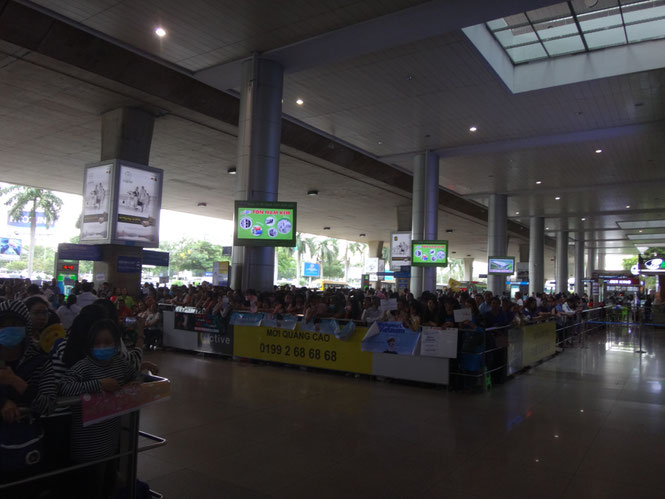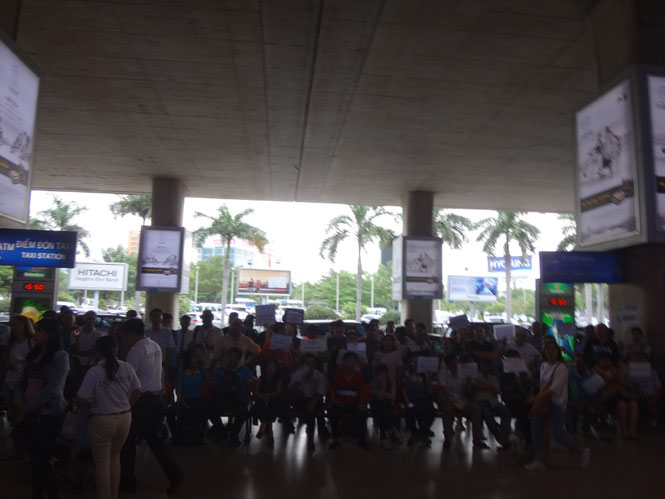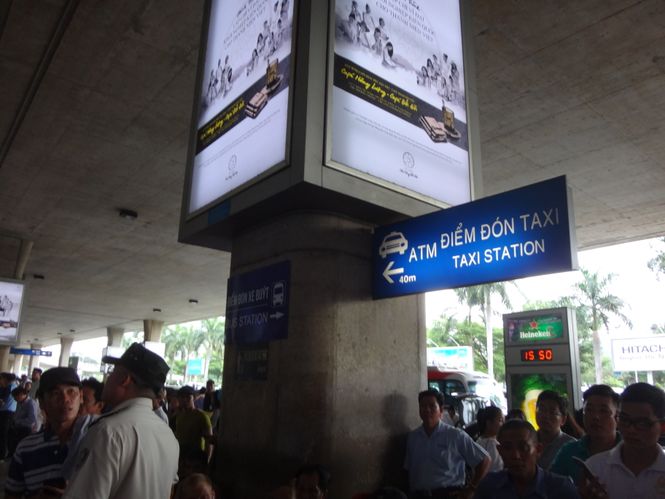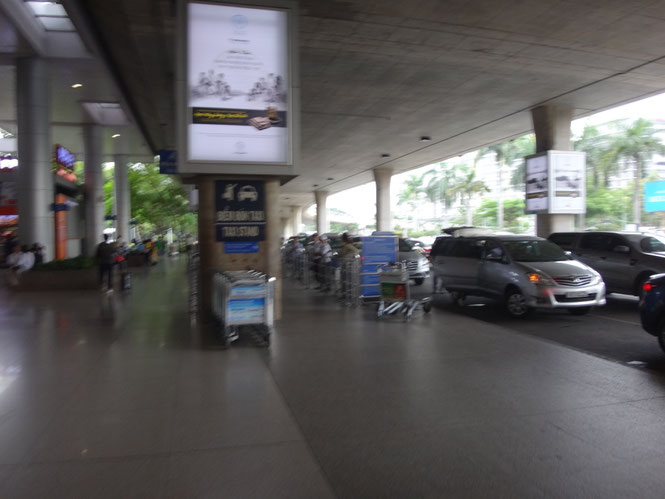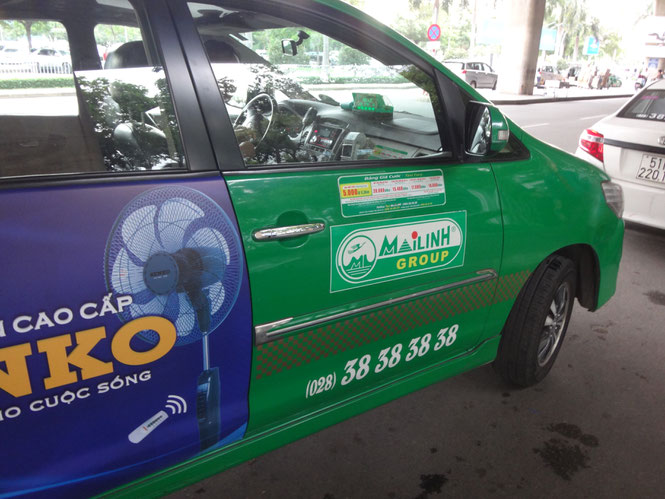 You ignore all call from the people talking to you. The Vinasun and Mai Linh taxi are waiting at the taxi area on the left when you are out of the arrival gate. There are other taxi companies in the line. You ignore all others and find the Vinasun and Mai Linh.
Not the silver good looking taxi, not the yellow good looking taxi, not the red good looking taxi!  jus find these two Vinasun or Mai Linh taxi!
( Alternatively, you go to the right and go back into the airport building and go up to the departure gate area (just ask the airport staff how to go to the departure gate.). On that floor, you find taxi which drop the people who depart or see their family/friend off . You can also get Vinasun or Mai Lihn. In this case, you need to pay around 10,000 VND (dong) first when the taxi goes out of the airport. Then, you pay the amount based on the meter. Yet, this tip. 2 is much simpler and easier.)
3. Keep only small amount in your wallet
It is important to have little money (small bills) in your wallet. When pay, just give the right amount. 
Even when you use two companies Vinasun Taxi and  Mai Linh taxi, it is quite common that the driver gives you only "part of" change when you get off. Let say, if the taxi meter was 150,000 VND (dong), you give 200,000 dong. The driver only gives you 10 dong back as change and try to keep 40,000 dong. The driver tends to say "is this okay?" when he/she giving you not-enough change and tends to get out of the driver's seat to get your bag/luggage out from the rear to finalize the business! 
When you get in Vinasun, the staff gives you the piece of paper about the driver who will drive the taxi for you. If you are cheated, you report to the taxi driver based on the information on the piece of paper.
4. Never take any car which parked in the parking lot in front of the airport
Once you are at the arrival area, there are people talking to you and giving you some price (something 140,000 dong to the city). These people will take you to the parking lot across the street. DO NOT EVER FOLLOW THEM. Do not even respond to any call until you are in the Vinasun or Mai Lihn tax.
Scary experience
 Regarding 4. above, we have had a scary experience to share. we were almost in this " trap ". For the first time at the airport, we were not sure where to find the taxi so we wandered a bit. There was a guy talking to us. He was in his not-so-suspicious uniform (a white shirt with a short sleeves and long trousers). He showed us some card he had from his neck which looked like a company's entry card. We did not know what it was written there but he tried to impress us that he was an official taxi broker. He told us 140,000 dong for the city center.He took us to the parking lot across the street then put us at the back seats. 
He told us to wait for a driver. A driver came and asked us if this was the first time to visit HCMC. We did not say it was the first time (careful with the answer to this type of question, better not to show that you are the beginner in the city. Drivers may charge you even more if they think you do not know anything!). 
He started driving to the exit of the parking lot. Then, the driver asked us to pay a parking fee. The guy in the uniform told us 140,000 dong in total but now the driver asking us to pay something extra already. We said "no". The driver insisted on us paying the parking fee. We had some argument and we showed our wallet with only 150,000 dong. He was furious to find out we had not much money in the wallet.
He told us that we better take taxi and drove back to where the car parked. We tried to open the doors. But there were no levers to pull to open the doors. That moment we realized the levers of the back seats were deliberately cut so that the guests can not open the doors from inside!! This way, only the driver can open from outside. We were very lucky getting away from the scam car.
Imagine that you drive with that trap car out of the airport! 
So keep these 4 points in mind when you fly to HCMC.
Uber and grab in VIETNAM?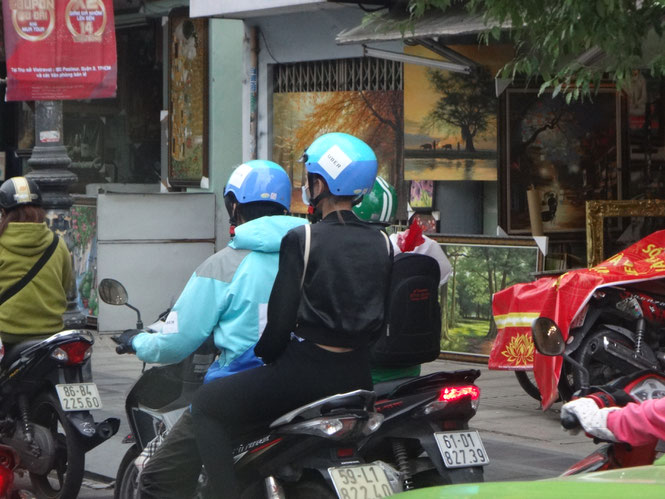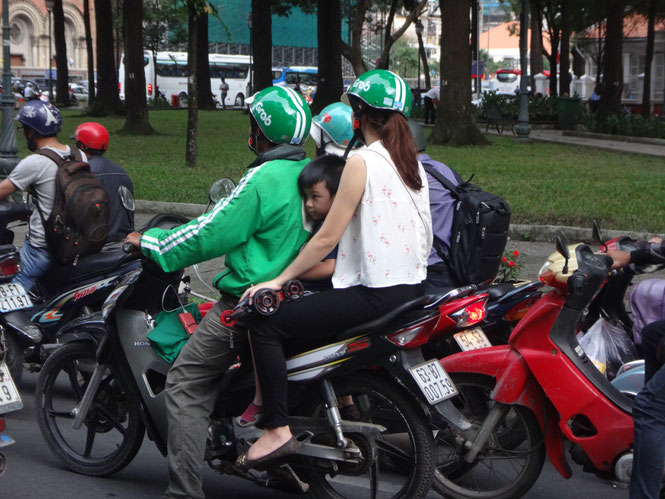 If you have Uber or Grab, they are available in Vietnam. We observe more Grab than Uber in HCMC. They offer motor cycle and car. We recommend car because ridig the motor bike is not always really safe. Just use Grab or Uber. Make sure you have a skype credit so you can call the driver.  
We notice some users use Uber and the driver asks the customer to cancel the order. Yet, the customer shall be charged with penalty (and actually it is hard to pay the penalty as the payment system is not working well). Watch out if the Uber driver asks you to cancel.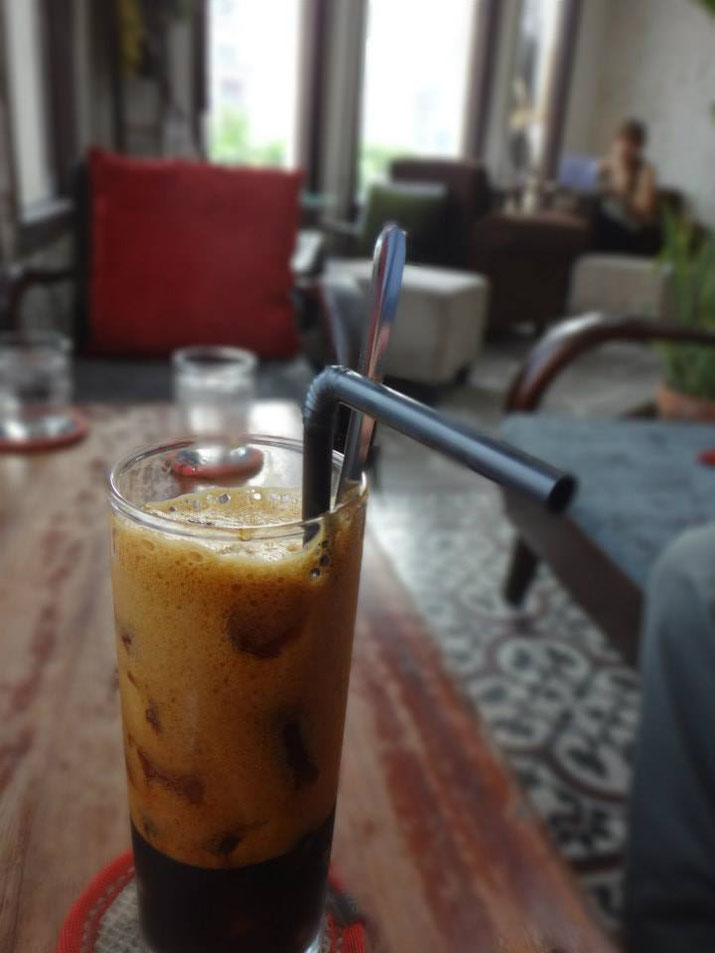 Trust your common sense and have a safe and fun trip!
If you have a good travel tip or information, please share with us.
<<Not only Japan, we support your market entry to Vietnam-South East Asia! Feel free to talk to us. >>