No Rabbit on Rabbit Island - Okunoshima? Where did They All go?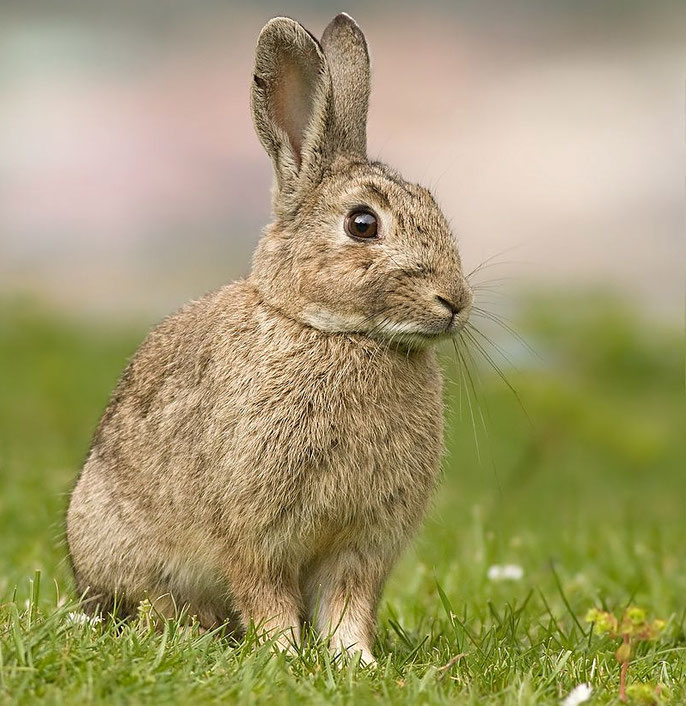 Recently visited Okunoshima island? You saw no Rabbit? Where did you think they all went?
No Rabbit on the Okunoshima island?
How are you in the corona pandemic?
Many of us have prob travelling this year of 2020. Have you traveled to Okuno Island - commonly known as the "Rabbit island"?
If you were on the island, you would have noticed that many rabbits "disappeared".
Corona Damage on the Rabbit Island
The rabbits life largely has depended on the tourists till now. The ministry in charge of the island has recommended no feeding to the rabbit but since 1970 when a first rabbit group taken to the island, the rabbit population exploded thanks to the constant supply of food the travelers gave.
In 2019 April, it is said that around 20,000 visited the island. 
What about the April, 2020?
It is only around 2,000 travelers. More than 80% dropped.
There were new cruise ships run by Bunker Supply since Oct, 2019 to meet the bigger demand.
200JPY rabbit food is now free of charge. You can get it at the port of departure i.e. Tadanoumi port, Hiroshima.
Where did the rabbit go?
Most likely in the forests. There is no information that these rabbits died out. 
Because the travelers disappeared, the rabbits moved to the deeper part of the island to find food.
For the maintenance of the rabbit spices on the island, this could be a good direction. Certainly not good for the tourism industry of the area which hugely depends on the rabbit.
Corona stress? Some abuse case on Rabbit too
Very sad but the corona stress may have impacted some people behavior. In January, 2020, there were the cases where some of the rabbits were found to be sprayed with mayonnaise type of sauce. Probably, some people made a joke. But we need to pay more careful attention to this small case which can escalate into serious crime. 
How to get Rabbit island in Japan and Where to Stay
The Rabbit Island
 The island is called Okunoshima island ( "大久野島" in Japanese). Okunoshima, 4km diameter, is located in Seto inland sea, 3km away from Takehara city, Hiroshima.
In 1971 a primary school outside of the island released 8 rabbits onto the island. The first 8 rabbits grew in the number over the years. Around 300 in 2007, and then 700 rabbits were recorded in the study in 2013. 
The type of rabbit on the island is mainly very fluffy one called European rabbit (Ana-usagi in Japanese).
More than 200,000 rabbit lovers visit the island every year. The statistics shows 136,000 visitors in 2005 and 254,000 visitors (in which 17,000 are from outside of Japan) in 2015.
To protect the rabbit, you are not allowed to bring any dog to the island except guiding dogs for the blind people.
Poison Gas Museum
Unlike other animal islands which are normal fishermen' villages, Okunoshima has an interesting history. 
In 1920s then-Japanese army established the chemical weapon(poison gas) factory on the island. Because it manufactured the chemical weapon which was prohibited under the international treaty, the existence of the island was deleted from the official map. You can visit the Poison Gas museum to learn more about it.
Details of The museum(price and opening hour)
Opening hour: 09:00AM-16:30 (Closed on year end and beginning)
Entrance fee:
100JPY for adult 19 year old or older (80JPY if you are of group of 20 people or more)
50JPY for kid 18 year old or younger (40JPY if you are of group of 20 people or more)
Tel: +81 846 26 3036
How to get the island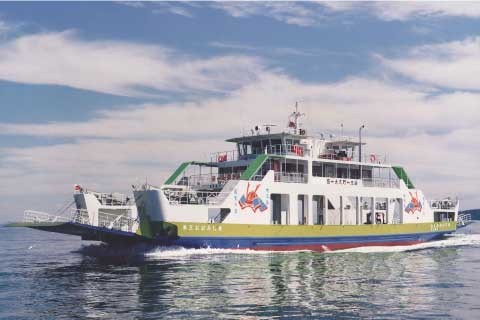 You can get the island by ship only
By ship
New ship line from April, 2017
From April, 2017 there is a new ship line from Mihara to Okuno island ON WEEKENDS AND NATIONAL HOLIDAYS. It is a 30 min trip. 13 mins from Mihara port to Sunami port, 17 mins from Sunami port to Okunoshima island.
To Okuno island
Ship No. 
To Mihara
Mihara
Sunami
Okuno island
 
Okuno island
Sunami
Mihara
09:30
09:43
10:00
1
10:05
10:21
10:35
11:00
11:13
11:30
2
11:35
11:51
12:05
13:00
13:13
13:30
3
13:50
14:06
14:20
14:40
14:53
15:10
4
15:20
15:36
15:50
16:00
16:13
16:30
5
16:50
17:06
17:20
Price
From - To
One way
Round trip
Mihara~Okuno isl
Adult
1,500
2,400
Child
750
1,200
Sunami~Okuno isl
Adult
1,000
1,600
Child
500
800
※All shown in JPY   Child means a primary school kid or younger
How to book the ship?
For the new line, you can book in a 1 month in advance. You can not book it on the day. You can get a ticket at the port of departure though, the person with the reservation have a priority to be on board.
1. you call  + 81 848 38 9030 ( 08:30AM - 17:00 )
2. you tell i. the date of departure, ii. which Ship. no, iii. which port to depart, iv. name of the passenger, v. number of the passenger, vi. your telephone number.
3. you get a reservation number. 
For details, you can check this website. (all in Japanese)
We can help you book the seats if you give us the following information (our service fee starts from 100EUR per hour ).
Ordinary way
Get Omishima Ferry from Tadanoumi port("忠海港" in Japanese) to get off at Okuno port ("大久野港" in Japanese) ( the ship further goes to Sakari port, Ehime ("盛港" in Japanese) .
Price
 
One way(JPY)
Round trip(JPY)
Sakari~Tadanoumi
Adult
360
720
Child
180
360
Sakari~Okuno
Tadanoumi~Okuno
Adult
310
620
Child
160
320
Time table
|   | fr. Sakari | fr. Okuno | arr. Tadanoumi |   | fr. Tadanoumi | fr. Okuno | arr.Sakari |
| --- | --- | --- | --- | --- | --- | --- | --- |
| 1 | 07:00 | → | 07:25 | 1 | 07:30 | → | 07:55 |
| 2 | 08:00 | → | 08:20 | 2 | 08:30 | 08:45 | 09:00 |
| 3 | 09:05 | 09:20 | 09:35 | 3 | 09:40 | 09:55 | 10:10 |
| 4 | 10:15 | 10:30 | 10:45 | 4 | 10:50 | 11:05 | 11:20 |
| 5 | 11:25 | 11:40 | 11:55 | 5 | 12:00 | 12:15 | 12:30 |
| 6 | 13:35 | 13:48 | 14:00 | 6 | 14:05 | 14:19 | 14:35 |
| 7 | 14:40 | 14:56 | 15:10 | 7 | 15:15 | 15:29 | 15:45 |
| 8 | 15:50 | 16:06 | 16:20 | 8 | 16:25 | 16:39 | 16:55 |
| 9 | 17:00 | ※17:16 | 17:30 | 9 | 17:35 | → | 18:00 |
| 10 | 18:40 | → | 19:05 | 10 | 19:10 | → | 19:30 |
(※17:00 ship from Sakari stops at Okuno island ONLY during Feb-Oct.)
 Modified as of 29 April, 2016 subject to changes
Contact of ferry company:
Rough time frame to travel to rabbit island
To get the Tadanoumi port("忠海港" in Japanese)
5 min walk from JR Tadanoumi station
To get the Tadaonumi station("忠海駅" in Japanese)
From Tokyo
Shinkansen line toward Hiroshima( "bullet train") from Tokyo station or Shinagawa station to get Fukuyama station ("福山駅" in Japanese) 
Change at Fukuyama station to JR Sanyo hon-sen toward Mihara, to get Mihara station ("三原駅" in Japanese)
Change at Mihara ("三原駅" in Japanese) to  JR Kure-sen to get Tadanoumi station
From Osaka, Kyoto, Okayama
All on its way from Tokyo by bullet train toward Hiroshima.

Where to stay
Holiday Village Ohkunoshima
If you want to stay on the rabbit island, there is only one place. It is Holiday Village Ohkunoshima( "休暇村 大久野島/Kyukamura Ohkunoshima " ) which has a hotel and camping site. 
Hotel type accommodation
62 Japanese type rooms and 2 western type rooms
Starting from 9060JPY with two meals depending on plan and season
After you click the below picture, you jump to the Japanese website but you can book from the box at the bottom left corner.
Camping site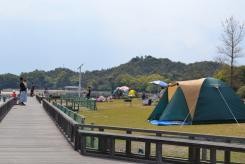 Other options to stay? At Mihara port
If not on the island, you can consider staying around the stations with a good access to  Mihara port. As we explained, the new ship line to Okunoshima from Mihara port starts in April, 2017. This way, staying at somewhere close to Mihara port is not bad idea. We show you some examples below.
Hotel Yassa
In front of Mihara station. You can rent a bike too.
Center Hotel Mihara
In front of Mihara station. The hotel has normal type rooms and also capsule type rooms. In addition, it has many manga for you to read during your stay.
Practical tips
We have some practical tips for visiting the rabbit islands.
1. Bring or buy some toilet paper in case you want to use the toilet at the Tadanoumi train station. No toilet paper.  Please make sure the paper dissolve in the water. Normal tissue paper does not dissolve so do not use (as of 2018).
2. Since the recent popularity, there are many visitors to this island.  Be prepared to be in the line to BUY the ferry ticket if on weekends or holiday seasons. Be ready to stand for 30-40 mins before you can buy the ferry ticket and some rabbit food. Then, you will be in another line to GET ON the ferry. Avoid the holiday seasons and go there EARLY.
3. Do not give too much food for rabbits. You may see some leftover lying on the ground where rabbits are too full. Due to the increase in visitor, the rabbits tend to get too full. The island office puts the sign at some locations saying "do not feed here". Please follow these instructions.
HAve a nice trip!
We hope that you have all information you need to know about the Okunoshima island. If you want us to feature other place in our section, feel free to talk to us!
Have a nice and safe trip!
Source: Chugoku news, Wikipedia
Tour guide needed?
Onegai Kaeru wants you to enjoy Japan trip.
If you are looking for more traveler"s info and can not find one, please let us know. We will try to help you with Japan Traveler Help Service (we work on hourly charge to arrange, book, find info you need). Feel free to contact us!
Recommended articles for you to read:
Wanna try free spa in the water fall or river in Japan? Click here to find out more!
Do you know how to get the Cat island in Japan?
Want to know more places for the great photos in Japan? For example, Toshima island with so many flowers. Please check this out!
Do you know an island with over 2000 years old tree in Japan? Please check this out!
Have you heard of "Ikeshima-Forgotten Coal Mine island" and want to know how to get there? please click here!
Onegai Kaeru, a group of passionate travelers, bring happiness to the world with its shopping support service and original super cute items!
Source: Wikipedia, Omishima Ferry line, Hiroshima prefecture, Okunoshima island tourist office
Disclaimer: Even though we try to make the info as updated and accurate but the accuracy of the information herein is not guaranteed by us. If you have any uncertainty, please contact the information source.