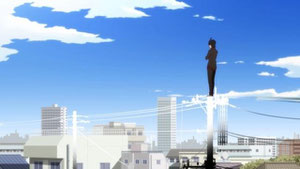 Nikoniko live broadcast Nekomonogatari (Kuro) "Cat Story (Black)" will be aired at 22:00 on 31st of December, 2012.
"Cat Story" is by Ishin Nishio. It is a story about the vampire living in the modern world as humans. Cat Story Black is the first season and then comes Cat Story White. 
You can watch it on TV TOKYO MX, BS11 and Nikoniko Live broadcast( a service provided by Nico Nico Douga "Smile Videos" aka Japanese Youtube ).
For Nikoniko Live broadcast, you can reserve the right to watch it when you want under its service called Time Shift.
So far over 44,000 people reserved it.
If you have not reserved it yet, hurry up!! 
For more interesting news, click here!
In Tokyo, using business office with cats becoming a new trend??
Onegai Kaeru bring happiness to the world with its shopping support service and original super cute items!