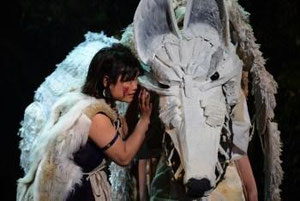 Onegai Kaeru reported on Ghibli Hayao Miyazaki's Princess Mononoke becoming a stage drama in the UK.
The stage theater started in April at AiiA Theater Tokyo, 2013 and ends at 17:00 on 6th of May, 2013. 
Well, this theater was so popular that the April season ticket was sold out only after 72 hours and its June season ticket was sold out only within 4.5 hours.
You do not need to go through the hustle of getting the ticket and being at AiiA theater Tokyo in Japan or in the UK.
You can watch the story of the flight between the nature and human and the love story between Ashitaka and San on stage on Niconico Live stream. This stage being recorded so that you can watch this with the pay per view basis till 6th of June, 2013.
Ticket Price for this Niconico Live streaming:
Presell ticket(not available anymore): 1800 niconico point ( 1 niconico point is 1Japanese Yen)
Normal ticket: 2000 niconico point 
Click here to see more news like this.