Teddy Bear Kumamon by Steiff  (ONLY AVAILABLE IN JAPAN)
Steiff Kumamon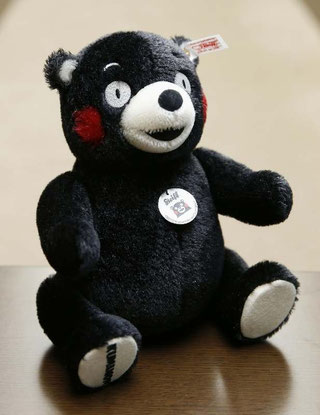 Real Kumamon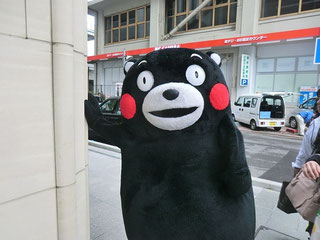 How to Get them?
Steiff Retail GmbH is a plush toy like teddy bear company founded in 1880 by Margarete Steiff in Germany.
Steiff Japan sells a special teddy bear. 
It is the Kumamon Teddy Bear. Kumamon is a character of the Kumamoto prefecture which has been very popular in Japan recently.
The Steiff Kumamon face looks slimmer than a normal Kumamon. What do you think?
The reservation started 12:00 mid night tonight 12 May, 2013 (Japan Standard Time) on its official website. It costs 29, 400JPY and 1, 500 of them only available.
The reservation already ended. You can still buy them circulated on the market like the below. Because of the high demand and small supply, the price is higher than the original price.
Other Japan Original Steiff
Steiff also released many Japan original items like Totoro and Godzilla as below:
More Kumamon Goods
If you are a Kumamon fan, there are cool Kumamon goods as below:
We have one of these. You place a coin on the box and the cute animal comes out of the box and take the money into the piggy bank. We did not know the one with Kumamon exists.
Important to have it in the winter. You put a hot water and Kumamon will keep you warm.
This guitar is a special piece from Fernbandes. It is made one by one based on order. It is a piece of art. 
Note: These shops above are just examples we happen to find online in Japan. The price and terms are all as of the time of the article, all subject to changes from time to time including the availability of the goods. We do not support any of these. Onegai Kaeru shall not take any responsibility regarding any issue with these shops.