Ghibli's The Story of Princess Kaguya Preview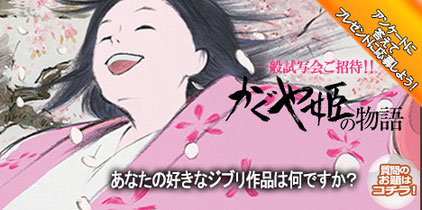 Ghibli's new movie, The Story of Princess Kaguya Preview
Did you watch "The Wind Rises"? Onegai Kaeru team watched it and enjoyed it. The taste is a bit different from previous Hayao Miyazaki's movies. As the storyline based on more or less the real people and events.
The excitement of Ghibli fans do not stop here this year.
Hayao Miyazaki's counterpart Isao Takahata's movie is coming on 23rd of November, 2013.
The movie is called "The Story of Princess Kaguya ( Kaguya-hime no Monogatari, かぐや姫の物語" . The story is based on the Tale of Bamboo Cutter which is very old yet with the hind of Science Fiction. One of the mysterious old stories in Japan.
The preview (Free) is on 8th of November, 2013 at Yomiuri Hall, Yurakucho, Tokyo. You can apply to win the ticket of this preview via several ways as below.
We feel a bit special about Isao Takahata because we met him twice in person. He was a very soft spoken person and very kind.
The date of this preview: 8th of November, 2013
Place: Yomiuri Hall 
Time: 18:00 gate opens and the movie starts at 18:30
How to win the tickets:
1) Send the email to this mail address 15 couples ( 30 people in total) shall win the tickets " kaguyahime( at )animeanime.jp " subject to this information policy 
In your mail, you put the title " 「かぐや姫の物語」一般試写会応募 " and your name, and home address and email address
2) Become a member of Ticket Pia and apply 50 couples (100 people in total) win the tickets. For this one you need to subscribe to be a member and pick one of your favorite Ghibli movies
Good luck!
For similar news, please click here!