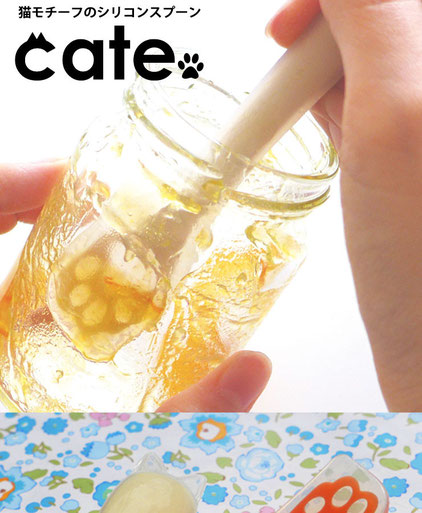 Cat Paw Spoon on Sale
Tokyo Cat Guardian, a Tokyo based Non profit organisation, to shelter strayed cats, sells super cute items for feline lovers such as the celebrity cat's Uni calender. 
Its latest item is Cat Paw Spoon called Cate, (Cate means the combination of Cat and Te(hand in Japanese)). 
This is made of silicon with its core structure being cat paw shaped.
Price: 766JPY(tax incl.)
Size: width 2.5cm x height 1.5cm (incl. the stand pictured) x length 16cm
Colour: Available in two colours: milky white and milky pink
N.B. not suitable for microwave
The Cate is available on this official shopping site. The money goes to the charity organised by Tokyo Cat Guardian.
For similar cute and interesting products from Japan, click here! 
Onegai Kaeru bring happiness to the world with its shopping support service and original super cute items!