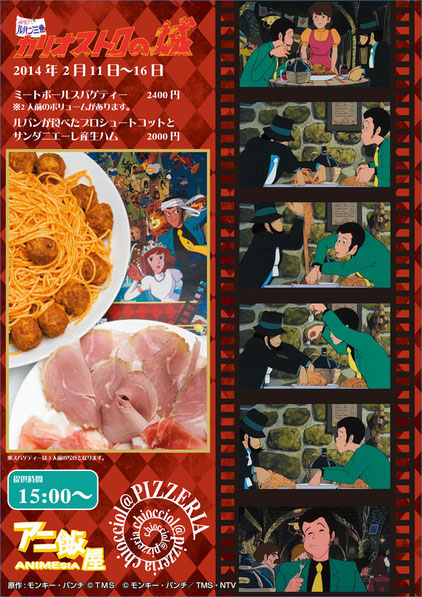 Eat the famous dishes from famous animations at Animesia

Have you heard of Animesia? 

This is an event where you can enjoy the foods from famous animations.  
Animesia plans to organise several events in Akihabara.

The first event of Animesia is an exhibition of the foods in animation on the 4th floor of UDX building in Akihabara and also you can actually enjoy some of the foods at the partner restaurants in the UDX building in Akihabara called Akibaichi.  
For example, the Italian restaurant
chiocciol@pizzeria
serves the big meat ball spaghetti (2400JPY) and Italian ham (2000JPY) from one of the early movies from Hayao Miyazaki The Castle of Cagliostro.
If you order these, you can get the special place mat for free!

The duration of the event : 11th till 16th Feb, 2014 
Opening hour of the exhibition on 4th floor of UDX building : 11:00AM - 19:00
Opening hour of the restaurants: depending on each, for example, chiocciol@pizzeria starts serving the foods from 15:00~
Featured animations: 
Moribito series, 
Puella Magi Madoka Magica,
Creamy Mami- Magic angel,
Love Live!
and
Castle of Cagliostro

If you are in Akihabara during this time period, please check this out and let us know how it is!
For similar news, please click here!
Onegai Kaeru bring happiness to the world with its shopping support service and original super cute items!