go and stay at one of japan's hidden islands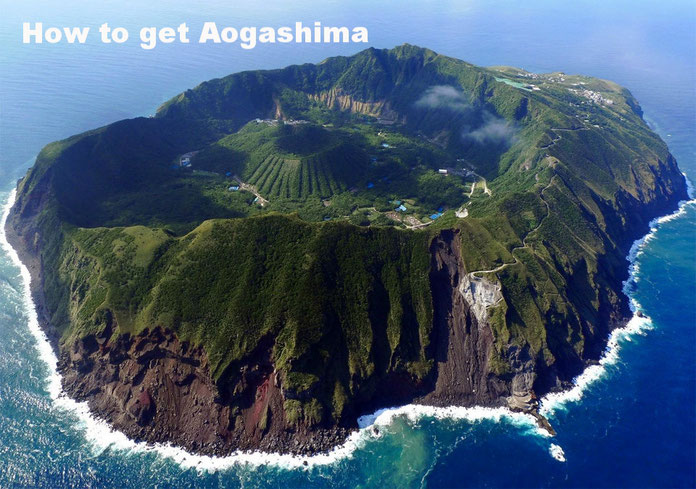 You may have heard of Hachijojima island but most of you ( also most of Japanese even) have never heard of Aogashima island near the island.
This is coined as the most difficult island to reach among three islands hard to reach (others are being Mikurajima and Toshima island) in Japan.
This edition of Onegai Kaeru News introduces about the Aogashima, how to get there and where to stay ( also, how to stay there for free!). << If you are interested in learning about more islands in Japan, you can check our comprehensive Japanese island list here. >>
By the way,  in English, it is common to call islands in Japan "Iojima Island, Oshima island" but "Shima" and "Jima" means "island" in Japanese so we dropped these, simple call the islands, Hachijojima, Aogashima.
The island is located 358 km away to the south from Tokyo city center. It is still under the Tokyo city government administration but, with its around 178 villagers (as of Sept, 2019), is the smallest village in Japan. ( As a comparison, in 1945 there were almost 450 people living on the island. )
The island is one of the mysterious islands with beautiful nature. It is a volcanic island 3.5 km in length with a width of 2.5 km, formed by the remains of several calderas. This makes the island look like a massive Balanomorpha.
Nobody knows when exactly people started living on this island. After a volcanic activity in 1785, this island had not been inhabited for almost 50 years.
There are one post office and one primary/Jr high school. This means kids (at the age of 15 year old) need to go out of the island to study in high school or in a higher educational level.
With only 178 people living, there is only one postal address to this island and the post worker delivers based on "name" of individual. With some people have the same family names...tough job for her/him.
Kanju Taiko (drum) is a traditional art on Aogashima. The tradition going back 400 year ago. There is no clear note. Two players hit one drum from each side to make the wonderful melody.
Any update about Coronavirus risk?
As of 30th of March, 2020, some inns on the island such as Aogashima-ya stop taking the reservations from tourists due to the coronavirus countermeasure. 
From the island, it is 6 hour helicopter ride to the nearest major hospital and only 170 residents on the island. Still business visitors are allowed to make booking. For details, please contact the Aogashima village office.
When the weather is good, the night sky on the island is just wonderful.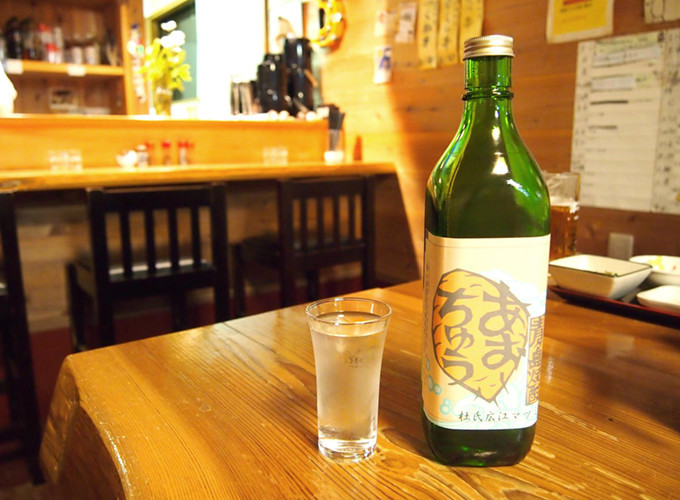 There is no restaurant, but there are two Japanese bars( Izakaya) on the island. Islanders make a local alcohol Shochu (30%) from sweet potato called "Aochu (あおちゅう)".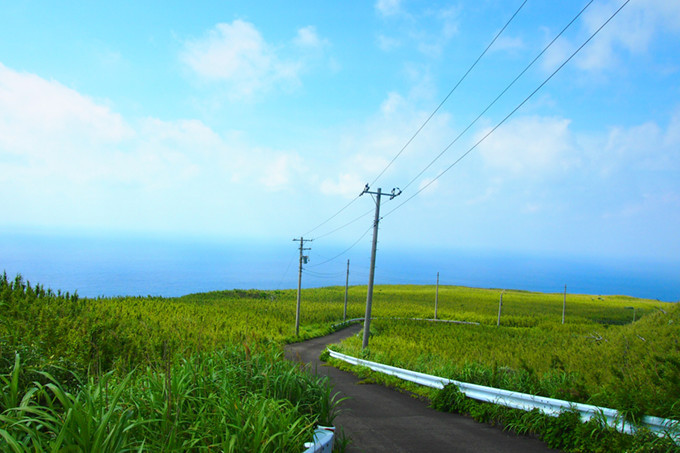 How to get this island?
There is no direct transport from the main island of Japan to Aogashima. You need to go to Hachijojima (which is 81km away from Aogashima) first and then take a helicopter or ship. This is far more difficult than getting Niyodo river ( the clearest river in a hidden town in Kochi).
Between Hachijojima and Aogashima:
For the Ship

Name of ship: Aogashimamaru (あおがしま丸)
Arrival/Departure point in Hachijojima: Shihani port ( 底土港) 7-8 mins by taxi from Hachijojima airport
Arrival/Departure point in Aogashima: Sanpou port (三宝港)
No reservation needed
The fee: possibly changing every month ( 2700JPY one way per person as of Oct, 2019)
Run one round trip a day
NOTE: The ship does NOT run everyday( runs "4 days" in one week and closed on Sunday), you need to ask the ship company to make sure the ship runs (probability to run is 50-60% due to weather etc.)

Click here to check the ship calendar (changing every month) 
Everyday at 07:00AM the decision made weather run or not.
Inquiry: +81-4996-9-0033
For the ship company: Tokai-kisen


For the Helicopter

Helicopter type: a 9 seat helicopter
Travel duration: 20 minute travel
Flying one round trip a day
 (09:20 AM departure from Hachijojima,  09:40AM arrival to Aogashima,
09:45AM departure from Aogashima, 10:05AM arrival to Hachijojima)
Fee:
Adult(12 year old or older) 11,530JPY
Child(11 year old or younger) 8,070JPY

 (as of June, 2015)
The website of helicopter company for the latest fee and also credit card payment
You MUST reserve a seat ( you can reserve, earliest, one month in advance)
Restriction and extra charge for the language weight/size (230JPY per extra kilo)
Be at the departure point 30-50mins before the departure time
For inquiry: +81 4996-2-5200 (08:30-17:00 Open 365 day)
For reservation:  +81 4996-2-5222 (09:00-16:00 Closed on Sunday)
Between Hachijojima and Tokyo city center area(main island)

It is around one hour flight from Haneda airport in Tokyo or 11 hour cruise from Takeshiba sanbashi bay in Tokyo to Hachijojima. ( For more details as to Hachijojima ( how to get there and where to stay), refer to our Hachijojima article. )
For the flight
ANA
For inquiry/reservation : +81 570-029-222
For the ship
Tokai-Kisen
For inquiry/reservation : +81 3-5472-9999
Tokai-Kisen Website

Where to stay?

Based on the Aogashima tourism website( basically showing all available places to stay on the island with the map), there are 5 inns(6 in total but one inn is closed for now as ofMarch, 2018) and 1 camping site.
For the each guesthouses' location, you can check the Kimono rocket, ultimate Japan related location finder in the world.
The inn cost starting from 4000JPY per night per person with no meal up to 7500JPY - 9500JPY per night per person with 3 meals( breakfast, lunch and dinner)
The cheapest way to stay on Aogashima is to use the camping site. It is free but you need to reserve at least 2 weeks in advance by email/fax (using the fixed form below) and fill in the application form( you find at ship port, heliport, village office) and submit to the village office ( 青ヶ島村役場/Aogashima Yakuba ).
At the camping site, you can NOT drink tap water, you need to get the fresh water in front of the village office ( for this, please make sure you bring some empty bottle or container to store the fresh water!). Or...buy the water bottles at some shop on the island or from vending machine near the sauna. 
It is a great way to stay but make sure your camping equipment are NOT too big or heavy so that you do not need to pay extra fee to get the island with the ship or helicopter...
Important Notice about camping
As of Feb, 2017, we have the important notice from Aogashima village office about camping. 
Beside application at the village office at your arrival, you need to reserve the spot at least 2 week in advance by email or fax to the village office. The longest length of camp stay is one week (no extension allowed). 
Aogashima camping site reservation form (mandatory)
The reservation form should have all the following items.
You copy these text and edit necessary information and send it to the below email or print out and fax it at the fax number below.
--Reservation form start--
1. タイトル Titile: 青ヶ島村キャンプ場利用予約申請 (camping site reservation application)
2. 日付 DATE: X月Y日~Z月A日 (month/day-month/day)
3. 往復の利用交通機関 Transportation: 行き=あおがしま丸 / 帰り=ヘリコプター(購入済み)  ( How you get the island BOTH way. "行き" means "to the island", "帰り" means "from the island". After = you put the means of transportation. If ship, "あおがしま丸" (aogashima maru), if helicopter, "ヘリコプター". If helicopter, you must also confirm if you already bought the ticket. If you did, put "(購入済み)"  )
4. 利用代表者氏名 Name of person in charge: XYZ
5. 利用者人数 No. of the visitors: X
6. 連絡先 Contact Tel: XX-XXXX-YYYY
7. メールアドレス Email: XYZ@ABC.com
--Reservation form end--
The form should be addressed to the village office on either
Email: kankou@vill.aogashima.tokyo.jp
or
Fax: +81 4996-9-0001
After you send the reservation form, please check if you have the confirmation from the village office. Otherwise, you better send it again.
Also the village office may close down the camping site due to the weather (thus, no 100% guarantee even if you reserve it!)
Aogashima CORRUPTION case
Have a nice trip!
We hope you have now the comprehensive information about Aogashima island how to get there and where to stay.
For more beautiful photos of Aogashima, please check the Aogashima village office website( you will see the photos of ship, helicopter as well as the beautiful nature.

If you love to know more islands in Japan, you can check this list of interesting islands in Japan. There are many beautiful islands in the region which are better known than Aogashima. Oshima, Toshima, Niijima, Shikinejima, Kozushima, Miyakejima, Mikurashima, Hachijojima. It may be a good idea to travel from one island to another in the region.
(Update: Feb, 2017
Onegai Kaeru team has had contacted Aogashima Village office to ask if boat or helicopter is better than the other to get the island. The office responded "definitely helicopter". The ship is quite often canceled. Even on a clear sunny day if the wave is high, the ship shall be canceled. )
Local Tour guide needed?
Onegai Kaeru wants you to enjoy Japan trip.
If you are looking for more traveler"s info and can not find one, please let us know. We will try to help you with Japan Traveler Help Service (we work on hourly charge to arrange, book, find info you need). Feel free to contact us!
Wanna try free spa in the water fall or river in Japan? Click here to find out more!
Have you heard of the most transparent river in Japan? Want to know how to get there and where to stay? find out here!
Interested in the "Tomogashima-treasure island of old pirates" in Japan? Find out where and how to get there.
Have you heard of "Shark islands" and want to know how to get there? please click here!
Have you heard of "Ikeshima-Forgotten Coal Mine island" and want to know how to get there? please click here!
Onegai Kaeru, a group of passionate travelers, bring happiness to the world with its shopping support service and original super cute items!
Source: Wikipedia, Aogashima village website, Tokaikisen, Tokyo Ailando shuttle, Gurunavi, Charly W. Karl 
Disclaimer: Even though we try to make the info as updated and accurate but the accuracy of the information herein is not guaranteed by us. If you have any uncertainty, please contact the information source.