Waterfall Spa, dating spa, Unique Hot Spring List in Japan
Researching for next trip to Japan? Wanna try something unique but have not found much yet? We will try to help you so that you can tell your friends that you went to the land of "crazy stuff"!
How about spa in the middle of river? Bath under the water fall? Or bath in the plate of ice? Well, if you are not into the nature, then karaoke Hot spring? Or, hot spring where you can meet your life time partner (dating spa)? 
Japan fans gave us the positive feedback on the previous article relating to Onsen (hot spring) in Japan such as  " GREAT JAPANESE INNS WITH PRIVATE HOT SPRING BATHS AND VIEW FOR AUTUMN/WINTER SEASONS ", robot hotels of 140 robot workers in Nagasaki and Chiba, train hostel and further asked us to come up with more lists.
Note: In this list of unique spa, some locations are free and mixed this means you must wear swim suits. Also some spas are pretty much in the middle of nature and closed during the winter. Always watch out for Tattoo rule in public bath in Japan.
This time, we introduce more interesting hot spring locations and hotel with these baths. 
1. WaterFall Spa - KawarageOyutaki falls
Source: City's official website, wikipedia
96 C degree hot water (coming from 1km away from the fall) falls along the 20m high natural wall and gets cooled down on the way (40 c degree around dry time and cooler in rainy season). Quite unusual hot spring location and similar to the Kamuiwakka falls in Hokkaido. Kamuiwakka falls are under strict restriction due to the risk of injury by too high temperature and rocks falling. Kawarage-o-yutaki fall is easy to take (yet some travel from Tokyo). 
Name: Kawarage Oyutaki falls (川原毛大湯滝)
Location: Yuzawa, Akita
By car, from Yuzawa Yokote road Sukawa interchange, you drive for 20 mins, then you walk for 15 mins from the parking lot. The parking space is limited (60 cars). Can not use car during winter ( mid Nov-May next year) because the road is blocked.
By public transport, get JR Yuzawa station, then take Ugo Line Bus toward Doroyu Onsen, get off at the last stop then climb the mountain for 1.5 hour
Cost: Free
Contact: +81 183558180 at the City Offce
NOTE: Best time to visit it Summer (early July-mid Sept). Contact the city office first if open or not. must wear swim suits. Type of the water is of the high acidity so it stings your eyes. 40 degree is too hot for some people. No mobile phone signal. No shop.
Hotels around Yokote
2. Dating spa
When you are a couple, a private hot spring is a way to go as we introduced several suggestions. But, what about when you have no partner and are looking for one?
This hotel has a dating spa ( "お見合い風呂 (omiai-buro)" meaning match-making bath). You go to the outside bath, there is small window (looking like a small shrine) between the woman's and man's bath. This window is only open-able from the woman's side. If you are a woman, you can open to see if any nice man on the other side. If you are a man, just stay in front of the window...just stay right there till someone on the other side "may" open the window.
Name: Shosenkau in Nakaoyama Spa ( 中尾山温泉 松仙閣 )
Click here to book this hotel!
Location: Nagano city, Nagano
Get Nagano Station then get Shinonoi station (15 mins) then taxi.
Contact: +81 26-292-2343
Checkin: After 15:00 (latest by 23:00)
Checkout: Before 10:00AM
This hotel has also Karaoke spa. 
Source: hotel's official website
You can be the superstar in the bath room (you can reserve for your group so you have the privacy). Do not drop your microphone into the hot spring!
3. River Spa-Kawayu onsen
The hot water every where around the river. You just dig some hole and there will be the hot water coming out of the ground. 
Amazing that you can take a nice hot bath right after playing in the cool river in the summer.
From Dec-Feb every year, the local tourism association makes a 40m x 60m big bath also called Senninburo ( " 仙人風呂 "). Lanterns lit in the night and it is surrealistic that you take bath in the river, esp. night time. It is free and take bath and free to park car. What else do you need? The Senninburo event opens 6:30am-22:00.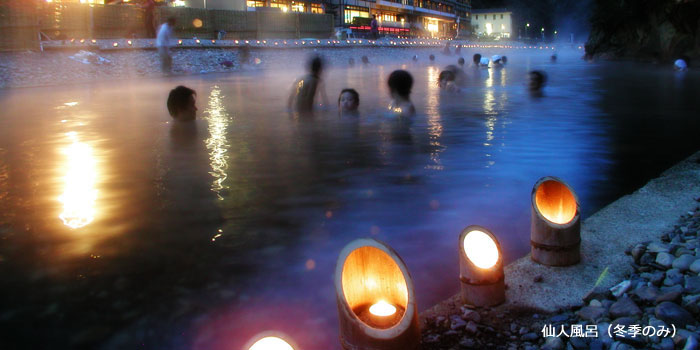 Name: Kawayu Onsen (川湯温泉)
Location: Tanabe, Wakayama
By car, free parking lot ( 50 car) available 200m away from the spa area.
By public transport, you take a bus from Shingu station in Wakayama to get off at Kawayu Onsen stop ( 1 hour trip)
Cost: Free
Contact: +81 735-42-0735 (08:30am-17:00)
NOTE:  Contact the Kumano Hongu Tourist Association first if open or not. Must wear swim suits. The spa may be closed due to the weather etc. No soap or shampoo or any sort similar allowed. There are separate changing rooms for men and women.
Hotels around the river
4. Others...