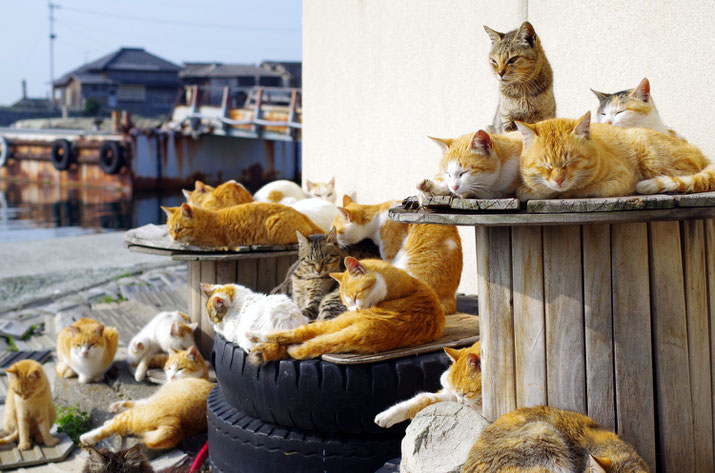 Latest List of Cat Islands in Japan (Now 17 islands, probably the biggest list)
Latest List of Cat Islands in Japan. So far we featured 15 cat islands in Japan and we are still updating from time to me. (Updated in June, 2018)
As we are the big fan of cats and animals, and also avid travelers in and outside of Japan, we decided to help travelers with all necessary information to find and get the fun destinations. 
Our definition of cat island is an island where " no. of cat outnumbers no. of island resident " (NOTE: not all of the islands we introduced match the definition like Enoshima).
We featured Aoshima and Tashirojima and some other fun islands (rabbit island, shark island, camellia island). These two cat islands are not the easiest places to get. Also these locations may not fit your travel route. There are more islands with many cats in Japan. Hopefully one of these may fit your travel plan if you are a big cat fan and so desperate to get to a cat island. 
With this article, we try to list up and keep updated as many cat islands as possible. For the islands we specifically featured in the articles, you can check out "For more details, click here!" and we put more details to the islands we featured only here. In recent years, we noticed Yamaguchi prefecture has more cat islands.
If you know other cat island, please let us know! 
1. Aoshima island (青島 ), Ehime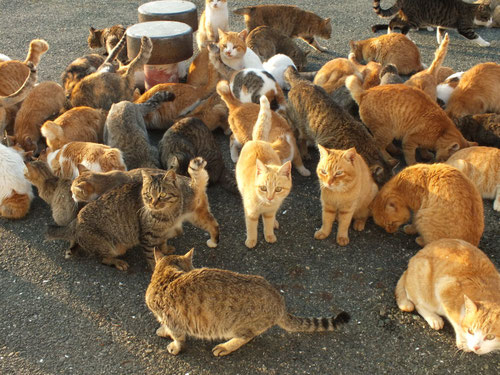 One of the world famous cat islands (with Tashirojima island). The island is in Seto inner sea in Ehime prefecture. 100 cats for 15 residents.
Basic info
Name: Aoshima 
Access: by boat
Address: Ozu city, Ehime prefecture 
2. Tashirojima island (田代島), Miyagi
It is the one of two most famous cat islands in Japan (with Aoshima island). More than 10,000 visitors every year to see the cats. You can pay a visit to the Cat shrine.
Basic info
Name: Tashirojima 
Access: by boat
Address: Nitoda Tashirohama, Ishinomaki-shi, Miyagi prefecture
3. Ogijima (男木島), Kagawa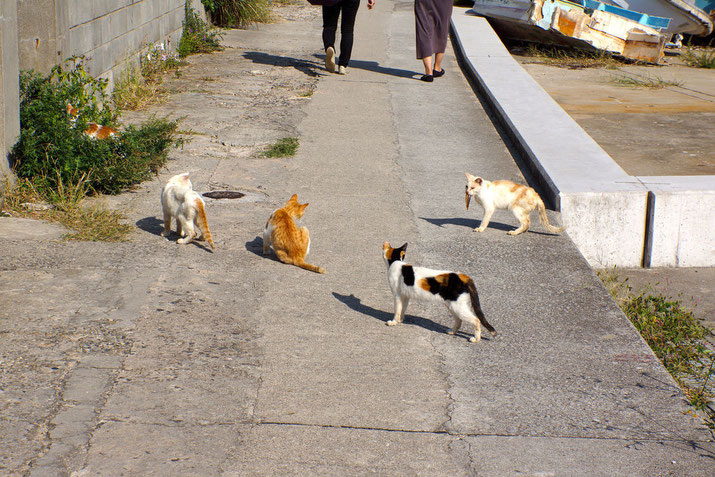 The name means "male tree island". It is paired with Megijima (female tree island) 1 km away. Less than 200 residents and many cats.
You see many cats around the Toyotamahime shrine.
There are some inns and a temple where you can sleep over.
The island was a venue for an art festival in 2010. Therefore, you see several art objects there.
Basic info
Name: Ogijima 
Access: by boat from Takamatsu port
You walk for 5-10 mins to get Takamatsu port from JR Takamatsu station
Address: Ogichō, Takamatsu-shi, Kagawa prefecture
Boat Time table For Ogijima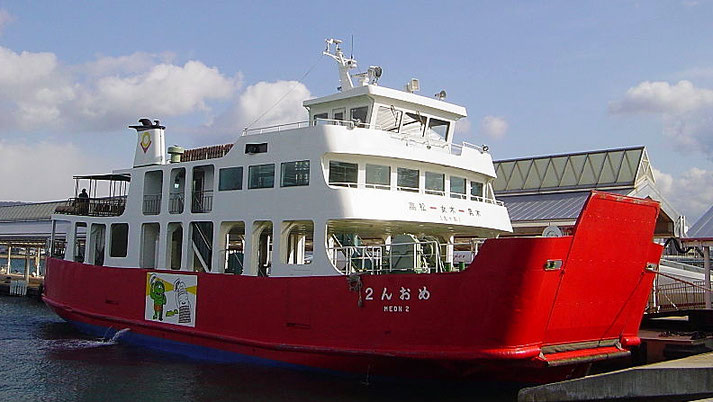 Price: 510JPY per person one way
○Boat Time table (except for the summer season below this chart)
1st Jan-31st July, 21th Aug - 31st Dec
Takamatsu => Ogijima
Ogijima => Takamatsu
Takamatsu dpt
Megijima dpt
Ogijima arr
Ogijima dpt
Megijima dpt
Takamatsu arr
8:00
8:20
8:40
7:00
7:20
7:40
10:00
10:20
10:40
9:00
9:20
9:40
12:00
12:20
12:40
11:00
11:20
11:40
14:00
14:20
14:40
13:00
13:20
13:40
16:00
16:20
16:40
15:00
15:20
15:40
18:10
18:30
18:50
17:00
17:20
17:40

○Summer season time table
1st Aug-20th Aug
Takamatsu => Ogijima
Ogijima => Takamatsu
Takamatsu dpt
Megijima dpt
Ogijima arr
Ogijima dpt
Megijima dpt
Takamatsu arr
8:00
8:20
8:40
7:00
7:20
7:40
9:10
9:30
 
 
8:10
8:30
10:00
10:20
10:40
9:00
9:20
9:40
11:10
11:30
 
 
10:10
10:30
12:00
12:20
12:40
11:00
11:20
11:40
13:10
13:30
 
 
12:10
12:30
14:00
14:20
14:40
13:00
13:20
13:40
15:10
15:30
 
 
14:10
14:30
16:00
16:20
16:40
15:00
15:20
15:40
17:10
17:30
 
 
16:10
16:30
18:10
18:30
18:50
17:00
17:20
17:40
18:40
19:00
 
 
18:10
18:30
Contact: Tel: +81 87-821-7912
(Source: Shiyujima Line, as of Feb 2017 subject to change) 
4. Sanagijima island (佐柳島), Kagawa
ca 100 resident island is another cat island from Kagawa prefecture. It is one of the Shiwaku islands in the area.
There is some shop where you can buy food and drink. But the shop is sometimes closed. Neither inn nor any restaurant to be found on this island. You better buy stuff before you get this island.
You enjoy a lot of tasty sea foods on the island. Probably this is why many cats live there!
Basic info
Name: Sanagijima 
Access: by boat
First you get to Takamatsu station, then take train to Tadotsu station (多度津駅) around 40 mins, 660JPY. Then you walk from Tadotsu station to Tadotsu port for 30 mins. From the Tadotsu port, you take a ferry to get to this island 50 mins for 780JPY per person for one way.
You can get off at either Sanagimotoura or SanagiNagasaki both are the ports of Sanagi island.
Address: Tadotsu-chō, Nakatado-gun, Kagawa prefecture
Time table for Sanagi Island
Price: 780JPY per perso for one way
| | | | | | |
| --- | --- | --- | --- | --- | --- |
| Manabejima | SanagiNagasaki | Sanagimotoura | Takamijima | Tadotsu port | Note |
|   | 7:50 | 8:05 | 8:30 | 8:55 |   |
|   |   | 10:00 | 10:25 | 10:50 |   |
| 14:30 | → | 14:50 |   |   | ※only on Sat |
|   | 15:05 | 15:25 | 15:50 | 16:15 |   |
|   |   | 17:10 | 17:35 | 18:00 |   |
 
Tadotsu port
Takamijima
Sanagimotoura
SanagiNagasaki
Manabejima
Note
6:55
7:20
→
7:50
 
 
9:05
9:30
9:55
 
 
 
14:00
14:25
14:50
15:05
 
 
 
 
14:50
→
15:10
※only on Sat
16:20
16:45
17:10
 
 
 
Contact: Tel: +81 877-32-2528
(Source: Sanyo Line, as of Feb 2017 subject to change)
5. Okishima island( 沖島), Shiga
Okishima, the island of Biwa lake Source: wikipedia
Only one island with resident which lies on the lake in Japan. As the key industry is fishery cats live there. There are some cafes and a post office with ATM on the island!
It is not full of cats as other islands above but it is close to Kyoto/Osaka thus easy to access if you rent a car. But if you take a public transport, because the bus to the port and the boat to the island are not often you need one day to visit to and come back from this island.
Basic info
Name: Okishima 
Access: by boat
First you get to OmiHachiman JR station (近江八幡駅) which is so easy to get from Osaka or Kyoto, then take bus to Horikiri port(堀切港) from which you take a boat to Okishima (10-15mins for 500JPY per person for one way). Boat only departs every one - two hour. 
NOTE: The port has nothing but some vending machine. There is no toilet at the port. Buy stuff and go to toilet before you take bus!
If you rent a car to get the port, parking space is quite limited (most of the parking lots are for the residents of island). There is one in front of souvenir shop at the port (500JPY for one day car park).
Address: Okishimacho, Omihachiman, Shiga Prefecture
You find the info all about Shiga on Shiga prefecture website.
6. Ainoshima island (相島), Fukuoka
7. Enoshima island ( 江の島), Kanagawa
Closest cat island to Tokyo. Maybe the area is more famous for the location in animation/manga such as Slam Dunk (Kamakura Koko Mae station (鎌倉高校前駅) where you see several famous scenes in real including the train crossing!)
There is a bridge connecting to the island thus no boat needed to get there. The island is not full of cats but we found many cats on our last visit to the island. There are several nice sea food restaurants and shops on and around Eonshima. If you are only visiting Tokyo area, check this place out. You can combine your trip to Kamakura - a Japan's ancient capital city with a big Buddha statute.
For the last 2,3 years the number of cat decreased. The island was featured by several media as an island with many cats when one of the cats was involved with a crime incident in 2012., where a cyber hacker who illegally controlled someone else's PC hid a SD card in the tiny box attached to the neck of one of the strayed cats on that island. The recent decrease seems to have reflected the increase of attention to Enoshima as a cat island.
Some say these cats have been kidnapped...(!) If you know why many of the cats disappeared from the island, please share.
Basic info
Name: Enoshima
Access: by bridge
Address: Enoshima, Fujisawa city, Kanagawa
How to get Enoshima?
15 min walk from Enoshima station of Enoshima line,
15 min walk from Shonan Enoshima station of Shonan Monorail or
10 min walk from Katase Enoshima station of Odakyu Enoshima line
For example, if you take a train from JR Tokyo station, it is around 1 hour trip. First you take  a Tokaido Line (Tokaido Honsen) to Fujisawa station then change to Enoshima line. Or take a Shonan Shinjuku line from Shinjuku station to Fujisawa station then change to Enoshima line (this is also around 1 hour). 
8. Aijima (藍島), Fukuoka
Probably the access is as easy as Enoshima. As many cat islands' background, the fishery industry took care of cats which can get mice. ca 300 cats and 300 people. Nice beach and camping sites in the summer. 
Basic info
Name: Aijima
Access: by boat
Address: Ainoshima, Kokurakita-ku, Kitakyūshū-shi, Fukuoka
9. Manabeshima (真鍋島), Okayama
More cats than its residents (ca 300). Many family names are Manabe. Some famous movies e.g. Gokumon island shot.
There are some inns, restaurant, vending machines on this island. 
Basic info
Name: Manabeshima
Access: by boat. Take the boat from Kasaoka port to the island. It is around 1 hour and 5 mins. 990JPY. There is also an express ship. It is 45 mins. 1710 JPY.
Address: Kasaoka city, Okayama
10. Iwaishima (祝島), Yamaguchi
Around 500 people (70% is older than 65 year old) living. Good that there are several ryokan and inns. No. of cat is unknown but one inn on the island says there are "many cats".
Basic info
Name: Iwaishima
Access: by boat
Address: Kaminoseki city, Kumage, Yamaguchi
11. Muzukijima (睦月島), Ehime
Around 400 people living. One of the Kutsuna islands. Agriculture (mandarin orange) and fishery are main industries. You can rent and ride a bike. No place to stay over night.
Basic info
Name: Muzukijima
Access: by boat
Address: Matsuyama city, Ehime
12. Kakarashima (加唐島), Saga
Based on the island tradition, keeping dog is not allowed. Maybe this is why cat has flourished. You may see wild hogs which started living there after they swam from the main island. Around 200 people living. Main industry is fishery and camellia (like Toshima island we featured).
Basic info
Name: Kakarashima
Access: by boat
Address: Karatsu city, Saga
13. Yushima island (湯島), Kumamoto
More cats than human (i.e. around 500 people). Actually nice swimming locations for the summer. There are two swimming areas on the islands.
Basic info
Name: Yushima 
Access: by boat
Address: Oyanomachi, Amakusa city, Kumamoto
14. Umashima island (馬島), Fukuoka
We like this island because the island is called "Umashima ( =hourse island in Japanese)" but it is full of cats (ca more than 80 cats vs. ca 40 people). The island has a port which is connected to Asano and Aijima island (refer to No. 8 of this list).
Be careful not to mix up with other Umashima(s) in Ehime prefecture and Yamaguchi prefecture.
There is no shop, hotel, cafe on this island.
Basic info
Name: Umashima
Access: by boat. Take a boat from Kokura port (小倉渡場) to the island (22 mins) 560JPY round trip.
Address: Umashima, Kokurakita Ward, Kitakyushu, Fukuoka
15. Heiguntou(平郡島), Yamaguchi PREFECTURE
More cats than human (i.e. around 600 people). Many cats are black and white.
Basic info
Name: Heiguntou 
Access: 2 times a day by boat called Heguri from Yanai port, Yamaguchi
1540JPY (1 hour) to the West port, 1540JPY to the East port (1 hour and 40 mins)
Address: Yanai city, Yamaguchi
16. Kasado island (笠戸島), Yamaguchi prefeture
The island is a fisherman's port and also nice for fishing. This attracts cats obviously. 
In an ancient time, Masakado Taira planned to put Itsukushima shrine on Kasado island (later he decided to put on Miyajima, Hiroshima). The delicacy of this island is a flat fish (Hirame).
Kasado bridge (476.2m) connects this island to the main island.
For summer, it is a great place for swimming. It has some sandy beach (Hanaguri beach) and clear water.
It has a camping site and also a hot spring for feet.
17. Ibuki island (伊吹島), Kagawa prefecture
This Ibuki island (or Ibukijima) has been famous for the dried sardine called Iriko (one of the great ingredients for Japanese food).  You know Kagawa is famous for Udon and the base soup is made of Iriko!
Iriko is also by coincidence a favourite food of cats!! Today the island is also famous for the cats!!
Boat called "New Ibuki" travels 4 times a day between Kannonji port and Maura port (25 min)
The accent spoekn by the people on this island is said to be the old accent of Kyoto. 
One of the islands  which are used for Setouchi Triennale.
Share your cat island knowledge
This list is growing every year. Do you know more cat island or area full of cat? Please share with us if you want.
If you visit one of these cat islands, please follow the local rule about cats and all. Some islands have rules that you can only feed in specific area etc.