Latest List of Cat Islands in Japan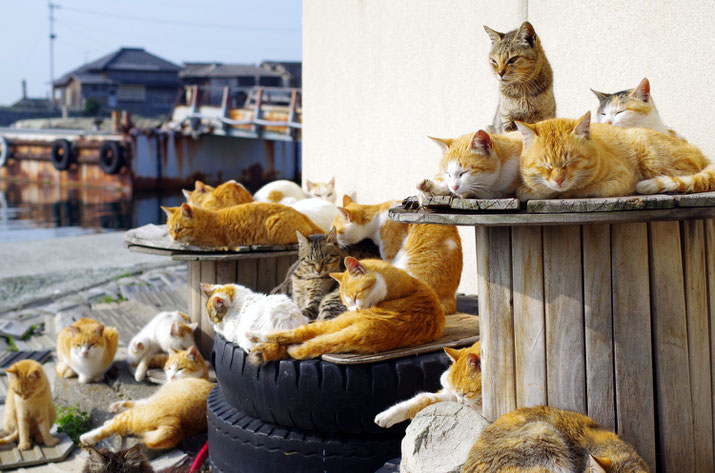 Latest List of Cat Islands in Japan 
As we are the big fan of cats and animals, and also avid travelers in and outside of Japan, we decided to help travelers with all necessary information to find and get the fun destinations. 
Our definition of cat island is an island where " no. of cat outnumbers no. of island resident " (NOTE: not all of the islands we introduced match the definition like Enoshima).
We featured Aoshima and Tashirojima and some other fun islands (rabbit island, shark island, camellia island). These two cat islands are not the easiest places to get. Also these locations may not fit your travel route. There are more islands with many cats in Japan. Hopefully one of these may fit your travel plan if you are a big cat fan and so desperate to get to a cat island. 
With this article, we try to list up and keep updated as many cat islands as possible. If you know other cat island, please let us know!
1. Aoshima island (青島 ), Ehime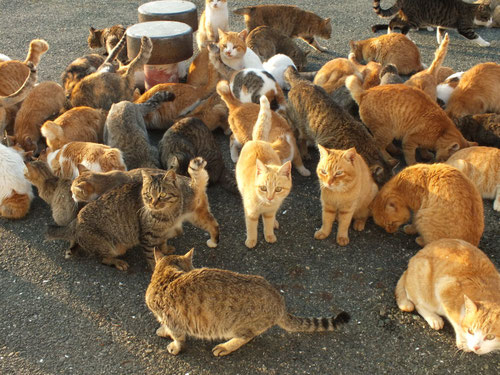 One of the world famous cat islands (with Tashirojima island). The island is in Seto inner sea in Ehime prefecture. 100 cats for 15 residents.
Basic info
Name: Aoshima 
Access: by boat
Address: Ozu city, Ehime prefecture 
2. Tashirojima island (田代島), Miyagi
It is the one of two most famous cat islands in Japan (with Aoshima island). More than 10,000 visitors every year to see the cats. You can pay a visit to the Cat shrine.
Basic info
Name: Tashirojima 
Access: by boat
Address: Nitoda Tashirohama, Ishinomaki-shi, Miyagi prefecture
3. Ogijima (男木島), Kagawa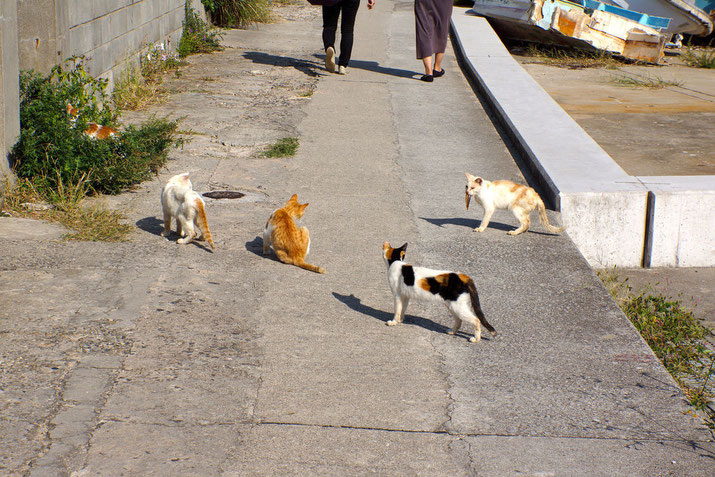 The name means "male tree island". It is paired with Megijima (female tree island) 1 km away. Less than 200 residents and many cats. You see many cats around the Toyotamahime shrine.
The island was a venue for an art festival in 2010. Therefore, you see several art objects there.
Basic info
Name: Ogijima 
Access: by boat
Address: Ogichō, Takamatsu-shi, Kagawa prefecture
4. Sanagijima island (佐柳島), Kagawa
ca 100 resident island is another cat island from Kagawa prefecture. It is one of the Shiwaku islands in the area.
You enjoy a lot of tasty sea foods on the island. Probably this is why many cats live there!
Basic info
Name: Sanagijima 
Access: by boat
Address: Tadotsu-chō, Nakatado-gun, Kagawa prefecture
5. Okishima island( 沖島), Shiga
Only one island with resident which lies on the lake in Japan. As the key industry is fishery cats live there. It is not full of cats as other islands above but it is close to Kyoto/Osaka thus easy to access.
Basic info
Name: Okishima 
Access: by boat
Address: Okishimacho, Omihachiman, Shiga Prefecture
6. Ainoshima island (相島), Fukuoka
7. Enoshima island ( 江の島), Kanagawa
Closest cat island to Tokyo. There is a bridge connecting to the island thus no boat needed to get there. The island is not full of cats but We found many cats on our last visit to the island. There are several nice sea food restaurants and shops on and around Eonshima. If you are only visiting Tokyo area, check this place out.
Basic info
Name: Enoshima
Access: by bridge
Address: Enoshima, Fujisawa city, Kanagawa
8. Aijima (藍島), Fukuoka
Probably the access is as easy as Enoshima. As many cat islands' background, the fishery industry took care of cats which can get mice. ca 300 cats and 300 people. Nice beach and camping sites in the summer. 
Basic info
Name: Aijima
Access: by boat
Address: Ainoshima, Kokurakita-ku, Kitakyūshū-shi, Fukuoka
9. Manabeshima (真鍋島), Okayama
More cats than its residents (ca 300). Many family names are Manabe. Some famous movies e.g. Gokumon island shot.
Basic info
Name: Manabeshima
Access: by boat
Address: Kasaoka city, Okayama
10. Iwaishima (祝島), Yamaguchi
Around 500 people (70% is older than 65 year old) living. Good that there are several ryokan and inns. No. of cat is unknown but one inn on the island says there are "many cats".
Basic info
Name: Iwaishima
Access: by boat
Address: Kaminoseki city, Kumage, Yamaguchi
11. Muzukijima (睦月島), Ehime
Around 400 people living. One of the Kutsuna islands. Agriculture (mandarin orange) and fishery are main industries. You can rent and ride a bike. No place to stay over night.
Basic info
Name: Muzukijima
Access: by boat
Address: Matsuyama city, Ehime
12. Kakarashima (加唐島), Saga
Based on the island tradition, keeping dog is not allowed. Maybe this is why cat has flourished. You may see wild hogs which started living there after they swam from the main island. Around 200 people living. Main industry is fishery and camellia (like Toshima island we featured).
Basic info
Name: Kakarashima
Access: by boat
Address: Karatsu city, Saga
13. Yushima island (湯島), Kumamoto
More cats than human (i.e. around 500 people). Actually nice swimming locations for the summer. There are two swimming areas on the islands.
Basic info
Name: Yushima 
Access: by boat
Address: Oyanomachi, Amakusa city, Kumamoto