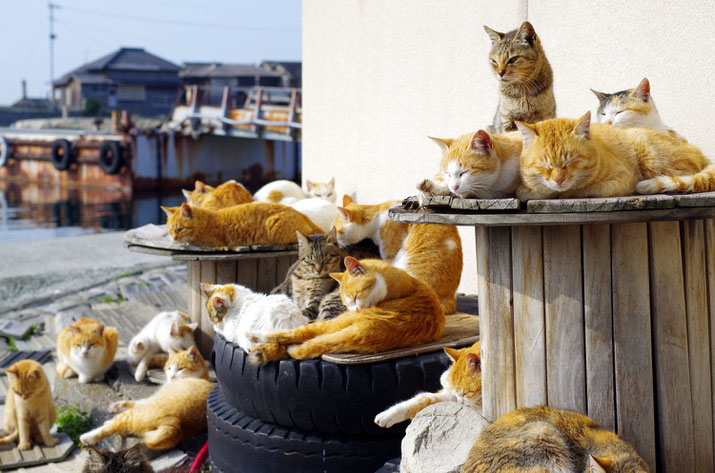 Latest List of Cat Islands in Japan (Now 17 islands, probably the biggest list) Part 3
 Have you found any good cat island suit your travel plan?
Let us continue the list!
13. Yushima island (湯島), Kumamoto
More cats than human (i.e. around 500 people). Actually nice swimming locations for the summer. There are two swimming areas on the islands.
Basic info:
Name: Yushima 
Access: by boat.
First get to the port Ebito Port in Amakusa city, Kumamoto then take the boat.
You get to the port by walking 10 mins from the Kyushu Sanko Bus stop called Sun Pearl Bus さんぱぁーるバス停 in Amakusa city, Kumamoto
The tel. of the boat company: +81 964-56-4060
Address: Oyanomachi, Amakusa city, Kumamoto
14. Umashima island (馬島), Fukuoka
We like this island because the island is called "Umashima ( =hourse island in Japanese)" but it is full of cats (ca more than 80 cats vs. ca 32 people). The island has a port which is connected to Asano and Aijima island (refer to No. 8 of this list).
Be careful not to mix up with other Umashima(s) in Ehime prefecture and Yamaguchi prefecture.
There is no shop, hotel, cafe on this island. And of course, no bus or taxi.
Basic info
Name: Umashima
Access: by boat. Take a boat from Kokura port (小倉渡場) to the island (22 mins) 560JPY round trip (one way 260JPY for adult)
Address: Umashima, Kokurakita Ward, Kitakyushu, Fukuoka
The island is called Horse island in Japanese because of several legends e.g. the island shape looks like a horse, or there were horse farms on the island in the past or some ship with horse sank there.
Most of the residents work in agriculture and fisheries.
There are also Umashima islands in Yamaguchi and Ehime. Do not get confused.
Many cats killed on Umashima island
15. Heiguntou(平郡島), Yamaguchi PREFECTURE
More cats than human (i.e. around 600 people). Many cats are black and white.
Basic info
Name: Heiguntou 
Access: 2 times a day by boat called Heguri from Yanai port, Yamaguchi
1540JPY (1 hour) to the West port, 1540JPY to the East port (1 hour and 40 mins)
Address: Yanai city, Yamaguchi
16. Kasado island (笠戸島), Yamaguchi prefeture
The island is a fisherman's port and also nice for fishing. This attracts cats obviously. 
In an ancient time, Masakado Taira planned to put Itsukushima shrine on Kasado island (later he decided to put on Miyajima, Hiroshima). The delicacy of this island is a flat fish (Hirame).
Kasado bridge (476.2m) connects this island to the main island.
For summer, it is a great place for swimming. It has some sandy beach (Hanaguri beach) and clear water.
It has a camping site and also a hot spring for feet.
17. Ibuki island (伊吹島), Kagawa prefecture
This Ibuki island (or Ibukijima) has been famous for the dried sardine called Iriko (one of the great ingredients for Japanese food).  You know Kagawa is famous for Udon and the base soup is made of Iriko!
Iriko is also by coincidence a favourite food of cats!! Today the island is also famous for the cats!!
Boat called "New Ibuki" travels 4 times a day between Kannonji port and Maura port (25 min)
The accent spoekn by the people on this island is said to be the old accent of Kyoto. 
One of the islands  which are used for Setouchi Triennale.
Share your cat island knowledge
This list is growing every year. Do you know more cat island or area full of cat? Please share with us if you want.
If you visit one of these cat islands, please follow the local rule about cats and all. Some islands have rules that you can only feed in specific area etc.