How to get Cat Island in Japan: Aoshima
Cat Islands in Japan becoming popular
Cat Island Aoshima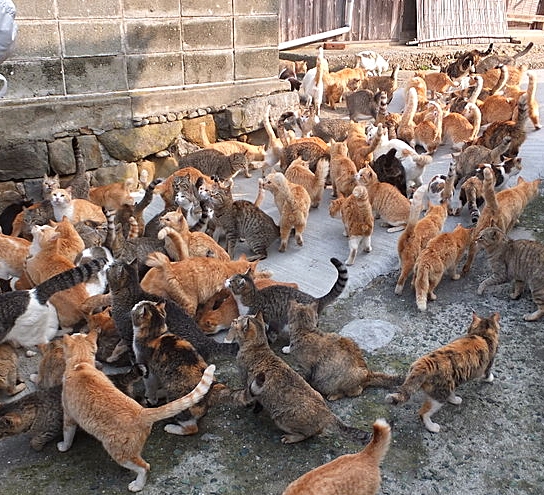 Aoshima - Island of Cats
Aoshima island ( 青島 ), Ozu-city, Ehime, is "cat island".
Located 13.5 km away from Nagahama port. 
Due to the internet hype the island becomes one of the popular destinations for the cat lovers.
In 1942 there were 889 people recorded. The island has 15 people( age between 50-80 years old) and more than 100 cats. There is neither inn, restaurant nor vending machine( as of Oct, 2013).
Some details about this island population:
During WWII, many people escaped to the island from the main land. The island population hit the highest 655 people in 1960. There have not been enough job so many people left the island. On 1976 the island's only one primary school shut down.
Early 2000 the cat population started to grow while the human population hit then new low, 50.
Today you only see 15 people( 4 fishermen and the rest retirees) on the island.
There is no car or even a bike so no real threat to cat and there are many abandoned houses where cats can live peacefully.
1976 saw the last school close on this island.
(Your guesthouse/hotel options for Aoshima island. Click here)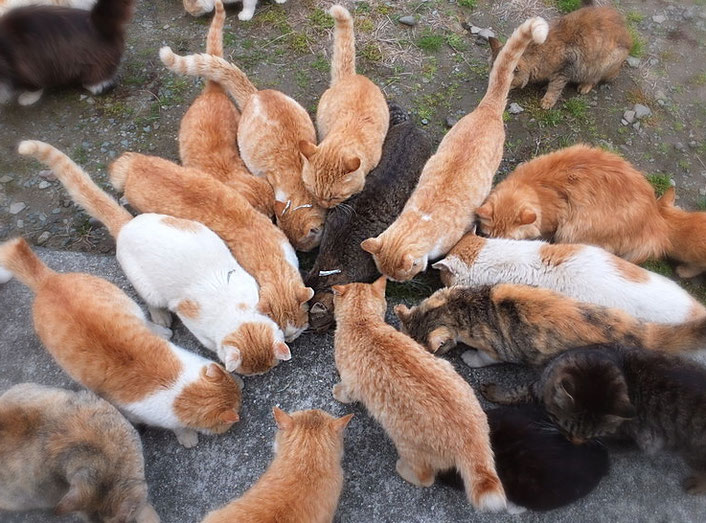 No vending machine, no inn
So how to get Aoshima?
How To Get Aoshima
For Aoshima, Ehime, (35 min) boat trip 2 times a day from Nagahama Port, Ehime pref. To get Nagahama port, get off at JR Iyonagahama station and walk.  
There are Nagahama ports in Shiga pref and Kagoshima pref also, be careful not to confuse.
Here (hard to access the website) is the time table of the boat to the island in Japanese. So we put the info from the website for you in English as below:
Timetable for Aoshima
Season
 
Nagahama port dep
Aoshima port arrival
Aoshima port dep
Nagahama port arrival
All year
1st boat
08:00
08:35
08:45
09:20
2nd boat
14:30
15:05
16:15
16:50
-
-
-
-
-
-
Price of the boat trip
One way: 680JPY (Adult=12 year old or older), 340JPY (Child=6 year old or older but younger than 12 year old)
Round Trip: 1360JPY (Adult=12 year old or older), 680JPY (Child=6 year old or older but younger than 12 year old)
If you have some check-in-baggage, it costs some hundreds JPY (i.e. 120JPY per one item(bag etc.) if lighter than 10kg, 250JPY per one item(bag etc.) if heavier than 10kg but lighter than 20kg, 390 JPY per one item (bag etc.) if heavier than 20kg but lighter than 30kg.  )
Valid as of Aug, 2018( subject to possible change) 
After the media reported about this island, it has become hard to get the ticket. We learnt that the ticket is sometimes sold out even 3 hours before the departure.  
The boats may be cancelled. For details, here is the telephone number of the Port +81 893-52-2700.
Can you take a fisherman boat?
Because the official boat above is very popular there are many tourists who could not take the boat even they reached the port. There are some people who pay the fisher men to let them board their boat to travel to Aoshima.
The local authority warms it is NOT legal to take a fisher man's boat to reach Aoshima. You need to take the boat above.
Tips for your trip
Bring something to eat and drink, umbrella and some plastic bags to bring back the garbage at least.
In case of Aoshima, there is neither shop nor vending machine. It is common that the ship is canceled due to the high tide etc. from November till March( autumn and winter). Thus, you need to be very positive-minded enough not to be disappointed to find your ship is canceled after you travel all the way in the cold morning.
If you stay in Matsuyama, not recommended to travel from there to the port in the morning. It is 1.5hour train trip to the port from Matsuyama, considering the risk of cancellation, good to stay in some place near the port( some list of the hotel and inn here) one day before the trip to the island and stay there for a couple of days to test your luck to get the ship. 
Message from Cat Island
Many of Onegai Kaeru team friends and thousands of tourists visiting these islands. What do local say about the visitor? Some are happy but some are not happy.
Aoshima Island shared their message for visitors:
These are 5+1 rules for the visitors for Aoshima
1. Feed the cats only at a designated area near the "community centre". Do not give food around the dock  (where people get on and off the ship)
2. Do not hang around the dock (where people get on and off the ship) so that you do not stop other logistics. ( means... once you get off the ship, just keep moving away from the dock area!)
3. Do not enter the private area ( local people's houses) without a prior permission
4. Please take the garbage back
5. Do not feed the cats too much, or the cats get sick (we do not want that, right?). If you brought too much food for cats, you can leave it in the cat food containers in front of the community center and at the waiting room for the ship.
( 6. There is a donation box in the waiting room for the ship. Your consideration (cash!) shall be used for the cat)
This is where visitors are allowed to feed the cats on Aoshima island.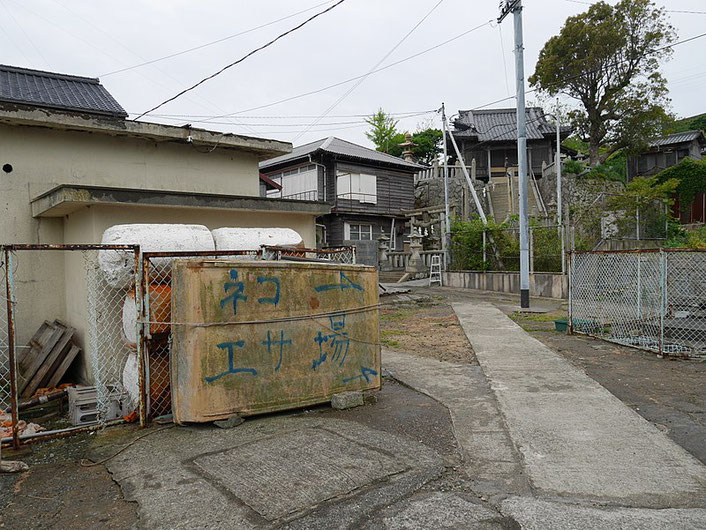 Where Should You Stay?
Onegai Kaeru wants you to enjoy Japan trip.
If you are looking for more traveler"s info and can not find one, please let us know. We will try to help you with Japan Traveler Help Service (we work on hourly charge to arrange, book, find info you need). Feel free to contact us!
More articles like this: 
Wanna try free spa in the water fall or river? Click here to find out more! 
Have you heard of "Rabbit islands" and want to know how to get there, please click here!
Hungry in Japan? Find the unbelievably big and cheap food from our "where can we get full" list!
Onegai Kaeru, a group of passionate travelers, bring happiness to the world with its shopping support service and original super cute items!
Source: Ishinomaki city government website, Ozu City government website, Ajishima line website, Yomiuri News
Disclaimer: Even though we try to make the info as updated and accurate but the accuracy of the information herein is not guaranteed by us. If you have any uncertainty, please contact the information source.