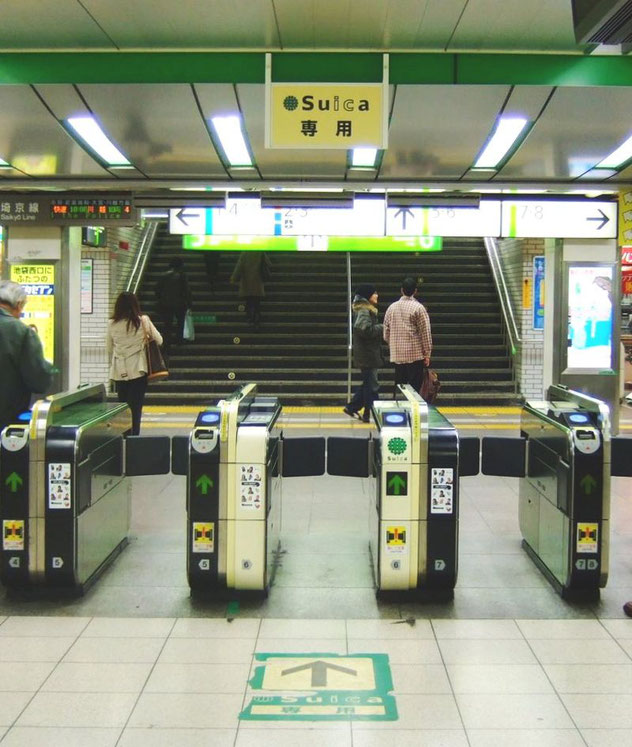 How to Buy Suica in Japan?
We love cut to the chase talk. So first, how to buy SUICA?
To explain what SUICA is and other options, how to get refund when you leave Japan, we explain later.
SUICA for adult price
The above person buys SUICA, the easiest way for a tourist.
For SUICA for adult price, you can buy it from the black JR ticket machine (not the green one or pink one!! or not the one from non-JR company) and from the staff in the JR ticket office called Midori no Madoguchi of JR East Japan.
Deposit is 500JPY (4.5USD) which you get partially when you return the ticket to the staff in the JR ticket office called Midori no Madoguchi of JR East Japan.
You have choice of MY SUICA and SUICA.
For MY SUICA, you need to put your name, sex, birthday tel for registration. The advantage of MY SUICA is that even if you lose it, you can get the card reissued with the money you put on. 
For SUICA, you do not need any info to have it. But if you lose it, you lose the money. Usually this is the easiest for a tourist visiting Japan.
The deposit amount is the same for MY SUICA and SUICA.
The above person buys "MY SUICA".
SUICA for kids
For SUICA for kids (where kid fee applies), you can buy it ONLY from the staff in the JR ticket office called Midori no Madoguchi of JR East Japan. You go to the ticket office and you show the ID of your kid (passport).
Is your kid still 12 years old and in primary school or younger? You should get kid SUICA. The travel fare is much cheaper.
Your kid can enjoy the kid price if not graduating the primary school i.e. up to 12 years old. 
The above person buys PASMO - card similar to SUICA. You can buy from non-JR ticket machine. 
How to use public TRANSPORT in Japan
Did you arrive Japan safely?
Now it is a time to use a lot of public transport where the public transport developed so well that you can reach most of the area with trains and buses.
If you have some money to spare and in hurry to meet the time, you may take a taxi. First But do not take it too often. Some friends arrived at Narita airport (the one which is far from Tokyo city area. The other one is Haneda which is closer) too late and had to take a taxi to Tokyo area. They paid more than 200USD. Well, unlike many public transports, taxi often accepts credit card so they did not lose all the Japanese yen they got!
In Japan, the credit card for the public transport, it is not always accepted. If taking train or bus in Japan, you rather assume you can not use credit card. You need to pay all in cash with small coins. The fees varies but usually start with 150JPY (1.2USD) often in Tokyo area- 250JPY (2.3USD) often in Osaka, Kyoto area or so for one station.
Every time you take a train, you need to buy the ticket from a ticket machine and put it through a ticket gate. Such a hassle!
Then you can use the " traffic card ". With this, you can just charge the money on the card and "hover it over (not try to put it in or you break the machine!!)" the ticket machine to open the gate to the platform.
There are several traffic cards issued by train companies in Japan such as PASMO, ICOCA.
If you visit Tokyo area, you will be familiar with SUICA and PASMO. If you visit Kansai area (Osaka, Kyoto, Hyogo/Kobe), ICOCA.
Basically no difference with that you can do and how much you pay among all these cards.
Today we talk about "SUICA" which is issued by Japan Railways East Japan or JR higashi nihon. 
What can you do with this card?
What can you do with this traffic card? You can do more than taking a public transport. You can buy items in shops (almost all kiosk shops in stations, most of the shops in stations and many convenience stores accept the card to pay the bill).
There are some things you can NOT pay with this card which are for example utility bills. But if you do not live in Japan, this is irrelevant. 
Can you take bus with Suica?
You can take many buses with this card but some local buses still do not accept SUICA. In that case, you need to pay with cash. 
Many cable cars do not accept the SUICA too (some do these days for example, the cable car in Mt. Takao. You can pay with your SUICA.)
Can you take non-JR train with Suica?
So SUICA is issued by a company called JR East Japan. But with this card, you can take most of the other non-JR trains such as Tokyo metro subways, Keio line, Kintetsu line etc. So is PASMO. You can get PASMO and you can use it to take JR train too.
Can you take Bullet Train with Suica?
Some of our readers who traveled to Japan asked us if they can use the SUICA to take bullet train. Bullet train is from JR company. Our answer used to be "no". Now the answer is yes and no.
From 2018, you can use SUICA to take the bullet train BUT you need to register first with the ticket machine. The service is called " Touch de Go Shinkansen /タッチでGo!新幹線 ". You just put your SUICA into the ticket machine and find the Touch de Go Shinkansen button and proceed to register. If you do not read Japanese, you may ask a JR staff to guide you through.
What you need to be careful.
At first, you tend to put the card into the ticket gate because you see some hole which looks like you can put this card but DONT. You break the machine! You just hover it over the pad looking part of the machine when you get in and get out.
Unless you buy MY SUICA (see the explanation above), if you lose it, you lose the money. So do not lose it!
All SUICA, regardless of MY SUICA or just  a normal SUICA, has the ID number on the back of the card. You can record it (just snap a photo of the number with your smartphone). If you lose it, you can tell the number to the train staff. If found, it is easy for them to pass it to you.
(MY SUICA has your name written when issued though...)
How do you get the refund?
Do not forget the cancellation fee 220JPY
When you leave Japan, you wont need SUICA. You can get the refund from the staff in the JR ticket office called Midori no Madoguchi of JR East Japan.
Please note that You need to pay 220JPY to cancel the card.
Many of our readers visiting Japan thought they would get 500 JPY deposit back but in fact they would not.  You can get the rest of the money you put and the 500JPY MINUS 220JPY. 
For example, you still have 2000JPY on your card, when you cancel it. You get 2000JPY back (of couse!) and 280JPY deposit back.
Any Other card like Suica in Japan?
There are similar cards: PASMO, ICOCA, PiTaPa, Kitaca, TOICA, manaca, SUGOCA, Hayakaken, nimoca based on the locations. You can think basically these cards are more or less the same. You can use them almost everywhere in Japan.
Watermelon or traffic card?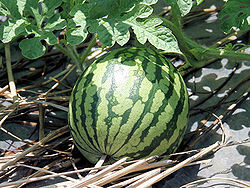 One last note.
In Japanese, "suika" originally means "watermelon, the green one with black stripes". If you say "where can I buy SUICA?" outside of station, you may be lead to a fruits shop!
The other major traffic card PASMO is an unique name so no misunderstanding!
More articles for you to enjoy: 
It is called Kimono Rocket, a website dedicated to Japan culture all around the world!
If you want to buy cosplay items online, we have the list of shops here!
Important information list on Japan trip! Find out now!
Have you heard of "Rabbit islands" and want to know how to get there, please click here!
Looking for a beautiful Japanese inn with private bath during your trip to Japan? Here is the list!
Hungry in Japan? Find the unbelievably big and cheap food from our "where can we get full" list!
Onegai Kaeru wants you to enjoy Japan trip.
If you are looking for more traveler"s info and can not find one, please let us know. We will try to help you with Japan Traveler Help Service (we work on hourly charge to arrange, book, find info you need). Feel free to contact us!
Want to know more places for the great photos in Japan? For example, Toshima island with so many flowers. Please check this out!
Do you know an island with over 2000 years old tree in Japan? Please check this out!
Onegai Kaeru, a group of passionate travelers, bring happiness to the world with its shopping support service and original super cute items!
Disclaimer: Even though we try to make the info as updated and accurate but the accuracy of the information herein is not guaranteed by us. If you have any uncertainty, please contact the information source.