Tattoo in Japan: Almost 60% of the venue with Public Bath Ban Tattoo But More Change to Come for 2020!
New Finding by Travel Agency in Japan
Japan Tourism Agency published a research asking 452 hotels, 3116 onsen spa, swimming pools etc. about tattoo rule (21 Oct 2015).
The result was interesting and also insightful.
Finding 1: 55.9% of them answered that they prohibit tattoo in their facilities. The reasons are 1) to keep the peace/moral, 2) industry rule, 3) instruction from the local office and police.
30% has no ban, 12.9% allows with condition.
The reason 3) tells how true the notion in Japan that tattoo means mafia is realistic...
Finding 2: 78.3% of them answered there was no case of trouble when one with tattoo take bath.
Finding 3: 47.2% of them answered the customers complain when they see someone with tattoo.
2019 and 2020 change
The tattoo rule will change certainly. Two reasons : Rugby World Cup and 2020 Olympic in Tokyo. 
For these games, Japan expects to see more tourists from overseas with tattoo. We already started seeing several public baths start accepting people with tattoo.
Another big reason we see is that with the shrinking population, many businesses depend on foreign tourists. Many tourists with tattoo choose their stay and destination based on the tattoo rules. Many check our  tattoo OK list before they plan trip to Japan. Some in Japan think only many westerners bear tattoos but in fact many of our Asian friends also have tattoo. If the venue bans the tattoo, they lose significant number of customers!!
Up to today the tattoo people can only go to the places with private baths.
different tattoo rules
Under the current air, we see more and more places accept tattoo people.
This public bath has always welcomed tattoo since its opening. The venue is in Narita.
Anshin Oyado capsule hotel (4 facilities in Tokyo and one in Shijo, Kyoto except for the one in Shinbashi) allows one with "design" tattoo. This hotel is only for men.
Interesting concept with this place where yoi can bring your own book into bath and read it (at your own cost!).
If you can conceal it with the 12.8cm x 18.2 cm sticker, you can take bath. You can buy it yourself or you buy at the venue which is 200JPY. The website says if the sticker cannot conceal it, you will not be allowed to enter.
<< More about where you can go with tattoo in Japan, find out here! >>
New trend with "fake" tattoo in Japan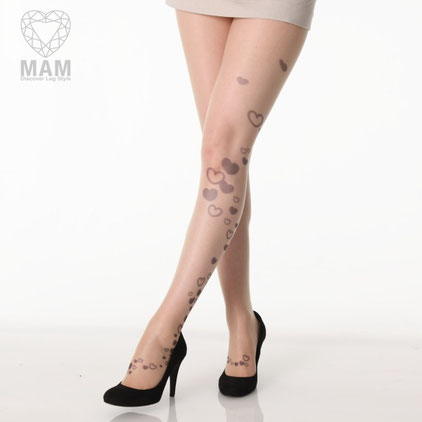 Even though tattoo has carried a "certain meaning" in Japanese society ( and you may understand why people, esp. eldery ones, can not help viewing negatively tattoo bearers), we see more and more young people see tattoo as a fashion.
In the past 5 years especially in Harajuku fashion, tattoo print tights were booming like crazy! 
Those almost invisible tights with just a little print at the ankle, looking like a real tattoo, or for the people who want more - an all over print - are the must have items this year.
I believe everything started with a tiny shop in Tokyo's Harajuku district, whose owner designed tights himself: 
AVANTGARDE (アバンギャルド, it is unfortunately closed down) 
Therefore for these designer pieces the price is a little higher (approx. 1,900~3,500 JPY per item) but they are made of wonderful quality and really unique! Here is a tiny overview from the shop.
Does your country also have a similar good? Do you have the one?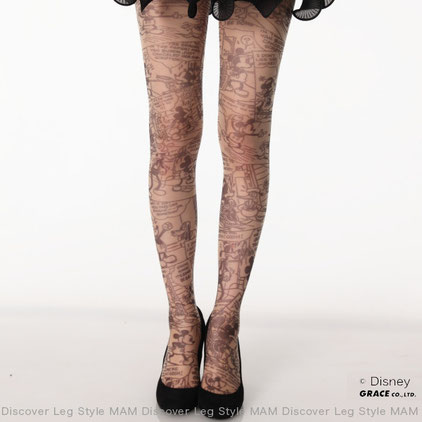 Some of our staf owned one pair of the Mickey Mouse comic print as seen above!
Since printed tights got really popular recently, you can find them basically all over Harajuku and Shibuya - from different manufacturers for a smaller price.
We really like them since they bring so many fresh new ideas and patterns into the fashion world! Some of these items are still on the market. 
Why don't you grab a pair too and spice up your autumn legs?
Share your thought/experience with tattoo in Japan
What did you think about the news? Do you have tattoo? 
Do you know any cool public bath where tattoo people can enter?
Please share your thought on tattoo rules in Japan. 
More articles for you to enjoy: 
It is called Kimono Rocket, a website dedicated to Japan culture all around the world!
If you want to buy cosplay items online, we have the list of shops here!
Important information list on Japan trip! Find out now!
Have you heard of "Rabbit islands" and want to know how to get there, please click here!
Looking for a beautiful Japanese inn with private bath during your trip to Japan? Here is the list!
Hungry in Japan? Find the unbelievably big and cheap food from our "where can we get full" list!
Onegai Kaeru wants you to enjoy Japan trip.
If you are looking for more traveler"s info and can not find one, please let us know. We will try to help you with Japan Traveler Help Service (we work on hourly charge to arrange, book, find info you need). Feel free to contact us!
Want to know more places for the great photos in Japan? For example, Toshima island with so many flowers. Please check this out!
Do you know an island with over 2000 years old tree in Japan? Please check this out!
Onegai Kaeru, a group of passionate travelers, bring happiness to the world with its shopping support service and original super cute items!
Disclaimer: Even though we try to make the info as updated and accurate but the accuracy of the information herein is not guaranteed by us. If you have any uncertainty, please contact the information source.