Fugu cooking licence differs from each prefecture. In some prefectures, you need to take lessons and tests and in some you only need lessons. This causes the knowledge level of each licensed Fugu cook differ. Today you can not use your licence from your prefecture in other. For example, if you try to get a Fugu cooking licence in Yamaguchi prefecture, you need to take lessons and then also take the tests to show you can differentiate the poison locations of each Fugu as well as your Fugu processing skill. But you try to get a licence in Okayama, you do not need to take any test. 
There has been a strong voice from the fugu industry to have a unified fugu cooking licence.
not only for Japan but WorldwiDe issue!
This news should not treated as a Japan only news. The blow fishes are mixing here and there all over the world.  (We also think any other plants/animals which have some poisonous parts can also have the same problem as this mixed Fugu issue. ) The world needs to be more aware of the new type of risk in our food! We still want to eat blow fish with no worry.
There should be a world wide system to make sure that we are not eating something lethal!
Share your thought
Have you eaten / Do you like blow fish? How was it? What do you think about this news?
Source: Sankei News report 
Higher Risk of Blow Fish Poisoning Alert
is your Fugu safe to eat?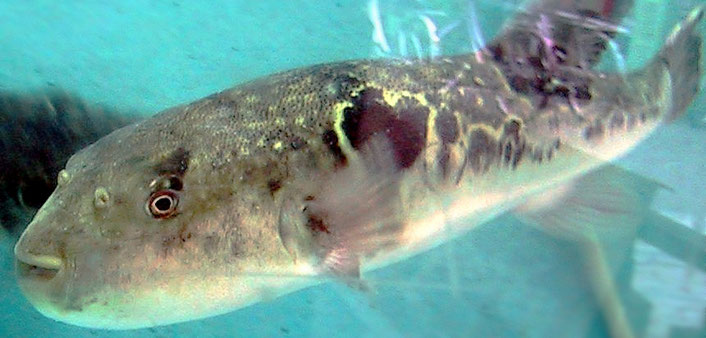 TASTy yet dangerous Fugu fish
Ever tried to eat Fugu? Fugu is a blow fish which is considered to be one of the most expensive and tasty foods in Japan.
We also love this fish. It looks cute and also tasty. We can not really afford this fish every day. If you go to some restaurant to eat a proper Fugu fish, it may be around 100USD or more per person.
The tricky part with this fish is that it has poison in its body. This poisiton is lethal. It makes more difficult to cook this fish because each type has poison in different parts of body.
Fugu cooking need licence
This is why a cook needs a special Fugu cooking licence to cook. To get the Fugu cooking licence, the cook needs to learn about the positions of the poisons of each type of Fugu and how to remove and cook. ( This also increases the cost of cooking.) 
After the cook took away the poisonous part(s), she/he must put them into a special garbage box with a lock so that no mistake happens. Under the current situation, we still see some people dying of the Fugu poisons (mistakes happen, you know...).
Climate change create new type fugu!
Today we heard of a scary news. There is higher risk of blow fish poisoning these days. This is because due to the changing climate, some blow fishes move to the area where they did not live and get mixed with the local blow fish which have always been there. This creates a mixed blow fish which has poisonous part where the cook with a licence has not learnt. The cook with a Fugu cooking licence is supposed to not cook a Fugu whose type is unknown. Yet, there seems a blow fish which looks exactly like one type of Fugu yet actually mixed and has positions in different parts! This means that there is a risk that even a licensed cook can not get rid of the poison correctly.
Need for a new licence system
More articles for you to enjoy: 
It is called Kimono Rocket, a website dedicated to Japan culture all around the world!
If you want to buy cosplay items online, we have the list of shops here!
Important information list on Japan trip! Find out now!
Have you heard of "Rabbit islands" and want to know how to get there, please click here!
Looking for a beautiful Japanese inn with private bath during your trip to Japan? Here is the list!
Hungry in Japan? Find the unbelievably big and cheap food from our "where can we get full" list!
Onegai Kaeru wants you to enjoy Japan trip.
If you are looking for more traveler"s info and can not find one, please let us know. We will try to help you with Japan Traveler Help Service (we work on hourly charge to arrange, book, find info you need). Feel free to contact us!
Want to know more places for the great photos in Japan? For example, Toshima island with so many flowers. Please check this out!
Do you know an island with over 2000 years old tree in Japan? Please check this out!
Onegai Kaeru, a group of passionate travelers, bring happiness to the world with its shopping support service and original super cute items!
Disclaimer: Even though we try to make the info as updated and accurate but the accuracy of the information herein is not guaranteed by us. If you have any uncertainty, please contact the information source.