Poisoned Food Killed Cats on Cat Island in Japan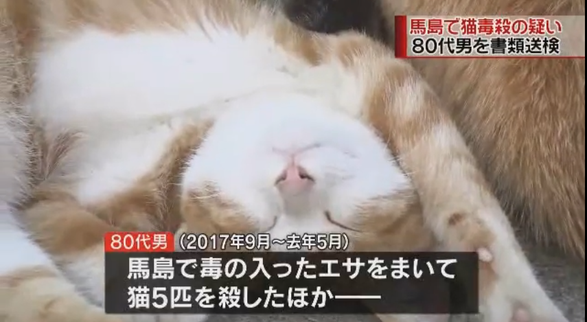 Poisoned Food Killed Cats on Cat Island in Japan
There are many cat islands in Japan which we featured in our web news. 
One of them is called Umashima island of Kitakyushu city, Fukuoka. 
The island lies 10 km from Kokura port. 5.4 km size island with 30 people in 14 families.
Since 2014, there were around 90-100 cats on the island. 
It was found that 40 cats were found dead from a mysterious cause between Sept, 2017 and May, 2019. Many cats died with bubble from their mouths.
One NPO of Fukuoka city came to investigate the situation and found there were cuts of fishes with "strange blue-ish chemical powders" stuck thereto. After the study, this blue chemical is the one usually found in pesticide.
Who killed the cats?
After the search, one local 80 year old man was arrested for the suspicion of feeding the animals with poisoned foods. The person was quoted saying "I wanted to scare the craws and not sure if the cats came to eat (poisoned food)" in August, 2019.
Now the island has just 30 cats.
We have no information who this 80 year old guy was, his profession. We assume he is in agriculture or aquaculture field.
We know it is hard for farmers and fishers to protect their harvests from many animals trying to feed on.
And their lives depend on the harvest. From the old time, no strange to try to kill the pests like mice with poisons. We would like to believe there was no ill intention from this suspect.
But we hope there should be a less harmful way to keep the animals away from the harvest.
Source: FBS TV, Sankei news, Kyodo news, Mainichi news
Where is Umashima island?
how to get there?
So where is this cat island in Japan and how to get there?
Island profile:
Name: Umashima 馬島 (meaning "horse island")
Access: by boat. Take a boat from Kokura port (小倉渡場) to the island (22 mins) 560JPY round trip (280JPY on way).
Address: Umashima, Kokurakita Ward, Kitakyushu, Fukuoka
The island is called Horse island in Japanese because of several legends e.g. the island shape looks like a horse, or there were horse farms on the island in the past or some ship with horse sank there.
Most of the residents work in agriculture and fisheries.
There are also Umashima islands in Yamaguchi and Ehime. Do not get confused.
Do you want to TV shooting, music video, photo shooting for fashion in Japan?
We have worked with major TV broadcasters around the world and online media to carry out their tasks in Japan. We make planning, arrangement with the venues, also hire local professional crew (videographer, photographer, editor, makeup artist, stylist, model, interpreter, translator etc. ) for the project. We are the one news providers for Japanese and international news papers.