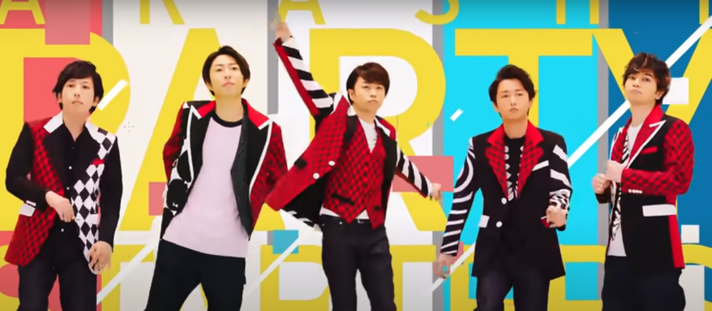 Arashi Fanclub Continues Even after End 2020! Secrets You Never Knew about Arashi!
Who is Arashi? How they started?
We are featuring many famous girls bands in Japan like Band Maid , Baby Metal and Masked Girls. How about male bands? There are many cool male bands from Japan too.
Do you know Arahi? A famous and cool music boy group from Japan. Who are they? Why they are breaking up?
Where is their fan club? How to join?
Did you know that Arashi fanclub continues even after their breakup in 2020?
And their secret stories you are most likely not to know before.
You find all here.
Arashi, probably most famous boy bands from Johnny &Associates, was formed in November, 1999.
It consists of 5 members:
Masaki Aiba from Chiba born on 24 Dec, 1982
Jun Matsumto from Tokyo born on 30 Aug, 1983
Kazunari Nihomiya from Tokyo born on 17 June, 1983
Satoshi Ohno from Tokyo born on 26 Nov, 1980
Sho Sakurai from Tokyo born on 25 Jan, 1982
In 2017 Ohno told other members he wanted to split from Arashi. The group decided to "pause" its activity on 31 Dec, 2020. Sakurai mentioned its possibility of reunion. 
arashi's Sceret you never knew probably!
Now you know who Arashi is.
You may have known all these if you are an Arashi fan. 
But what about these? We would like to share some info even a fanatic Arashi fan may not know ;)
1. Ohno was tricked into join Arashi.
Prior to the debut, Ohno already decided to leave the Johnny&Associates. Mr. Kitagawa invited him to help one group for recording. The group was Arashi!
2. Aiba was not Arashi member originally.
The members were without Aiba originally. Mr. Kitagawa saw these four people practicing dancing and told "why is Aiba not with you guys even he is close to Ninomiya and Matsumoto?". The debut event was in Hawaii and it was just 3 days before the event. If Aiba had no passport, it was possible that he was not member of Arashi.
3. Sakurai's sister works in Nihon TV as a anchor women.
Mai Sakurai, Sakurai sister, works in Nihon TV broadcaster.
4. Members did stone paper scissors to decide who would become the leader.
Ohno is the leader. And how Arashi decided who became the leader? It was simple a stone paper scissors.
5. Ohno tried to quit Arashi twice.
In 1998 Ohno tried to leave the Johnnys because he wanted to get a job in an illustration related company.
6. Matsumoto joined Arashi without the audition process.
Matsumoto sent the application with his sister. Mr. Kitagawa saw the application and called him up directly. This way, Matsumoto joined the Johnny&associates.
7. Sakurai thought Arashi was a temporary group just for a valley ball competition.
Sakurai planned to study abroad.
Where the name comes from?
 So, where the name Arashi came from?
It means "Storm" in Japanese.
The name was decided because it would make a big storm in the world. A as Japanese hiragana/katakana and A as alphabet are the first letters. This 
Who named it? Most likely Mr. Johnny Kitagawa - the founder of the Johnny&Associates. It was rumored that another Johnny's famous man Mr. Takuya Kimura made that name but he denied it on a radio program.
No wonder their record label is called J-Strom.
Where is Arashi fanclub?
How to join Arashi Fanclub from overseas?
Arashi has the fanclub as below:
The official website is here.  This is one of the biggest fanclubs in Japan. When the group announced about its breakup, the fanclub was also going to end. But now we know that the fanclub continues!
You can NOT join the Arashi Fanclub from overseas but if you have a friend in Japan you can. If you have no good friend you can trust then, you can using our proxy service.
Interested in their fanclub? Check this fanclub proxy service!
World Tour, Original item shop?...
2021 Arashi New Year Card from Japan Post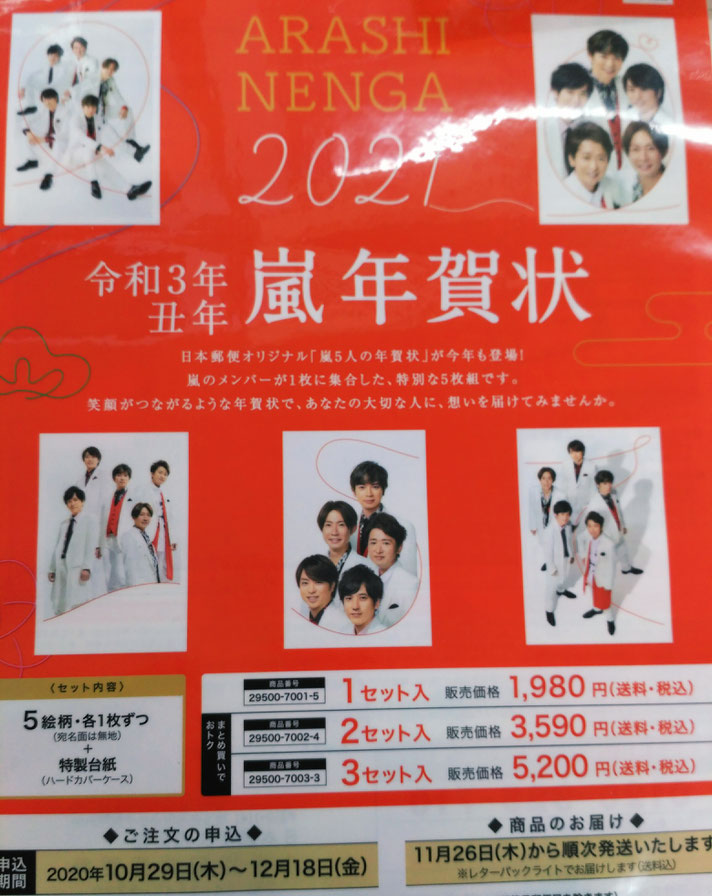 More articles for you to enjoy: 
It is called Kimono Rocket, a website dedicated to Japan culture all around the world!
If you want to buy cosplay items online, we have the list of shops here!
Important information list on Japan trip! Find out now!
Have you heard of "Rabbit islands" and want to know how to get there, please click here!
Looking for a beautiful Japanese inn with private bath during your trip to Japan? Here is the list!
Hungry in Japan? Find the unbelievably big and cheap food from our "where can we get full" list!
Onegai Kaeru wants you to enjoy Japan trip.
If you are looking for more traveler"s info and can not find one, please let us know. We will try to help you with Japan Traveler Help Service (we work on hourly charge to arrange, book, find info you need). Feel free to contact us!
Want to know more places for the great photos in Japan? For example, Toshima island with so many flowers. Please check this out!
Do you know an island with over 2000 years old tree in Japan? Please check this out!
Onegai Kaeru, a group of passionate travelers, bring happiness to the world with its shopping support service and original super cute items!
Disclaimer: Even though we try to make the info as updated and accurate but the accuracy of the information herein is not guaranteed by us. If you have any uncertainty, please contact the information source.