Comiket98 in Tokyo, Japan in 2020 Canceled, How is Comiket99 in Winter, 2020?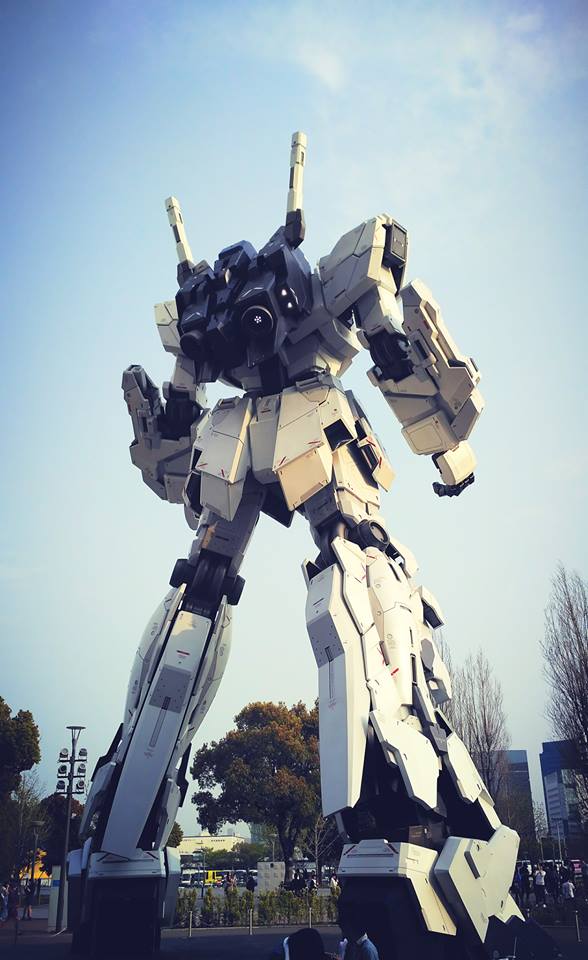 Comiket in Summer 2020 canceled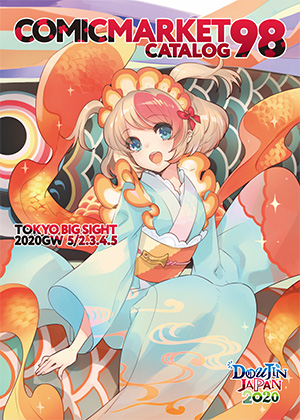 Comiket in 2020 was going to take place on 2-5 May. This is the first time since 1975 that the event was cancelled. The reason is of course the current corona pandemic.
Fee you paid shall be returned around 15th of April, 2020.
We will update you about a next 2020 Comiket too once the information available!
Even though the event being cancelled, the organiser still hopes for the support by purchasing the catalogs.
The catalog is available to buy from the following links:
what will happen to Comiket99 winter, 2020?
The big question is what will happen to the winter Comiket in 2020?
Simple answer is "not sure yet".
What we learnt from the organiser is that the East exhibition hall and the new South exhibition hall be available to use. This means Comiket99 can technically speaking use all 16 exhibition halls max. The organiser says it is not yet decided if using all but most likely the duration shall be "3 days", not 4 days. Because the Tokyo Olympic is postponed to 2021. This shall impact Comiket in 2021 too. We will keep you informed. 
The organiser also says Comiket96-Comiket98 experienced huge transitions for Comiket history and says "there may be more changes they need the Comiket fans to accept from now on".
Comiket in 2021 will be its 100th time.
Entry fee for all visitors
From our observation, the 2020 and from now Comike is likely to charge entry fee. For the previous Comiket, the organizer said that the expense of managing the sites went up because of the 4 day event and smaller event space which resulted in the less income from advertisement. 
The venue cost and labor cost keep rising in Japan. Right now we also witness a dramatic decline in the economy because of the corona pandemic. Thus Comiket organiser may have no option but to charge for the entry (we hope not but...).
For the future Comiket, you pay the fee or buy the entry. We also guess the wrist band which has been used as a entry ticket in 2020 may change to a smartphone based ticket.
[it is our guess, not official information from the Comiket organiser!]
How much Entry fee?
For 2020 Comiket, for 4 day ticket, it was 2500 JPY for advance ticket and 2000JPY to buy on the day. One day ticket was 500JPY. Comiket99 may have a similar price range.
Where to buy ticket?
Where can you buy the entry ticket?
You can buy the advance ticket at Tonaranoana shop, Animate shop, Melon Books.
If you want, you can line-up and buy at the venue but it will be loooong process.
What is Comike? Big dojinshi fair in the world
Comiket is the biggest Dojinshi ("同人誌" / self-published works by animator/comic artist) convention in the world since 1975 (21 Dec). 
We call it "Komike" in Japan. 
This is one good channel to promote yourself as a Manga-ka or Cartoonist in Japan.
When to take place and for how many days?
2019 seems a special event with 4 days.
Usually it takes place at Tokyo Big Sight two times a year ("Summer Comiket" in mid August of every year e.g. 10-12AUG and "Winter Comiket" around the end of every year e.g. 29DEC- 1JAN).
Besides this, there is Comiket Special which takes place every 5 year.
How much to enter Comiket in Tokyo?
As of 2018 it was free to enter the Comike. But there was a fee system in 2019 and 2020.
What you need to be careful
Heat
For Summer Comike, you take care of yourself for the heat. IT was reported every day there were more than 100 people taken to the care center with possible heat stroke. Bring some cap, enough drink.
We heard of some complaints from the people lining up in the morning outside of the venue that there were no drink vendors who could go around so that you could buy drink from where you lined up. There are many vending machines but not practical when you need to line up with several thousands of people.
Theft ( including Pickpocket) 
There was a report of arrest for pickpocket. If you attended the Comike once, you know the situation is like 8AM in Yamanote line on weekday. So many people. You keep your belongings where nobody can reach easily. 
The photos of the cosplayers are here!
What time should you go the venue? Opening hour
The Comket opens from 10:00AM till 17:00 for the 1st and 2nd day and 10:00AM-16:00 for the 3rd day. For 2019, there will be the 4th day. The opening hour should be more or less the same.
(Subject to a possible change in the future. Check the official website )
still Morning dash?
Although not allowed, it is sort of tradition that the visitors rush out of the station gate from the first train which reaches at Rinkai line Kokusai Tenjijo station ( りんかい線国際展示場駅 ).
It is called " Shihatsu Dash / 始発ダッシュ or the first train dash ".
Well, we can only say do you run or you fall! Stay safe ;) 
The below is Comiket Winter 2019.
Location and How to get there?
The location is at Tokyo Big Sight, a convention hall in Tokyo. In 2019, the venue is a bit smaller than normal.
There shall be 3 venues:
West Exhibition Hall
South Exhibition Hall
Aomi Exhibition Hall which is 1.5km away from the other halls.
You need to take JR Shinjuku Rinkai line or Yurikamome line from JR Shinbashi station. 
You get off at Kokusai Tenjijo station ( りんかい線国際展示場駅 ) of Rinkai line or Kokusai Tenjijo Seimon station (国際展示場正門駅) of Yurikamome line.
Comiket policy
The policy of Comiket is that all participants are equal.
Seller - circle
You need to be selected to be the seller. If selected to be a seller, you need to pay. The normal seller space is a half of a table and two chairs. The seller at the Comiket is called "circle". 
The application starts for the next convention around the time of Comiket. That means if you want to be a seller at the next convention, you need to apply around 6 months in advance.
If you wish to be a seller, you need to apply by post or email. Many applications fail because of just not enough or wrong information in the application format. You make sure you fill in correctly!
More than 36000 circles attend usually
Seller can enter at 07:00AM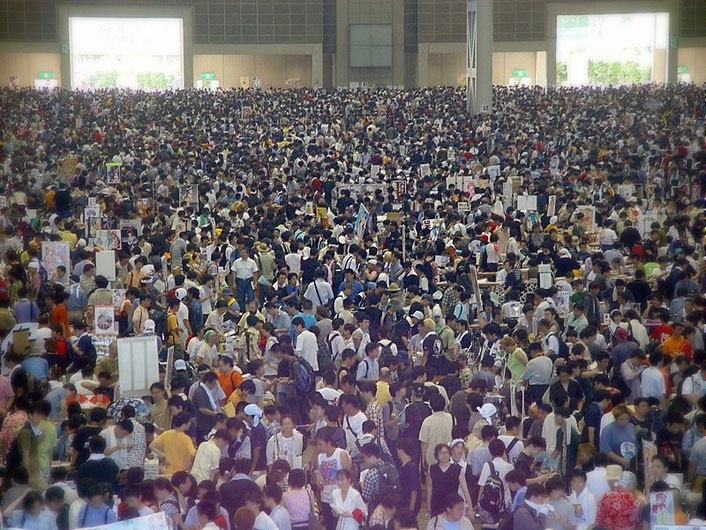 Visitor
Is it free to visit the market?
"Yes!"
Unlike many Dojinshi convention, you do not need to buy the catalog (as an entry ticket) to visit the market.
More than 500000 visitors usually. In 2018 summer there were more than 53000 visitors.
Visitor can line up from 04:30AM and enter at 10:00AM (in fact you are NOT allowed to line up before 04:30AM but many lineup from the day before)
Cosplayer
If you want to do a cosplay at the Comiket, you need to apply in advance.
Now the not excessive exposure rules are in use. You should not show too much skin!
careful about several rules at Comiket!!
You must be careful about several rules in Comiket. The similar rules apply also to many Dojinshi Conventions in Japan.
If you want to take a photo/video of someone in the Comiket, unless you blur the person's face, you are not allowed to publish it on your SNS or any sort. If you want to publish, you need to identify yourself with your name and your contact information, the purpose/media details. The organiser is strict with the rules. The penalty could be the eviction from the Comiket.
Share your experience
Have you ever been at any Dojinshi convention? Which one? How was your experience?
<<How to get a job as Manga-ka or catoonist in Japan?>>
Do you want to interview at comiket?
Local crew can help you!
Do you want to TV shooting, music video, photo shooting for fashion in Japan?
We have worked with major TV broadcasters around the world and online media to carry out their tasks in Japan. We make planning, arrangement with the venues, also hire local professional crew (videographer, photographer, editor, makeup artist, stylist, model, interpreter, translator etc. ) for the project. We are the one news providers for Japanese and international news papers.
More articles for you to enjoy: 
It is called Kimono Rocket, a website dedicated to Japan culture all around the world!
If you want to buy cosplay items online, we have the list of shops here!
Important information list on Japan trip! Find out now!
Have you heard of "Rabbit islands" and want to know how to get there, please click here!
Looking for a beautiful Japanese inn with private bath during your trip to Japan? Here is the list!
Hungry in Japan? Find the unbelievably big and cheap food from our "where can we get full" list!
Onegai Kaeru wants you to enjoy Japan trip.
If you are looking for more traveler"s info and can not find one, please let us know. We will try to help you with Japan Traveler Help Service (we work on hourly charge to arrange, book, find info you need). Feel free to contact us!
Source: wikipedia, Comiket official website
Want to know more places for the great photos in Japan? For example, Toshima island with so many flowers. Please check this out!
Do you know an island with over 2000 years old tree in Japan? Please check this out!
Onegai Kaeru, a group of passionate travelers, bring happiness to the world with its shopping support service and original super cute items!
Disclaimer: Even though we try to make the info as updated and accurate but the accuracy of the information herein is not guaranteed by us. If you have any uncertainty, please contact the information source.