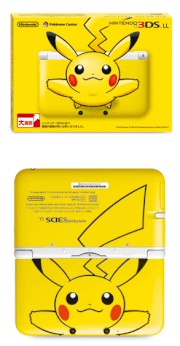 While the new Nintendo 3DS LL isn't yet available anywhere overseas, Japan launches already the sales for a special Pikachu yellow edition!
This really rare item will only be purchasable by preorder between August 25th and September 14th, 2012 - or if they run out of stock - and only in one of their seven Pokemon Centers in Japan!
The device costs 18,900 JPY and needs to be pre-paid. The pick up or delivery will start from September 15th, 2012.
Also please note that they will only hand out one device per person!
Since this item is extremely rare and will not be on regular sale afterwards - make sure to line up early!
For similar news, please click here!
Onegai Kaeru bring happiness to the world with its shopping support service and original super cute items!