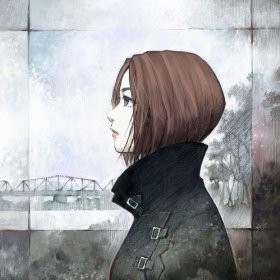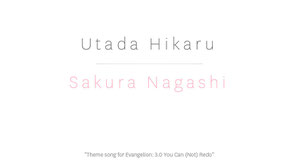 The movie EVANGELION:3.0 YOU CAN (NOT) REDO has been very successful. Over 1million people watched it since its start on 17th of November whose sale has exceeded the one from Umizaru-Brave Heaerts.

The theme song for this movie, Sakura Nagashi (桜流し, releasing the cherry blossom petals in English (based on my understanding of the word!) ) seems to be another huge hit.
2 hours and 50 mins after the release of this song, this song became the top song  chart of iTune. By now it has been downloaded over 2 million times.  
The video clip will be also available from 28th of November, 2012, do not miss it!! The sale of DVD will start on 26th of December, 2012.
The cover picture is created by Yoshiyuki Sadamoto, the character design for Evangelion series.
I love the song from Utada.
What is your favorite song by Utada Hikaru?
Do not you think she is so talented?
For EVANGELION exhibition, click here!
For EVANGELION fan item, click here!