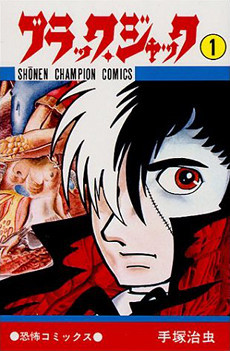 Tezuka's Black Jack most popular among medical doctors in Japan!
MedPeer, a member site for medical doctors asking what favourite manga/cartoon are.Top five is the following:

1 Black Jack by Osamu Tezuka ブラック・ジャック(手塚 治虫) 1,645 vote 54.1%
2 JIN by  Motoka Murakami  JIN-仁-(村上 もとか) 181 vote 6.0%
3 Say Hello to Black Jack by  Shuho Sato  ブラックジャックによろしく(佐藤 秀峰) 173 vote 5.7%
4 Team Medical Dragon by Taro Nogizaka and Akira Nagai  医龍(乃木坂 太郎 and 永井 明) 152 vote 5.0%
5 Super Doctor K by Kazuo Mafune  スーパードクターK(真船 一雄) 131 vote 4.3% ( this comic is influenced by Fist of the North Star, if you like Fist of the North Star, you may like this manga too)

My favourite Black Jack is the most popular comics also for medical practitioners in Japan. It got over 50% of the all voters. I have all comic books of BJ.
It seems many people were inspired to become doctors by the genius doctor, Kuro Hazama aka Black Jack.
But well, BJ has not medical licence, right? 
Who is Osamu Tezuka
Osamu Tezuka (手塚 治虫 ("虫" is "insect or Mushi in its sound" in Japanese. He put this letter in his pen name because he loved insects and there was an insect called Oyasumushi which sounded so similar to his real name "Osamu" and the insect "Mushi" ) 
He was born 3 November 1928 – 9 February 1989) was a Japanese manga artist, probably most popular one in Japan. 
Born in Osaka Prefecture, his prolific output, pioneering techniques, and innovative re-definitions of genres earned him such titles as "the father of manga" and "the god of manga".
He went through the war time but never gave up his dream of becoming a manga artist.