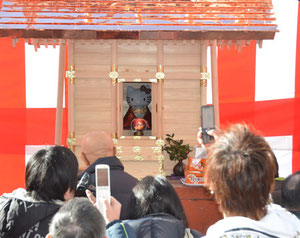 The Kofu city, Yamanashi prefecture, Japan had seen a drop of the number of visitors to the city's shopping town in last several years.
It is because that more and more people go shopping at rural areas recently and there had been wars between two local Yakuza, Japanese mafia, groups (Yamanashi ikka "Yamanashi Family" and Yamanashi Kyoyukai) in the past years.
Kofu shopping town committee took an action after some consideration to get the people back to the shopping town.
Hello Kitty Shrine. The podium was 1.5 meter height on which a 25 cm stone made Hello Kitty sat. It took as long as 3 months to make the Kitty statue.
The leader of the committee quoted saying "the local shopping town must be a big fun place. We built this (shrine) half because we want to attract people seriously and half because it was just for fun.".
The shrine stood in front of the main gate of Kofu Ginza Dori/street. On 27th of January, 2013 the opening ceremony of the shrine took place and around 100 people attended it.
The Japanese news reported that the president, Mr. Shintaro Tsuji, of Sanrio Co., Ltd., the right holder of Hello Kitty, pleased to give the license to use the character for the town where he was born. This was a news from yesterday.
There was a surprising turn in this news today.
After the report above, Sanrio claimed it did NOT give any right to the shopping town committee to use Hello Kitty. And the Hello Kitty statue was taken off the shrine.
It was only 2 days after the big opening ceremony. Nobody knows when the Hello Kitty shrine opens again.
For more interesting news, please click here!