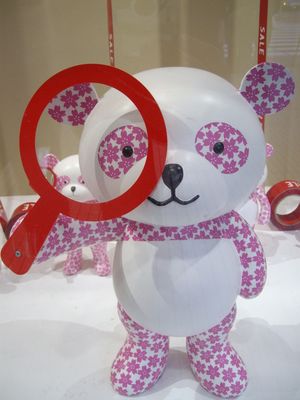 On 12th of March, 2013, a market research company, Video Research Ltd., published the popular animation character as of Dec 2012.
For the kids, Doraemon landed on 1st place (74.9 % support), then comes My Neighbor Totoro and Micky Mouse (both 62.4% support), 4th Drum Master (Taiko no Tatsujin by Namco) (60.6%), 5th Super Mario (60.01%).
When the kids category divided into girls and boys, girls love Rilakkuma most, Mickey Mouse second and Minnie Mouse third ( good job Disney!). For boys, the rankings are Doraemon, Super Mario and Pocket Monster Best Wish.
For the mum, My Neighbor Totoro won the most popularity (64.3%), Mickey Mouse was 2nd (56.6%). The third was Miffy (54.1%) followed by Heidi, Girl of the Alps (52.2%) and Sazae-san (51.9%).
Notably, more game characters gain popularity in kids and the mum supposedly not from the generation of video game(esp. girls did not play video games 20-30 years ago) gave points to nice and old characters from their times.
Also interesting to see Hello Kitty was not the most popular as I expected. It ranked at 18th position for mothers and 10th for girls.
The company asked 617 people within 30km from JR Tokyo station, 3-12 year old kids and their mothers. The research was from 3rd of Dec till 9th of Dec, 2012.
For similar news, please click here!