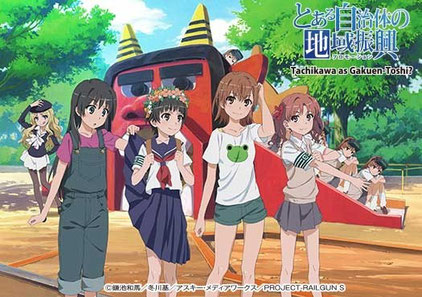 Anime Event in Tokyo in Nov, 2013
Tachikawa city is promoting itself as "city of Manga/anime".
The local autumn festival "Aki no Rakuichi 2013" will host many animation related events.
The main featured animations are To Aru series like To Aru Kagaku no Railgun by Kazuma Kamachi and GATCHAMAN Crowds both of which are based on Tachikawa city.
Animation item shop, Kotobukiya, also joins this event.
Date/Time: 3rd (Sun) and 4th (Mon/public holiday in Japan) of November, 2013 10:00AM-16:00 (in the case of rain, to be canceled)
Venue: Showa Kinen Park (the main venue is Hana Midori Bunka Center in the park) 
For similar news on the big animation event in 2014, please click here!