Which Hot Spring Japanese Visited Most in 2018?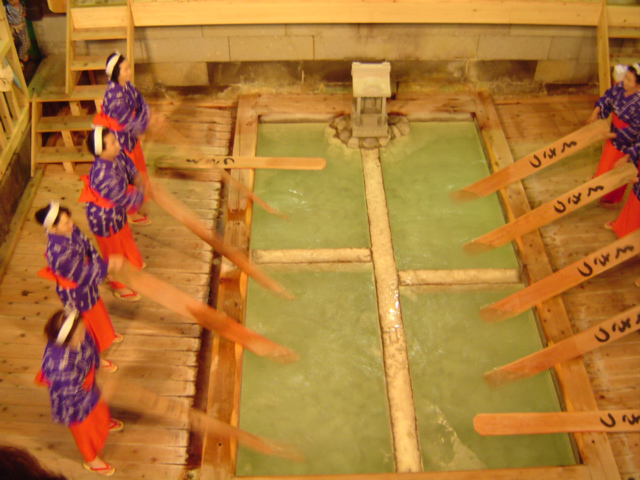 The latest news for hot spring goer around the world. If you are planning your trip to Japan for hot spring tour, here is the list you may enjoy looking into.
In 2018, which hot spring Onsen in Japan was visited most by Japanese? You may not know some of the names. 
1. Atami Onsen
Hot spring profile: slightly alkaline
Location: Shizuoka pref
It is only 50 mins by bullet train from Tokyo to Atami.
The firework festival taking place through year. It is by the ocean and great to visit in summer for swimming.
It was "the place" in Japan for a long time in the past (when the airplanes/bullet train not available yet) in Japan where many people went there on honey moon.
where is it?
2. Beppu Onsen
Location: Oita prefecture
If you love Onsen and try several types of water, this is the place for you. The city has 8 different types of hot spring.
Where is it?
3. Nasu Onsen
Hot spring profile :Hydrogen sulfide
Location: Tochigi
Nasu is a famous Onsen place for 1370 years.
The amount of water coming out is the biggest in Tochigi pref.
Nasu has 7 different hot springs called " Nasu Shichi (7)Yu "。
Where is it?
4. Kusatsu Onsen
You can see the live camera of the "yubatatake" in Kusatsu
Hot spring profile: Acidity (Ph 2.1 at its origin!)
Location: Gunma
Everyone in Japan knows "Kusasu". It is one of 3 big onsens in Japan ( the others being Gero and Arima).
The iconic place is Yubatake - hot spring farm.
32,300 litter of hot spring coming out every minute.
Some of our Onsen friends say Kusatsu is the best onsen. 
Where is it?
5. Kinugawa Onsen
When we were kids, we frequented Kinugawa onsen. It is not so far from Tokyo. 
Where is it?
6. Hakodate Onsen
It is just 10 mins from Hakodate airport. The city has quite nice ryokan and hotels which can oversee the ocean.
Where is it?
7. Shirahama Onsen
It has one of the beautiful beaches Shirahama beach. We went there and saw the water was so clean.
Besides the nice beach, Shirahama has the nice and old hot spring - ca 1350 years old.
Where is it?
8. Ito Onsen
Hot spring profile: lightly salty
34,000 litter per min (3rd biggest amount in Japan)
The area has 10 public baths.
Not far from Tokyo. 
Where is it?
9. Akiu Onsen
Hot spring profile: Lightly salty, Sodium calcium
Location: Sendai, 30 mins by car from the city center
Where is it?
10. Gero Onsen
Where is it?
Which hot spring you have been to? Which one is your favourite? You can share your opinion below.