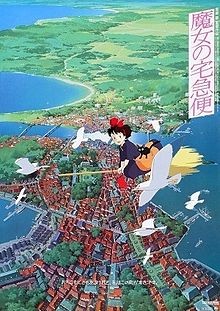 Kiki's Delivery Service whose original novel written by Eiko Kadono in 1985 will be a live action movie.
The story must be known to the world with the animation movie by Hayao Miyazaki of Studio Ghibli in 1989.
With this live action movie the studio Ghibli will not be involved. So the atmosphere may be different from what we expect from the animation film.
The director is Takashi Shimizu (may seem misplaced if you know he was the director for the horror movie Ju-on/the Curse series).
Announced casting members:
Fuuka Koshiba will play Kiki, the main character.
Rie Miyazawa will play Kokiri, kiki's mother.
Michitaka Tsutsui will play Kiki's father-Okino.
Machiko Ono will play Osono, the bakery owner.
Hiroshi Yamamoto will play Fukuo, husband of Osono.
Ryohei Hirota will play Tombo.
The roadshow will be on 1st March in 2014. There some screen shots are releaved.
It will be very interesting to see how non Ghibli will interpret the story. We are looking forward to it.
Click here for the latest news of the movie (official website)!
For the similar news. please click here!
Onegai Kaeru bring happiness to the world with its shopping support service and original super cute items!