Anime Character Wine on sale!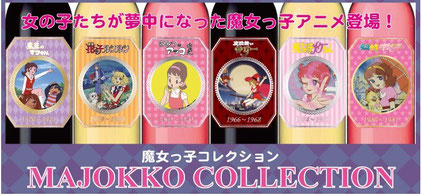 Anime Character Wine on sale!
Did you know Japan produce wine?
From the north, Hokkaido, to the south, Miyazaki, Japan started producing wine around Meiji era (1868-1912).
One of the notable wine areas is Katsunuma area in Yamanashi prefecture. The wine produced in the area is called Koshu(old name for Yamanashi) wine. This is where the wine production started in Meiji time.
When the wine introduced to Japan, the wine's unique tastes - sour and dry - was not widely accepted so the people that time put honey, sugar or so to make it sweet and drink. The famous sweet wine was one called Akadama from Suntory.
Too much Japanese wine history info?
Onegai Kaeru team found the interesting collection of wine from Katsunuma area i.e. Anime Wine collection.
This collection has several famous animation characters( "Gegege no Kitaro", "Akuma kun" " Captain Harlock", "Himitsu no Akko chan", "Galaxy Express 999", "Mazinger Z " in total 45 titiles as of Oct, 2013) available in red, white and rose wines.
Price: 2100JPY 360ml / 3150JPY 720ml (both tax incl.) If two or more bottles bought at once, the free shipping cost
Where to buy: the official website
For similar news, please click here!
Onegai Kaeru bring happiness to the world with its shopping support service and original super cute items!