Anime character wine from Japan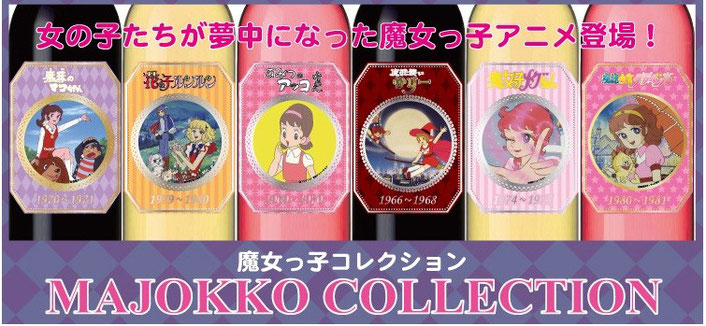 japanese Wine history
Did you know Japan produce wine?
From the north, Hokkaido, to the south, Miyazaki, Japan started producing wine around Meiji era (1868-1912).
One of the notable wine areas is Katsunuma area in Yamanashi prefecture. The wine produced in the area is called Koshu(old name for Yamanashi) wine. This is where the wine production started in Meiji time.
When the wine introduced to Japan, the wine's unique tastes - sour and dry - was not widely accepted so the people that time put honey, sugar or so to make it sweet and drink. The famous sweet wine was one called Akadama from Suntory.
Above is the 6 bottle set of different type of wine from Yamanashi prefecture.
If you are interested, you can buy Akadama from the below link!
Anime wine from Japan
Too much Japanese wine history info?
Onegai Kaeru team found the interesting collection of wine from Katsunuma area i.e. Anime Wine collection. As of 2017 unfortunately these wines are not available.
This collection has several famous animation characters( "Gegege no Kitaro", "Akuma kun" " Captain Harlock", "Himitsu no Akko chan", "Galaxy Express 999", "Mazinger Z " in total 45 titiles as of Oct, 2013) available in red, white and rose wines.
Price: 2100JPY 360ml / 3150JPY 720ml (both tax incl.) If two or more bottles bought at once, the free shipping cost
Where to buy: the official website [ no longer exist as of 2017].
But we put some wines with anime characters below: 
More articles for you to enjoy:
Have you heard of "Cat islands" and want to know how to get there, please check here!
Have you heard of "Shark islands" and want to know how to get there, please click here!
Have you heard of "Rabbit islands" and want to know how to get there, please click here!
Looking for a beautiful Japanese inn with private bath during your trip to Japan? Here is the list!
Hungry in Japan? Find the unbelievably big and cheap food from our "where can we get full" list!
Onegai Kaeru wants you to enjoy Japan trip.
If you are looking for more traveler"s info and can not find one, please let us know. We will try to help you with Japan Traveler Help Service (we work on hourly charge to arrange, book, find info you need). Feel free to contact us!
Want to know more places for the great photos in Japan? For example, Toshima island with so many flowers. Please check this out!
Do you know an island with over 2000 years old tree in Japan? Please check this out!
Onegai Kaeru, a group of passionate travelers, bring happiness to the world with its shopping support service and original super cute items!
Disclaimer: Even though we try to make the info as updated and accurate but the accuracy of the information herein is not guaranteed by us. If you have any uncertainty, please contact the information source.