Probably the weirdest curry in the world. And...Its background story. [ Closed permanently now ]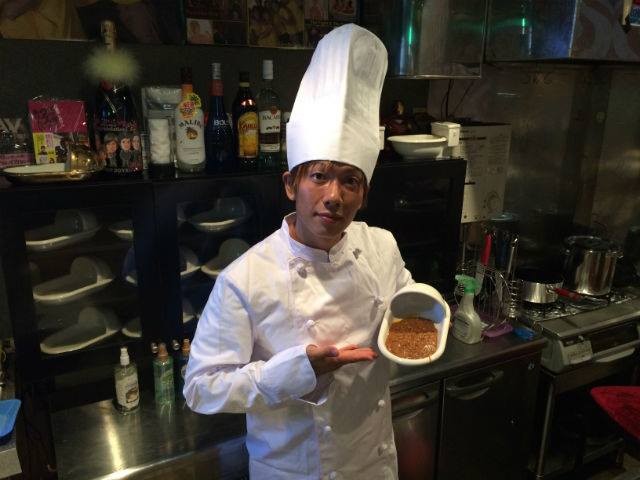 Onegai Kaeru News![ UPDATED in Feb, 2017]
You probably have heard of concept restaurants like jail theme bar, mental hospital theme restaurant, Alice wonderland theme cafe, robot restaurant etc.
But none of the above can beat this place, we guess.
This is probably the weirdest curry in the world!? Onegai kaeru team found a strange restaurant in Tokyo. This restaurant just opened some days ago (on 16th August, 2015).
This curry shop claims to serve you a curry with taste of " human poo".
This shop, opened by an adult movie actor and director, Mr. Ken Shimizu(aka Shimiken), did "extensive research" to develop curry which tastes exactly like poo.
The ingredient includes Swertia tea, bitter melon etc. Well, do not worry, there is not a real poo inside. All made from non-poo ingredients.
To give you the "real" feeling, your curry served in a dish in a shape of traditional Japanese toilet. 
One research company conducted one study asking if they want to go to this restaurant on 400 men and women (20-30year old). More than 85% of them answered "No". 
[ UPDATE: Unfortunately (or fortunately?? ) the restaurant is closed permanently on 4 of Jan, 2017 ] 
=>Looking for strange curry? How about the pink and blue curry?
Background of this concept( as far as Onegai Kaeru team guessed):
So why Mr. Shimizu came up with this idea to serve curry tasting like sh*t?
For non-Japanese person, this news would sound just super stupid. As Japanese, we understand to some degree "this joke". If you are male and grew up in Japan, you most likely have heard "the extremest question of life(人生最大の質問) ", a play where you ask your class mates a very difficult and stupid question. One of the typical questions of this play is "whether you will eat poo with the taste of curry or curry with the taste of poo".
So how would you say about this place? If you know any weirder restaurant, please let us know!
Shop info:
Name: Curry shop Shimizu( カレーショップ志み津 )
Official website (all in Japanese)
Menu:
Curry portion ( claimed to be very un-tasty)
S: 400JPY
M: 600JPY
L: 1000JPY ( you will get a special sticker if you finish the L size as a prize and proof of your great work)
Rice portion( claimed to be tasty cooked with olive oil)
S: 100JPY
M: 150JPY
L: 200JPY
Some drinks(incl. alocohol) starting 500JPY for soft drinks
And you can also buy special T shirts etc.
Address: B1-A Joy park Chitosehunabashi, 1-1-17 Funabashi, Setagaya, Tokyo (near ChitoseFunabashi stn, Odakyu line) (JP: 東京都世田谷区船橋1-1-17 ジョイパーク千歳船橋B1-A)
Opening hour: 18:00-23:00 ( even though, the official website says open for lunch time but not)
Closed: on Tuesday and on "a day when the curry turns out to be tasty( i.e. failed to taste like poo, what a shame... )"
Note: the restaurant warned that 1) customers need to wear the clothes which are okay to get stinky, 2) the toilet is only for women in the restaurant and 3) if customers lining up, you need to order one item from the menu every 30 mins.
We sincerely hope this restaurant succeeds well but somehow feel it may not last too long. If you are coming to Japan for some trip in the near future, try this place out before it closes. [ Now we know it did not do well...]
=> Are you in Japan and hungry? Check this list of cool restaurants where you can get SO FULL at SO CHEAP price!
=> If you are looking for strange but tasty curry( we mean, non-poo taste curry), how about trying this pink and blue curry? 
Looking for some unique place to interview in Japan?
Did you want to eat this curry and interview the owner?
Do you want to TV shooting, music video, photo shooting for fashion in Japan?
We have worked with major TV broadcasters around the world and online media to carry out their tasks in Japan. We make planning, arrangement with the venues, also hire local professional crew (videographer, photographer, editor, makeup artist, stylist, model, interpreter, translator etc. ) for the project. We are the one news providers for Japanese and international news papers.
share your experience