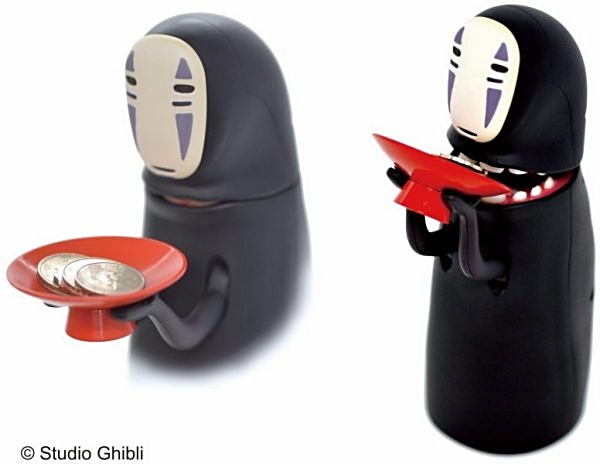 Spirited Away Piggy Bank on sale - the No Face / Kaonasi /Faceless Eat Your Money!
Ghibli Animation "Spirited Away"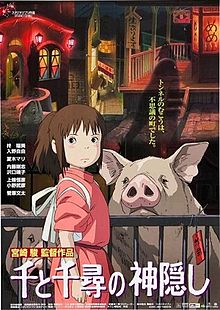 Have you watched animation movie " Spirited Away (Sen to Chihiro no Kamikakushi) "?
One of the most successful movies from Ghibli by Director Hayao Miyazaki not only in Japan but also outside. The movie was released in July, 2001.
It is one of our most favorite movies all time. Like other Ghibli movie, it is not only for kids but also for adults to enjoy as it has quite deep meanings in the movie. 
It is a movie about a girl, Chihiro, and her parents who run into a mysterious world. Her parents got some spell and turned into pigs. Chihiro will work her way out and also try to help her parents whie meeting many strange spirits (ghosts?) in the world. You see a beautiful hot spring inn as the main location in the story (its miniature model once we featured in one article).
Hayao Miyazaki tried to make a movie for his friend
What is No Face?
In this movie one of the noticeable characters is Kaonashi (No Face). It is a black "thing" which wears a mask like Japanese traditional "Noh /能" and eats anything esp. other residents of the mysterious world. It usually conjures some gold (or anything you desire to have) out of its hand and lures its prey before it eats (!) it. 
Hayao Miyazaki once mentioned that "No Face lives in the heart of anybody". We assume No Face is a mind of people and can represent a human's desire to get rich.
Originally the No-Face was something like an extra with no important role.  During the film production, Hayao Miyazaki started making this character one of the key roles in the movie.
No Face Piggy bank
Source: Hayao Miyazaki, Nibariki, Ghibli
There are many interesting piggy banks from Japan. We introduce the cat bank where a cute cat takes your money and puts into the box (there are various versions such as Godzilla, Kumamon, Pikachu too). It is all up to by whom you want your money to be taken away (into your piggy saving account ! )
Today we found a cool piggy bank based on the No Face. You put the money on the plate it holds and when the weight is over 30g, it eats your money and burps (like the movie). The movie music also runs in the process! 
How much? How to get it?
The sale starts on 20th of May, 2017.
Price: 4800JPY (excl. tax)
Size: W 8cm×H 21cm×D 16cm
Need 2 type AA batteries (not included)
You can pre-order from this website below:
Weight of Japanese coins
No Face will eat the coins when it weighs around 30g. How many what coin do you need to achieve that?
Here are the data of Japanese coin weights:
1JPY‥1g
5JPY‥3.7g
10JPY‥4.5g
50JPY‥4g
100JPY‥4.8g
500JPY‥7g
If you have 4 of 500JPY, the piggy bank is supposed to eat them!
Big Totoro Piggy bank
Other cute piggy banks
Cat piggy bank
Kumamon piggy bank
Godzilla piggy bank
Hello Kitty piggy bank
Pikachu piggy bank
Panda piggy bank
Gudetama Piggy bank (our favorite! but sold out...)
For your relaxation, watch cat vs. Cat piggy bank!
More articles for you to enjoy:
Where to buy Kimono? For gift, Kimono can be one good idea as it can be worn like a traditional way and also as jacket or so like a modern way.
What is Kimono? The brief introduction to Kimono in Japan. 
Looking for something really traditional from Japan? Find out about Yosegi arts. 
How to wash Kimono? Now easy to wash Kimono by yourself. We have a cleaning facility in Japan to help you with Kimono washing.
Where to rent Kimono? We offer kimono rental suited for your party, wedding or so.  
Have you heard of "Cat islands" and want to know how to get there, please check here!
Looking for a beautiful Japanese inn with private bath during your trip to Japan? Here is the list!
Onegai Kaeru wants you to enjoy Japan trip.
If you are looking for more traveler"s info and can not find one, please let us know. We will try to help you with Japan Traveler Help Service (we work on hourly charge to arrange, book, find info you need). Feel free to contact us!
Want to know more places for the great photos in Japan? For example, Toshima island with so many flowers. Please check this out!
Do you know an island with over 2000 years old tree in Japan? Please check this out!
Onegai Kaeru, a group of passionate travelers, bring happiness to the world with its shopping support service and original super cute items!
Source: Wikipedia, Hayao Miyazaki, Nibariki, Ghibli
Disclaimer: Even though we try to make the info as updated and accurate but the accuracy of the information herein is not guaranteed by us. If you have any uncertainty, please contact the information source. These shops are the ones we find online at random for your reference purpose. There is no guarantee whatsoever about the authenticity of the shops and items of any sort.