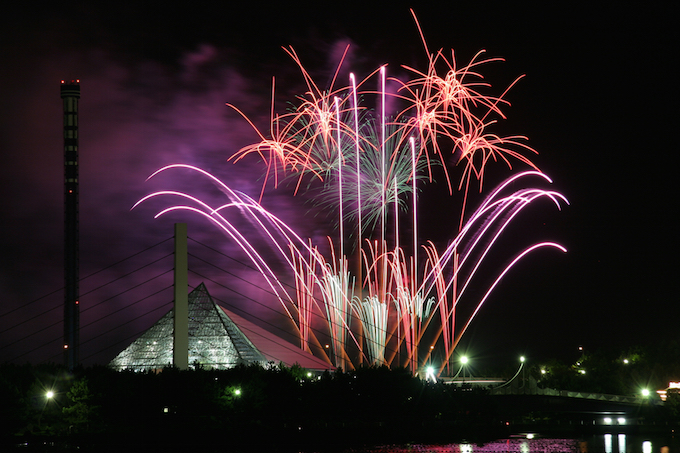 Planning to spend time in Japan on the new year eve and days? 
Unlike most of the western world where people celebrate it with firework and a lot of alcohol, the new year is (probably) the most silent period of time in Japan. 
If you are looking forward to the big fire works everywhere and a lot of parties, you are basically in a wrong country. On the bright side, it is a very special moment in the country of rising sun. You spend one of the most important moments with all Japanese people. Yet, unless you stay in the very suburb, it is not complete silence during the period. There are a lot of fun events, parties etc. going on on Japan's new year.
We try to list up as many fun things as possible to do on the new year eve and new year days.
Now let us cut to the chase!
Name: Asakusa Hanayashiki (theme park)
Place: Asakusa, Tokyo
Price: 2000JPY
Time: 31 Dec 21:00- 1 Jan 02:00AM
Contact: +81 3-3842-8780
Note: You can ride as many attractions as possible and after the event you can visit Sensoji temple in Asakusa.
http://hanayashiki-event.com/countdown2016/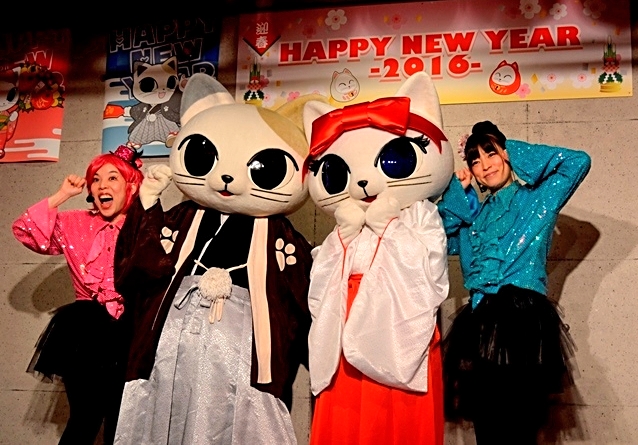 Name: Nanja town 
Place: Nanja Town, Ikebukuro, Tokyo 
Time: 31 Dec 22:00- 1 Jan 05:00AM
Contact: +81 3-5950-0765
Note: At the Sunshine building in Ikebukuro, Tokyo. It usually offers new year ice creams (1000 ice creams for free at 2016 event)
http://www.namco.co.jp/tp/namja/NEWS/events/2016100102.html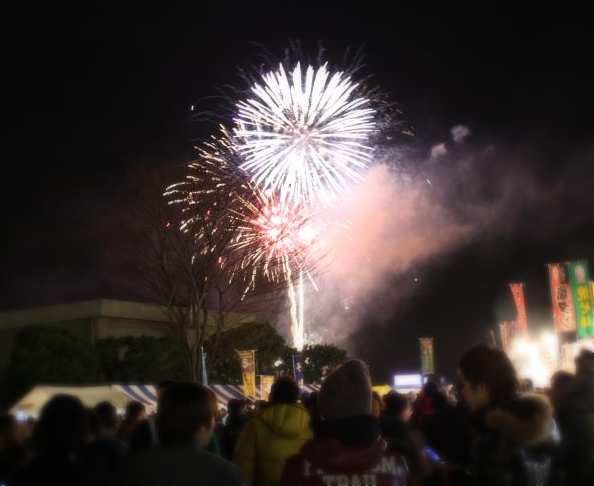 Place: Ikoi hiroba at Verny Park 
Time: 31 Dec 18:00- 1 Jan 01:00AM
Address: 1 Chome-1 Shioirichō, Yokosuka-shi, Kanagawa-ken 238-0042 (Get off at Shioiri station (Keikyu) and 5 min walk, or Yokosuka station (JR) 1 min walk)
Note:
The schedule looks like
18:00 event starts (live performances on stage)
21:00 light decoration on on the ship
00:00 (mid night)at fireworks (around 400 shots) for 5 mins
01:00 the event ends
Contact: +81 46-825-1080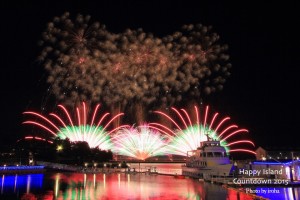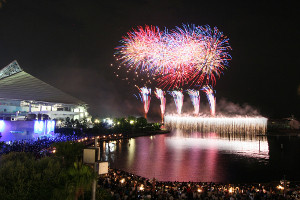 Name: Happy Island Countdown 
Place: Yokohama Hakkeijima Sea Paradise
Time: 31 Dec 19:00 - 1 Jan 08:00AM
Contact: +81 45-788-8888
Note: ca 3000 fireworks!
Name: Tokyo Disney resort
Place: Maihama, Chiba
Time: 31 Dec 20:00 - 1 Jan 07:00AM
Contact: http://www.tokyodisneyresort.jp/magic/cd_party/apply/
Fee: 9000 JPY per person 
Note: Ticket is already sold out as of December, 2016 (if you are reading this in 2017 for 2018 or thereafter, you may have a chance. Go quick and find out on the official website )
(You can see the fire work for free if you are lucky. Check out Kasai Rinkai Park below)
One cool spot you want to be is Kasai Rinkai Park. Unlike many other places, it is a 700 JPY entry. You can even see fireworks of Tokyo Disney resorts.
31 Dec 10:00AM - 1 Jan 08:00AM
Contact: +81 3-3686-6911
Click the above picture to go to each official website
Some examples of big countdown parties taking places as below:
Name: ageHa
Address: 2-2-10 Shinkiba, Koto, Tokyo 136-0082
Phone: +81 3-5534-1515
Note: Capacity 2400 people. Currently probably the most famous club in Japan.
Name: SOUND MUSEUM VISION
Address: 2−10−7, Dogenzaka, Shibuya,Tokyo
Contact: +81 3-5728-2824
Note: Located at the basement in Dogenzaka street, Shibuya. Capacity 1500 people.
Name: Club Six Tokyo
Address: 2F, 5-5-1, Roppongi, Minato-ku, Tokyo
Phone: +81 3-3470-6066
Note: Capacity 500 people. The club with the latest sound systems.
Name: V2 Tokyo
Address: 13F, 5-5-1, Roppongi, Minato-ku, Tokyo
Phone: +81 3-5474-0091
Note: Capacity 2000 people. One of the biggest clubs in Roppongi area.
Name: Maharaja Roppongi
Address: 3-12-6, Roppongi, Minato-ku, Tokyo
Phone: +81 3-6804-1798
Note: Most famous club in Japan in 1980-1990. The countdown party offers you something Japanese e.g. new year soba noodle etc.  Capacity 300 people.
Name: ESPRIT TOKYO
Address: Roppongi B&V building2/3 floor,5-1-6 Roppongi Minatoku,Tokyo
Contact: +81 3-3470-1371
Note: renovated in April, 2015. around 600 people capacity
 If you want to have a very special night with great food and atmosphere, you can check some countdown parties at cool hotels in the city. Well, you need to book in advance and the price is quite something (150 USD - 300USD per person). It is certainly worth it.
Our recommendations are ANA InterContinental Tokyo for DJs at MIXX bar and lounger and Shangri-La Hotel in Tokyo for all you can drink Dom Perignon and some buffet.
Countdown fireworks at Universal Studio Japan, Osaka 
Place: Universal Studio Japan, Osaka
Time: 31 Dec 19:00 - 1 Jan 02:00AM
Fee: 12800 JPY per person
There will be live concerts by some famous musicians (famous in Japan) and fireworks!
You need to get " the party pass " to attend this party. This party pass allows you to attend the party and ride all attractions from 19:00 on 31 Dec till 21:00 on 1st of Jan (26 hours!).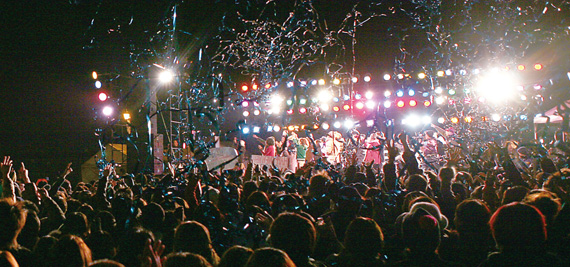 Place: Porto Europa area in Wakayama Marina City, Wakayama
Time: 31 Dec 19:00 - 1 Jan 00:50AM
Address: 1527, Kemi, Wakayama-shi, Wakayama-ken, Japan
Fee: Free
Contact: +81 73-448-0300 
You see the local musicians on stage and fireworks!
Place: Suma Aqualife Park Kobe, Kobe, Hyogo
Time: 31 Dec 21:00 - 1 Jan 01:00AM
Fee: 1300JPY 
Address: 1 Chome-3-5 Wakamiyacho, Suma Ward, Kobe, Hyogo
Contact: +81 78-731-7301 
Every year around 4000 visitors. You see the new year dolphin shows etc.
There shall be a lot of new year events at clubs
Famous ones include
Vanity Osaka
Address: 2 Chome-7-20 Higashishinsaibashi, Chuo Ward, Osaka Prefecture 542-0083
Phone: +81 6-6212-3333
On and On
Address: Basement 1, 6 Chome−8−7, Nishitenma, Kita, Osaka
Phone: +81 6-6362-0212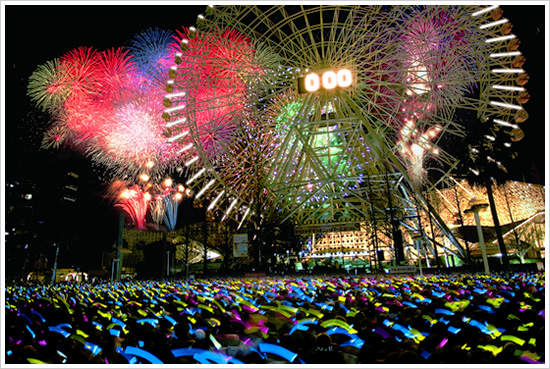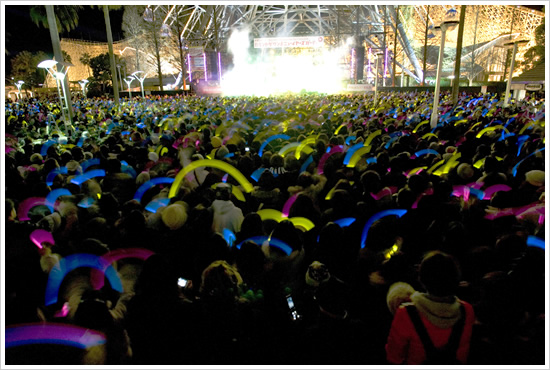 Name: New Year's Party
Address: 333 Nagashimachō Urayasu, Kuwana-shi, Mie-ken 511-1135
 (Take Mie-Kotsu bus from Kuwana station)
Fee: 5500JPY per person (if you buy in advance, 5000JPY)
Time: 31 Dec 20:00-1 Jan 03:00AM
Contact: +81 594-45-1111
Note: This is the biggest new year event in Tokai area. It is a theme park with hot spring. Live concerts and then fireworks. Every year famous firework artists from Aichi prefecture craft the fireworks. After the countdown, enjoy the hot spring in this venue. The hot spring is open till 05:00AM (last entry is by 04:00AM) on 1st Jan
Name: Huis Ten Bosch
Address: 1-1 Huis Ten Bosch Machi, Sasebo, Nagasaki Prefecture 859-3292
Fee: there are several types, basically around 10,000JPY
Time: 31 Dec 08:00AM-1 Jan 26:00
Contact: +81 570-064-110
Note: There are more than 40 attractions/rides you can enjoy in the ticket package. Live concerts and fireworks. Their fireworks is one of the biggest in Japan for the countdown event.
For this venue, you can check out the Robot hotel for your stay.
Name: Candle Road in Morin-ji
Address: 1570 Horikuchō, Tatebayashi-shi, Gunma (you walk around 10 mins from Morin-ji-mae station on Tobu Isesaki line)
Fee: n.a.
Time: c.a. 31 Dec 23:00-1 Jan 02:00AM
Contact: +81 276-73-0632
Note: In Japanese, Morinji reads " 茂林寺 ". At this special time of the year, the temple lit up 2000 candles. The temple usually offers warm drinks. No fireworks but this venue is  great for those who appreciate silent traditional type of Japanese new year.
Name: Sanrio Character Harmony Park Kitty Land
Address: 5933 Fujiwara, Hinodemachi, Hayami, Oita
Fee: n.a. 
Time: 31 Dec -1 Jan 
Contact: +81 977-73-1111
Note: If you love Hello Kitty and other characters from Sanrio, this must be the ideal way of welcoming a new year. There will be fireworks around Kitty Castle when the time hits the new year. Usually visitors fly their balloons when the fireworks start.
After you spend sleepless night on the new year's eve, you can consider doing the below. Many Japanese do these.
You go to the emperor's palace near Tokyo station and get disappointed as the gates are always closed?  You will be very lucky if you visit Japan on new year's day. On January 2nd, the Japan's emperor makes several speeches to the public at the Tokyo Imperial Palace. It is one of only two rare occasions for the year. On this day the gate opens to the public, there will be so many people (you may also see some far right wing people too).
We are once there to see the emperor. You do not need to reserve in advance but please be prepared to wait for 2 hours or longer, where you basically need to stand still in the cold till the security guards instruct you to move, before you see the royal family.
The emperor and family members appearance time table 
10:10AM 
11:00AM 
11:50AM 
13:30 and 
14:20
Many shops offer you a bag full of items at a good price on 1st ( and, 2nd and 3rd depending on shop)of Jan. It is normal that you can not see what it is in the bag. You open it when you buy and you may be happy to find great items at super good price or be disappointed to find all the unsold items from the previous year..
Popular Fukubukuro includes Japan's Starbucks which offer original items.  Last year (2015 as of the time of writing this) there were incidents where some group of people bought all Starbucks' Fukubukuro around major cities (to resell the items online to earn profit) which pissed the public off.
Do not expect an easy and silent trip to the shrines (if you go to one in a big city) Source: Wikipedia
Many Japanese visit shrines on 1st of Jan. It is called " Hatsu-mode = first visit" . If you are in Tokyo area, famous places are:
1) Meiji jingu,
Address: 1-1 Yoyogikamizonochō, Shibuya-ku, Tōkyō-to 151-0052
Note: Probably the most famous shrine in Tokyo. Very close to Harajuku station. 3.17million visitors on the new year day in 1st, 2nd and 3rd of Jan, 2016. The Peak times are 00:00-03:00AM on 1st, 11:00AM-15:00 of 2nd and 3rd of Jan
Address: 5-1 Yoyogi, Shibuya, Tokyo 151-0053
Note: Some walk from Yoyogi Park/Yoyogihachiman. It is believed to give luck on your job at this shrine
3) Kinarikio jinja 
Address: 2 Chome-17-5 Kabukicho, Shinjuku, Tokyo 160-0021
Note: Around 4000 visitors every year at the new year day
Address: 6 Chome-20-37 Tsukiji, Chuo, Tokyo 104-0045
Note: Close to Tsukiji market. The peak time is 00:00-03:00AM on 1st of Jan. 30,000 visitors on 1-3 of Jan, 2016 
You will see so many visitors like crowded trains in the morning.
Hatsu-mode is usually for shrine but many also visit temples. For example, Sensoji in Asakusa will be full on the new years days.
Source: Meijijingu shrine
At Hatsumode(a new year day) visit to a shrine, you can buy the cute doll of the animal of the year (Chicken is the animal of 2016 (called "Dorei = clay bell"). pictured on left). Our members collected all 12 animals. 
And you can write your wish on the wooden plate called "Ema" (pictured on right).
This is too much Japanese though, if you want to know what we are doing on the new year's day traditionally.
When we were little, we went out to our schools and flew kites on new year's day. It is usually cold on these days but as kids you would not mind it.
It is getting really Japanese here. What we do on new years day, we also do calligraphy writing the word for the new year. For example, if you have an important exam on that year, you may write "Pass= Gokaku (合格)" on the paper with a Japanese pen.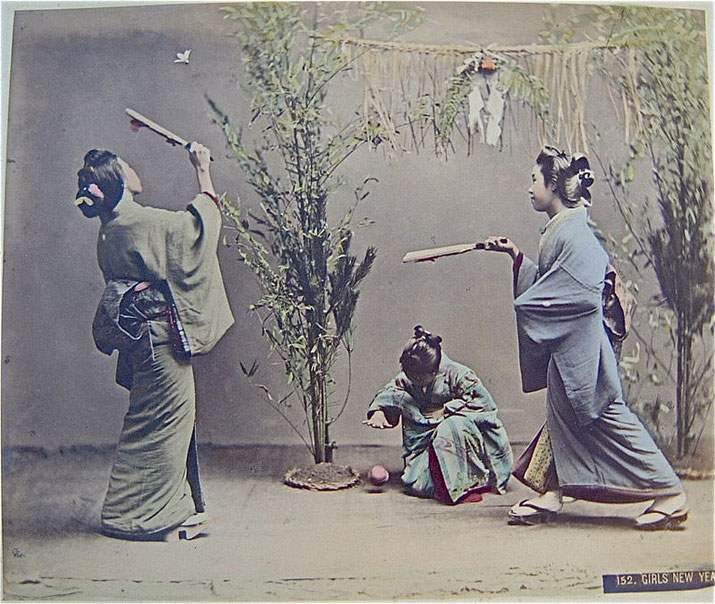 We also play Hanetsuki which is similar to badminton without a net.
Hane means "feather shuttlecock" and Tsuki means "hit". It is really like a badminton as everyone knows. 
Yet, there is no net so you can play anywhere outside unless the wind is too strong and also the rackets are made of wooden board (no net). This way, if any kids play this game, you can easily notice from the sounds the rackets make when hitting the shuttlecock.
The most distinct part of this game is that if you lose, the opponent will write something ( x mark) on your face with a Japanese calligraphy pen. It is quite messy if you play this game so we do not see many really write on their faces in the game even though play this Hanetsuki badminton.
Did you find where to go on your new year's eve and days in Japan? Then, to make sure your trip is a great and happy one, we would like to share with you some travel tips when you are visiting Japan on new year.
Public transport may not run 24 hours in Japan. In some countries public transport goes on 24 hours which is great for party goers but not in Japan. Public transports stop usually by the mid night or around 1AM at latest even in the center of Tokyo. As an exception in the year, on new year's eve many public transports in the major cities run 24 hours. Yet, you better check out if you have a train or bus to go back to your place on some new year's eve events.
Our recommendation is to use this website to check your way back. It covers most of the public transports in Japan. https://world.jorudan.co.jp/norikae/cgi-bin/engkeyin.cgi
Many touristy places like museums, zoos, and stores, restaurants, banks and ATMs are closed on one or more days between December 29th and January 4th. Japan is known for having most of the places open and till late but you find many places are closed on 1st of January. 
For food, books etc. do not worry, convenience stores are always there for you. But for the cash, the ATMs are in the convenience stores usually but on 1st and 2nd of January, ATMs in the convenience stores are not in service (due to some maintenance etc.). Considering that there are significant numbers of places which do not take credit cards, if you have not much cash with you, better withdraw before the new year's eve to survive the new year's day.
It is not usually that it snows in Tokyo or Osaka on new year day. But in some years we saw a big snow around the new year time and the road gets icy in the city esp. in the morning and the night.  You do not want to start a new year with broken arm/leg(s) or so. To have a safe grip of the ground, better prepare one pair of snow shoes which can walk on icy road. 
All information based on 2016. Some events may not take place in other year and also may be under different names
Wrong season? Looking for the great hotel and inn with private hot spring for Spring and Summer? Then click here!!
If you are looking for great hotel for winter sports in Japan, just click here!
Onegai Kaeru wants you to enjoy Japan trip.
If you are looking for more traveler"s info and can not find one, please let us know. We will try to help you with Japan Traveler Help Service (we work on hourly charge to arrange, book, find info you need). Feel free to contact us!
Want to know more places for the great photos in Japan? For example, Toshima island with so many flowers. Please check this out!
Do you know an island with over 2000 years old tree in Japan? Please check this out!
Onegai Kaeru, a group of passionate travelers, bring happiness to the world with its shopping support service and original super cute items!
Source: Wikipedia, each inn's official websites
Disclaimer: Even though we try to make the info as updated and accurate but the accuracy of the information herein is not guaranteed by us. If you have any uncertainty, please contact the information source.