In the corona pandemic where basically no tourist visited the pre-corona popular "cat island", Aoshima in Ehime pref. Japan where more than 100 cats living with just 15 people or so, some strange phenomena happened.
Many cats there started catching a heavy cold and dying. As many as 30 cats died in November, 2020.
The cause of the disease is "cat cold" or feline calicivirus (FCV). There was like another corona pandemic happening on a remote island apart from our world.
In the hope to prevent more death of cats, the group of volunteer including vets of Okayama Science university entered the island on 6th Nov, 2021 before another pandemic happens this year.
The group captured 71 cats and carried out the health checks. The FCV vaccine was given to 36 cats to see if it works or not.
If more cats die this November, the island will be with just 30 cats or so and may lose the title of "cat island". Its popularity with foreign tourists may fade away too.
Aoshima island cats usually get FCV like an influenza for us every year but not many died. But 2020 saw a lot of death. 
Why?
One possibility is the over cat population. The island is a small environment which can only accommodate certain amount of cats. FVC is transmitted from cats to cats. Basically, where are many cats, the group get it.
Does it infect human too?
As far as we know, we human do not get FCV from cats. But we may carry the virus from one cat to another. The researcher in Japan also advised people not to visit the cat island, and even if must and arrive at the island, better not to approach the cats in case people spread the virus.
What is FVC (Feline calicivirus)?
It is a virus of the family Caliciviridae that causes disease in cats.
It is one of the two important viral causes of respiratory infection in cats, the other being Felid alphaherpesvirus 1. FCV can be isolated from about 50% of cats with upper respiratory infections. Cheetahs are the other species of the family Felidae known to become infected naturally.
What are clinical signs?
Clinical signs in cats infected with FCV may develop acutely, chronically, or not at all. Latent or subclinical infections often become clinical when the cat is stressed, such as at the time of adoption. Acute signs of FCV include fever, conjunctivitis, nasal discharge, sneezing, and ulceration of the mouth (stomatitis). Pneumonia may develop with secondary bacterial infections. In addition to stomatitis, some cats may develop a polyarthritis, both probably immune-mediated through immune complex deposition. Stomatitis and polyarthritis can develop without any upper respiratory infection signs, but fever and loss of appetite may occur. Less commonly, glomerulonephritis can develop in chronic cases secondary to immune complex deposition. The great variability of clinical signs in individual cases of FCV is related to the relative virulence of different strains of the virus.
VS-FCV can cause a rapid epidemic, with a mortality rate of up to 67%.Initial clinical signs include discharge from the eyes and nose, ulceration in the mouth, anorexia, and lethargy, and occur in the first one to five days.
Later signs include fever, edema of the limbs and face, jaundice, and multiple organ dysfunction syndrome.
Diagnosis of FCV is difficult without specific tests, because the signs are similar to other feline respiratory diseases, especially feline viral rhinotracheitis. The presence of stomatitis may indicate FCV. Specific tests include virus culture, polymerase chain reaction, and immunohistochemical staining.
( Source: Wikipedia)
As we reported, the island already sterilized the cats on the island. When the island really loses more cats, it is possible the "cat" island will be just an island.
In Sept, 2018 one of the twitter accounts of a local person on the island who takes many cat photos started talking about the sterilization of the cats. This way, we learnt about this.
All cats on Aoshima island are sterilized according to major media. The reason is that there are too few people on the island who can feed the cats.
There is a group which takes care of the cats on the island. The group is called "Aoshima Neko wo Mimamoru kai / a group which looks after Aoshima cats" which asked the Ozu city to support the all cat sterlization project in 2017. The city decided to put the project cost around 4000USD (the cost for the vets to stay and travel) in the city budget.
The reason behind all this is that there are too few people to take care of cats on that island. Once sterlization done partially resulted in another disaster to the cats. 
How serious is the situation?
During WWII, many people escaped to the island from the main land. The island population hit the highest 655 people in 1960. There have not been enough job so many people left the island. On 1976 the island's only one primary school was shut down.
Early 2000 the cat population started to grow while the human population hit then new low, 50.
Currently in 2021 you only see 15 people( 4 fishermen and the rest retirees) on the island.
Today there are 9 people whose average age is older than 75 years old and more than 200 cats. Early 2013 the island became famous from online community which increased the cat number more. 
The number of cat is growing yet the number of resident on the island is decreasing even more.
One time the volunteer team sterlized 80 female cats, not all. It became a disaster for the cats where the female and male balance broken. Non-sterlized female cats were constantly chased by the males and they could not eat properly and raise kittens well.
At one point there were many dead cats around the island.
Therefore, the village of the island made decision to neuter ALL cats. 
It has been mixed opinion about this. Some did not want, some wanted. There was also an opposition from the resident saying they still want to see kittens. 
On 2nd Oct, 2018 a foundation, called Dobutsu foundation, which offers fee sterilization to animals carried out this plan on this cat island. There 20 staff came to the island and set up as many as 130 cages. Each cage had some food for cats. When the cat enters the cage, the door of the cage closes.
On 3rd Oct, 3 veterinarians arrived at the island and carried out the tasks. 1 min to deal with one male cat and 15 mins, one female cat.  On this day 172 cats (female 75, male 97) were treated. 
On 4th Oct around 06:00AM, the treated cats were released after the staff checked their conditions.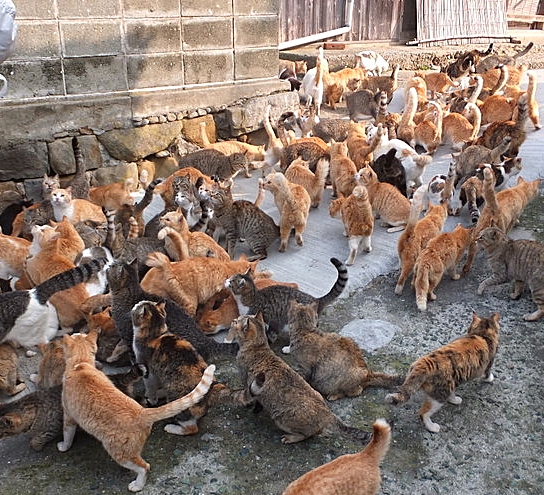 Now all cats do not reproduce due to this operation.
Normally the cat lives for 16-18 years. This means that there will be no cat on the Aoshima island after 18 years or so. (The oldest cat (called Creme Puff) in this world was 38 years and 3 days based on Guinness World Records.)
This is only possible 1) if nobody brings any cat to the island from now and 2) if really all cats are sterilized.
For 1), Aoshima has been so popular with so many tourists visiting and this has quite good business potential for the city "Ozu city" and the prefecture "Ehime" the island belongs to. The cat island brings a lot of money to many businesses esp. to the cities around it. In search of a new business opportunity to the community, these governments can change the direction and tries to make the island a cat island again. Who knows the government may bring a lot cats to the island again.
For 2) there is no 100% perfection in anything. It is announced that all cats were sterilized but it is possible that there are some survivors from this operation. The nature always finds a way.
This way, we think the Aoshima will continue to be a cat island.
Aoshima in Ehime is one famous cat island in Japan, beside Tahirojima island.
Cat Island in Japan becoming popular. Onegai Kaeru team sees more people online talking about cat islands and also many online/offline news paper also featuring about it. We still do not see much practical information for those who want to visit the islands.
Thus we decided to provide some practical info on two cat islands, how to get these islands and what the cat island local says about the visitors. Also, there are several "cat islands" in Japan, other than these two. Please refer to our latest cat island list in Japan (updated from time to time).
Aoshima island ( 青島 ), Ozu-city, Ehime, is "cat island".
Located 13.5 km away from Nagahama port. 
Due to the internet hype the island becomes one of the popular destinations for the cat lovers.
In 1942 there were 889 people recorded. The island has 15 people( age between 50-80 years old) and more than 100 cats. There is neither inn, restaurant nor vending machine( as of Oct, 2013).
Some details about this island population:
There is no car or even a bike so no real threat to cat and there are many abandoned houses where cats can live peacefully.
1976 saw the last school close on this island.
(Your guesthouse/hotel options for Aoshima island. Click here)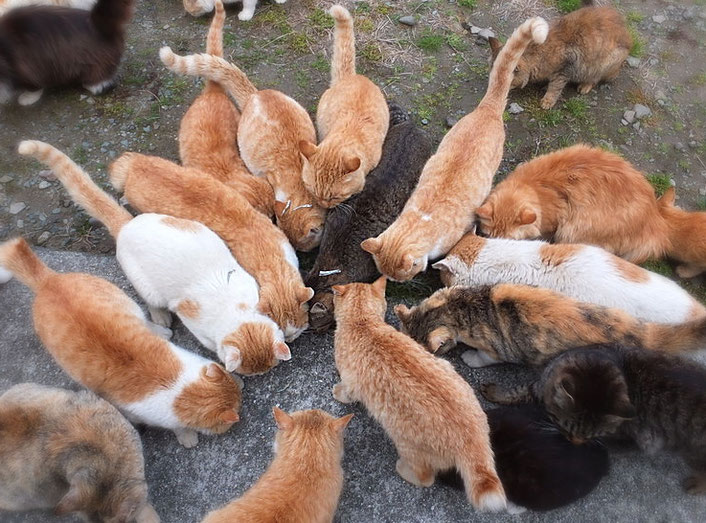 Before you plan anything about this cat island in Ehime, you think about this. This island has NO inn, restaurant, vending machine. You find no bike no car.   (Note: there are 2 vending machines and some guesthouses on Tashirojima island in Miyagi)
For Aoshima, Ehime, (35 min) boat trip 2 times a day from Nagahama Port, Ehime pref. To get Nagahama port, get off at JR Iyonagahama station and walk.  
There are Nagahama ports in Shiga pref and Kagoshima pref also, be careful not to confuse.
Here (hard to access the website) is the time table of the boat to the island in Japanese. So we put the info from the website for you in English as below:
Season
 
Nagahama port dep
Aoshima port arrival
Aoshima port dep
Nagahama port arrival
All year
1st boat
08:00
08:35
08:45
09:20
2nd boat
14:30
15:05
16:15
16:50
-
-
-
-
-
-
One way: 700JPY (Adult=12 year old or older), 350JPY (Child=6 year old or older but younger than 12 year old)
Round Trip: 1400JPY (Adult=12 year old or older), 700JPY (Child=6 year old or older but younger than 12 year old)
If you have some check-in-baggage, it costs some hundreds JPY (i.e. 130JPY per one item(bag etc.) if lighter than 10kg, 250JPY per one item(bag etc.) if heavier than 10kg but lighter than 20kg, 390 JPY per one item (bag etc.) if heavier than 20kg but lighter than 30kg.  )
Valid as of Nov, 2021( subject to possible change) 
After the media reported about this island, it has become hard to get the ticket. We learnt that the ticket is sometimes sold out even 3 hours before the departure.  
The boats may be cancelled. For details, here is the telephone number of the Port +81 893-52-2700.
Because the official boat above is very popular there are many tourists who could not take the boat even they reached the port. There are some people who pay the fisher men to let them board their boat to travel to Aoshima.
The local authority warms it is NOT legal to take a fisher man's boat to reach Aoshima. You need to take the boat above.
Bring something to eat and drink, umbrella and some plastic bags to bring back the garbage at least.
In case of Aoshima, there is neither shop nor vending machine. It is common that the ship is canceled due to the high tide etc. from November till March( autumn and winter). Thus, you need to be very positive-minded enough not to be disappointed to find your ship is canceled after you travel all the way in the cold morning.
If you stay in Matsuyama, not recommended to travel from there to the port in the morning. It is 1.5hour train trip to the port from Matsuyama, considering the risk of cancellation, good to stay in some place near the port( some list of the hotel and inn here) one day before the trip to the island and stay there for a couple of days to test your luck to get the ship. 
Many of Onegai Kaeru team friends and thousands of tourists visiting these islands. What do local say about the visitor? Some are happy but some are not happy.
Aoshima Island shared their message for visitors:
These are 5+1 rules for the visitors for Aoshima
1. Feed the cats only at a designated area near the "community centre". Do not give food around the dock  (where people get on and off the ship)
2. Do not hang around the dock (where people get on and off the ship) so that you do not stop other logistics. ( means... once you get off the ship, just keep moving away from the dock area!)
3. Do not enter the private area ( local people's houses) without a prior permission
4. Please take the garbage back
5. Do not feed the cats too much, or the cats get sick (we do not want that, right?). If you brought too much food for cats, you can leave it in the cat food containers in front of the community center and at the waiting room for the ship.
( 6. There is a donation box in the waiting room for the ship. Your consideration (cash!) shall be used for the cat)
This is where visitors are allowed to feed the cats on Aoshima island.
Now you know how to get these islands. Not so easy sometimes, right? Then the next question is...where should you stay on your journey to these Cat Islands? 
We featured several options and places to stay in our separate articles:  For Aoshima: You want to find out where you can stay over night on your trip to Aoshima? Find out here! 
If you agree with the policy of the Doubutsu foundation, you can donate something to this from this link.
Are these islands too hard to get based on your travel schedule? We feature more than 10 cat islands in Japan for you. Check this latest and full list of cat islands in Japan out!!
Onegai Kaeru wants you to enjoy Japan trip.
If you are looking for more traveler"s info and can not find one, please let us know. We will try to help you with Japan Traveler Help Service (we work on hourly charge to arrange, book, find info you need). Feel free to contact us!
More articles like this: 
Wanna try free spa in the water fall or river? Click here to find out more! 
Have you heard of "Rabbit islands" and want to know how to get there, please click here!
Hungry in Japan? Find the unbelievably big and cheap food from our "where can we get full" list!
Onegai Kaeru, a group of passionate travelers, bring happiness to the world with its shopping support service and original super cute items!
Source: Ishinomaki city government website, Ozu City government website, Ajishima line website, Yomiuri News
Disclaimer: Even though we try to make the info as updated and accurate but the accuracy of the information herein is not guaranteed by us. If you have any uncertainty, please contact the information source.